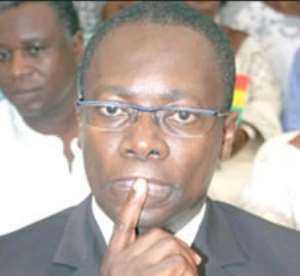 Former Health Minister, Dr Sipa-Yankey

The lawyer for the former Health Minister, Dr George Sipa-Yankey,- who resigned his position in the wake of the Mabey & Johnson bribery scandal – says his client will not challenge the jurisdiction of the Commission on Human Rights and Administrative Justice (CHRAJ) to investigate his alleged involvement in the scandal.
Dr Yankey and six others are billed to appear before CHRAJ in public hearings into allegations that they took bribes from the British Firm.
Counsel for Dr Yankey's co-accused Monday raised persistent objections to processes at the Commission's public hearing including CHRAJ's authority to even open the public hearing as well as investigate the allegations.
They argued the commission had no mandate to investigate private persons or former government officials such as their clients.
In the case of Alhaji Baba Camara, Ghana's Ambassador to Nigeria, who was also named as having received money from M&J officials in order to influence the award of contracts to the bridge builders, CHRAJ referred the matter to the Supreme Court for interpretation.
But Dr Yankey's lawyer, Kwame Gyan, says he will not be party to those objections that challenge the authority of CHRAJ to investigate his client's involvement in the matter.
He told Joy News it was his client's view that the case was not just a matter of law but also of public opinion.
"We couldn't just go there and say that we are challenging the jurisdiction of CHRAJ (because) when CHRAJ commenced the investigation why didn't we challenge their jurisdiction? When they asked us to submit written memoranda on the matter, all of us did. Now people are opening a full scale investigation pursuant to regulation 5 of CI 7, then you say [they have no] jurisdiction. We didn't want to associate with that [contradiction]," Mr Gyan noted.
Story by Malik Abass Daabu/Myjoyonline.com/Ghana