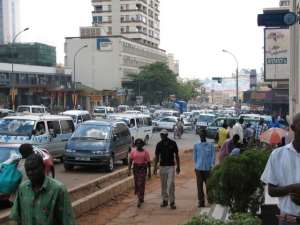 people on kampala street
Dear readers,
One Ugandan called Musisi Bosco, wrote on the internet forum, Ugandans at Heart(UAH):''When I say that Obote was elected into office unmarried, I surely mean 1962 – and did not get through rigging, regardless of process, and the electorate preferred umarried Milton Obote's UPC to married Ben Kiwanuka's DP''
I would like to say that apart from the time when Obote was elected to the Legco in 1958, he never directly got elected by the people of Uganda into any office. He never presented himself to the people of Uganda to be elected and when he did in 1980, he rigged his way into power which led to the Luwero bush war headed by Museveni Yoweri because Ugandans could not accept him.
He was chairman of the Lango District Council before being elected to the Legco in 1958. Lango is not a populous district, and though his popularity in that district was built up soon after his entry into politics upon his return to Uganda, his power stemmed from the influence wielded by his clan rather than from any mass organization he was able to create there. So basically he relied on his clan to win that election as well not his popularity as a person or leader.
In 1962, Obote was 'elected' or chosen by parliament(and not the people of Uganda) to become our PM because his party had become the majority in the legislature. In 1966, he imposed himself on the people of Uganda and he assumed the powers of the president and VP but we spared him till when Amin kicked him out in 1971. He again imposed himself on us through election rigging in 1980 but we never allowed him to enjoy the chair even for a second because he was already very unpopular among the masses.
Actually, we should have had a General election in 1967 but because of Obote's fear of elections, the Republican constitution was passed in that year and under it, it was specifically provided that all members of the then existing parliament were deemed to have been elected for a further term of 5 years. I guess Museveni picked the trickery of extending '5years term' from the man buried in Lango and now we are stuck with him too.
In 1980,when Obote came back in Uganda via Bushenyi which was a strong UPC stronghold, he declared his intentions to stand for presidency. Because of his known fear of direct elections, he immediately failed to to call a delegates conference. He knew that some people within Upc were planning to get rid of him and this group was headed by Akena Pojok and Tiberondwa. They later held a bogus delegates conference( current NRM style) after some pressure within UPC in which he was endorsed as the party candidate without any one challenging him. He rigged the 1980 elections and the rest is now history as he is history too.
But I must also say that both Obote and Muwanga did not deserve to be in parliament in the 1980s for they were not elected.
Paulo Muwanga(Obote's Vice president) should never have been in Parliament in 1980 as a member because he did not contest any parliamentary seat. He was also not specially elected by parliament to sit there as a member nor was his elected by his party to sit in parliament. So Muwanga and Obote's membership in parliament in 1983 were legally very questionable. They both broke the 1967 constitution and we need to charge their graves if possible. The 1967 constitution itself Obote used to form a cabinet and open up parliament was not respected after stealing the elections. Because Obote did not stand as an MP somewhere nor specifically elected by the UPC parliamentary group,he broke the law to allow himself to be sworn in as a member of parliament
Democracy was not really part of Obote's dictionary or needs and anybody who relate anything democracy to Obote is taking Ugandans for a ride. So it is unfair to say that the electorate preferred unmarried Milton Obote's UPC to married Ben Kiwanuka's DP in 1961 since Obote has never been directly elected by the people of Uganda. In any case, UPC went through because the electorate in Buganda loved their kabaka and voted for Kabaka Yekka( KY) which had earlier formed a coalition with UPC to defeat Kiwanuaka's DP. Obote and UPC alone would never have defeated Ben Kiwanuka because he(kiwanuka) was even popular in the north.
Abbey Kibirige Semuwemba
United Kingdom
http://semuwemba.wordpress.com/