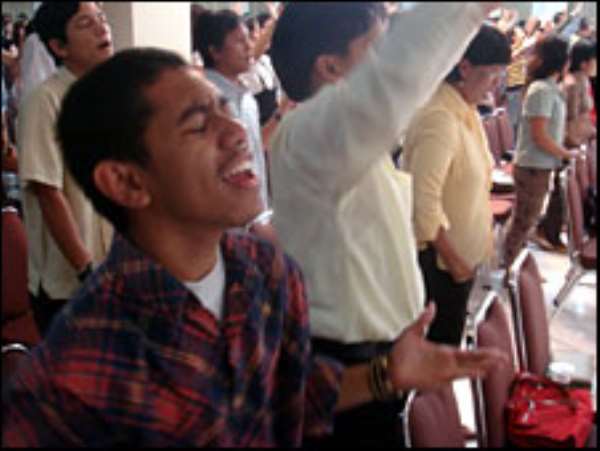 Christians around the globe will hold all-night services to usher in the New Year
Today is December 31, the last day of the year 2009. Doesn't time fly? It seems only yesterday when we went to the polls to elect a new President and Members of Parliament.
In a matter of hours we would be bidding farewell to the old year and welcoming the new, the year 2010.
It was not long ago when our politicians made us believe that every development agenda was going to be a done deal by the year 2010. A decade ago, in 1999, the list of "will happen" in 2010 was in a tall order for Ghanaians.
On reflection, perhaps our politicians who were then promising us heaven on earth thought 10 years was like a 1,000 years — it would come but no rush, because it would take ages to come. The slogans poured in as we continued to be promised "water for all by the year 2010" followed by "health for all, school for all, food for all and even toilet for all by 2010".
Two thousand and ten is now only a matter of 48 hours away. How far has 2009 brought us closer to our hopes as far as our development agenda is concerned? I can hear some politicians saying, "But the year for benchmarking is yet to be ushered in".
Ah well, we will give them the benefit of the doubt and just wait and see but I can bet you, the roads in Dansoman, Ghana's biggest community, would not see any significant change, neither will the water flow in Adenta or parts of East Legon.
By the way, has anybody observed some absurdities regarding safety cautions coming from our Police Service this season?
Twice last week I heard on the radio, the police reminding us that the ban on the use of fire crackers and other explosives during this season is still in force. I don't get this.
How serious can we be as a country for if such a ban is in force, then how on earth do they get into our markets in the first place when we have agencies that are supposed to check on all imports that come into this country? How safe are we as consumers if just about anything can slip through our ports without notice?
That reminds me. Last week in the thick of the unimaginable and irritating traffic on the Graphic Road, I spotted two young men selling toy pistols. I tried to remember whether in the wake of the rampant armed robbery some time ago the importation of toy guns was not banned. I remember a news item where some gangsters were using toy guns to seize vehicles and rob other innocent people of their valuables. Is there a ban or there is not?
Two thousand and nine served us with a lot of mixed grills. Some were tasty, others were quite unpalatable. The year came with a lot of hopes and some fears. We had some merriment but it always came with some cocktails of regrets.
Fulfilment and disappointment did not escape us. At least, by the time we exit 2009 at midnight today, inflation would have come down as expected and the cedi would have stabilised. Good news for the economy and the rest will become history.
We started the year with jubilation and thanksgiving for the maturity and the level of tolerance shown by all Ghanaians. Almost all churches and mosques organised sessions of praise and worship to thank God and Allah for His mercies on our nation.
The Women's Aglow did it beautifully at the Independence Square. The conduct and perhaps the outcome of the 2008 elections gave most Ghanaians something to be joyous about, most especially the National Democratic Congress (NDC) family as the elephant was chased into the bush where it launched its "we will be back" lullaby.
And so enough of politics until 2012 maybe. If I had the power, I would decree for good, a ban on politics of division in our society. We do not need it no matter in what doses they come.
Unity and a prosperous Ghana is what we want and that is what we should stand for. As we close the chapter on 2009, we would like only to remember those bright sides of the year where we had the occasion and the cause to celebrate and stick together as one people with a common destiny.
I recall the 10th anniversary celebration of Otumfuo Osei Tutu II's ascension to the Golden Stool as Asantehene. It brought some soothing midway through the year when with his unifying force Otumfuo brought our two former Presidents together. The grand durbar that climaxed the anniversary celebrations brought both sides of the political divide sitting next to each other in the Garden City. It is the kind of thing we all want to see on daily basis.
I also recall the historic visit of the American President, Barack Obama to Ghana last July. That too was a plus for a national cohesion. The nation joined hands and together, we all welcomed him and his family to our beautiful country.
His famous address to Parliament and his "Hello Ghana" piece on departure at the airport both inspired us and gave us strength to dwell as a people. President Obama left us with much food to digest. But above all, he opened a new and credible face for Ghana on the international scene.
What this meant is that Ghana has a good future and the visit was only a reminder that the time to grab the opportunity and move on into the future is within our own grasp and the time actually is now.
The brand, Ghana, had reached its marketability with a respected and a credible brand endorsement coming from no other personality than the American President.
Then as we moved into the last quarter of 2009, we got another dose of a celebration that brought Ghana together — the sweet victory of the under 21 national football team, the Black Satellites.
The boys did Ghana proud and succeeded in uniting us as a nation when they won the FIFA world championship for the under 21s. Ghana's name once again hit the world radial and united a proud nation.
And so 2009 is going, nothing can hold it back. Odd numbers, we understand, are no great favourites in terms of luck. At least that is what we have been made to believe. Being an odd number not divisible by two, the year may not have favoured those who have a strong belief in the ill luck of odd numbers.
All the same, for the sake of this Column, Reality Zone, we would like to focus on the positives and only refresh our memories with just the good sides of 2009.
For us as a nation, the future holds much good and so, with much acclamation, we pop a reality champagne to see off 2009 and welcome 2010. This is the year that must fulfill our hopes and calm our fears.
The hopes of all good things by the year 2010 will now include the start of oil drilling in commercial quantities. Our fears? No, we do not want to entertain any for we are hopeful that the oil will be a blessing, not a curse.
A prosperous New Year to all my readers. Afehyia Pa!
Credit: Vicky Wireko /Daily Graphic