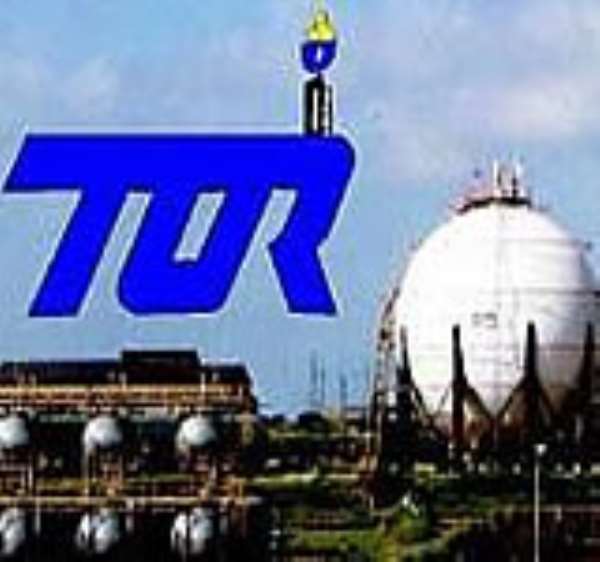 The various finished products obtained from the 997,000 barrels of crude oil are stocked in various storage facilities at the Tema Oil Refinery (TOR), following restrictions imposed on the refinery by Ecobank Ghana Limited which guaranteed the purchase of the oil from a Nigerian company.
The restrictions by Ecobank are meant to ensure that it recoups its money from TOR.
TOR's indebtedness to the Ghana Commercial Bank (GCB) to the tune of $600 million, which almost saw the bank on the verge of bankruptcy, may have informed Ecobank's decision to streamline measures to enable it to retrieve the money invested in the oil transaction.
Last October, Ecobank established letters of credit (LCs) amounting to $74 million to enable TOR to take delivery of crude oil from Sahara Energy, a Nigerian oil lifting company.
A source at TOR told the Daily Graphic that the refinery, as a receiving agency of the LCs, was bound by conditions on the LCs to ensure that all the money owed it by oil marketing companies (OMCs) was paid before allowing them to lift fuel.
The source also hinted that out of the over 49 OMCs that lifted products from the refinery, 43 still owed TOR huge debts.
According to the source, officials of Ecobank believed the huge indebtedness of the OMCs could jeopardise TOR's interest and investment if the refinery allowed the companies to continue to lift products.
It further noted that some OMCs, such as Total, Goil and Shell, did not need any form of guarantee to lift products, since they were multinational companies and could be easily located, while the likes of Allied Oil, Galaxy and Top Oil were the only entities whose credit levels guaranteed them to continually lift products.
Attempts to reach the acting Managing Director of TOR, Dr Kwame Ampofo, for his comments on the said regulations failed as several calls to his telephone were not answered.
For a greater part of the year, TOR virtually closed down its operations following the acute shortage of crude oil.
The desperate situation was precipitated partly by the huge debts owed by TOR to crude supplying agencies and the GCB.
The government gave the refinery a lifeline when it intervened, leading to a deal with Ecobank for a guarantee of LCs to enable TOR to take delivery of crude oil imported into the country by Sahara Energy.