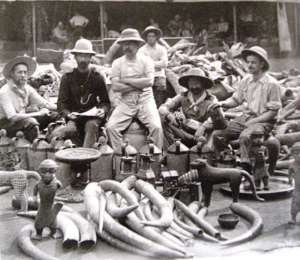 British soldiers of the infamous Punitive Expedition of 1897 proudly posing with the looted Benin artefacts.
Corruption, like tango, requires two partners.
A seminal study by Peju Layiwola, dealt with the question of the cultural memory of a people whose development has been brutally interrupted and their cultural objects seized by a foreign invader. (1) In the specific case of Benin, the British seized more than 3000 artefacts during their nefarious invasion in 1879. (2) This date and the invasion have remained memorable for the people of Benin, Nigeria and the continent of Africa.

British soldiers of the infamous Punitive Expedition of 1897 proudly posing with the looted Benin artefacts.
Peju Layiwola whose mother, Princess Elisabeth Olowu, is a well-known artist, was born in the Palace of the Oba in Benin City during the reign of Oba Akenzua II, her maternal grandfather. Peju spent her childhood in Benin City, went to school there and did her first degree at the University of Benin. Her doctoral dissertation at the University of Ibadan dealt with contemporary Benin brass casting. Peju is therefore from family affiliation, from childhood experience and education linked to Benin and inevitably, since she was drawn to art in her infancy, to the arts of Benin and the tragic loss of the Benin bronzes through the British invasion. The important question then is not why Peju is concerned by the continued loss of the Benin Bronzes but rather why some people are less concerned or even indifferent to attempts to recover looted or stolen artefacts.
How do we remember our cultural development and achievements when all or almost all our icons are elsewhere in captivity? In the case of most African societies, the vast majority of our cultural icons are in Europe and America. The study of African art is much easily done in Lodon, Paris, Berlin and Lisbon than in Accra, Lagos, Abuja, Doula or Maputo. Surely even Westerners must be aware of the difficulties involved when attempts are made to maintain a living and continuous culture in the absence of concrete objects symbolizing or indicating the chosen path of a culture. So why do Westerners keep stolen/looted African cultural objects?
Several arguments have been made by Westerners for their continued detention of looted/stolen African artefacts. We have in several articles examined most of these arguments and found them woefully lacking in logic, morality or legal foundations. (3) We shall examine here very briefly only the arguments based on the location and security of the looted cultural objects (I) which are linked also to the argument based on the alleged corruption prevalent in African countries such as Nigeria (II). We then discuss the Western determination to hold on to looted African artefacts (III) and conclude with proposals in the face of this strong resolve. (IV)
I. Suitable and Secure Location for Looted Cultural Objects
The security argument states basically that if looted objects were returned to Africa, they would not have a secure and fit place to be kept and would soon be again on the private illegal market. Supporters of this line of argument often refer to the absence of secure and well-run museums in Africa. This argument which at times seems solid has lost much of its strength since the opening of the New Acropolis Museum in Athens. It would be recalled that the British argued for decades that the British Museum in London was a better place for the Parthenon/Elgin Marbles and that Athens had no such respectable museum. There were also comments about prevailing climatic conditions in Athens, especially smog. However, since the Greeks built the new magnificent modern museum, there has been no sign that the British are in a hurry to return the Parthenon/Elgin Marbles. Indeed, the British refused to attend the opening ceremony even though invited. It has become clear therefore that arguments based on the nature of the future location of the Parthenon/Elgin Marbles are merely excuses for delaying their eventual return to Athens. The British have used what may be described as "shifting arguments" to justify their refusal to return the Marbles to Athens. They have a whole line of justificatory arguments. Once you answer one, the next one follows so that it is difficult to know what the real ground is.
Regarding African countries, the absence of secure museums surely cannot be an acceptable justification for refusal to return looted cultural objects. Most African artefacts were not intended to be placed in museums. The colonialists and their allies found most of these objects in villages, in the open air or hidden in the ground. Intimidation and the threat or use of force were the persuasive factors that enabled the accumulation of enormous cultural artefacts by the colonial powers. Secure places did not deter the looters of cultural objects. (4) In some cases, such as the case of Benin, the artefacts had been well kept in the secure palace of the Oba for centuries before the British Army looted them. Are we expected to build museums that can resist the onslaught of the British Army? This army has convincingly proved in Peking (Beijing) in 1860, Kumasi, (Asante capital in Ghana) in 1874, in Magdala (Ethiopia) in 1886 and in Benin City in 1897, its will and ability to loot the cultural artefacts of others.
Is she British or Nigerian?

Queen-Mother Idia, Benin, Nigeria, in captivity in British Museum, London, since the infamous invasion of Benin in 1897.
We all recognize the need to build better museums but this is for every State to decide. Building a better and secure museum cannot be made a condition sine qua for the restitution of looted objects. There are constant reports of thefts from museums all over the world, including museums in Europe and America. Security of cultural objects cannot be advanced by Western States for not returning looted objects.
How can those responsible for looting our artefacts now turn around and insist that since we do not have secure museums they will not return the objects? Are they allowed to adduce evidence of their successful looting as proof of our inability to protect our cultural heritage and hence disqualify us from reclaiming our cultural property? Has the looter now become a superior owner, able to dictate under what conditions he would be willing to return the looted objects?
African States can build as many first class museums as they want. This alone will not persuade Western States to return cultural artefacts looted in the colonialist and imperialist ages. Apologists for Western countries speak and act as if they had a moral duty or God-given obligation to keep and guard our artefacts. (5) They often imply that Africans are not even capable of appreciating the cultural objects produced within their own cultures. Some write and act as if the fact of being African in itself disqualifies us from understanding African culture and the importance of cultural objects.
The security argument is sometimes varied and presented as an argument based on corruption.
II. Corruption as ground for non-restitution
Bernard Mueller has argued that it would be wrong to return cultural objects looted in the colonial times to bloodthirsty and obscurantist African leaders. He himself admitted though that even if those bloodthirsty leaders were not representative of their people, this would not affect the legitimacy of the demand for restitution. His aim seems to have been to repeat some of the insulting vituperations often made even by well-intentioned Europeans when they deal with Africa. The disqualification of African States enabled him to propose declaring African cultural artefacts part of world heritage or "patrimoine universel". The ploy here was to enable the Westerners to have a say in determining the disposition of the looted African cultural artefacts which now fill the leading museums in Great Britain, Germany, France, Netherlands and the United States. (6)
The alleged dictatorial nature of African governments can of course be matched by Europe's own dictatorial governments. Franco, Salazar and Hitler were pure European products who did not need to learn from Africans. Nobody ever suggested that those European countries ruled by dictators should lose their cultural artefacts because of these evil men. This line of argument is no longer generally pursued by European critics. A more frequent argument is that based on the alleged corrupt conduct of Africans and African officials.
Very few will deny that there has been corruption in African countries and that this has at times involved museums and their officials. None of us would like to underestimate the extent and the seriousness of the looting of African cultural artefacts since Independence in the 60's.
Peter Garlake, in Early Art and Architecture of Africa, makes some very pertinent remarks on the looting of Ife artefacts:
"Many Ife brass and pottery sculptures, including some of the life-size brass heads that are of such rarity and importance, have been stolen from different Nigerian museums. In many of these it has been alleged that senior museum officials responsible for objects in their care have been deeply implicated in thefts. The majority of sculptures from Obalara's Land in Ife have also been stolen. Richly sculpted brass rings, earth still adhering on them and clearly related to Ife work, suddenly appeared in auction rooms and subsequently in leading museums in Europe and the United States in the 1970s. These rings are our only indication that another very rich and unknown site or sites had clearly been pillaged and all information about them lost.
Equally distressing is the fact that some of the most famous museums in the United States and Europe continue to accept donations of, buy, and display ancient African art that cannot possibly have left its country of origin legally. They claim there is no documentary proof of any wrongdoing and that no law of their countries has been broken. The museums around the world have proved willing to follow their example." (7)
Prof. Folarin Shyllon commented on the corruption allegations as follows
"Professor Ade Obayemi, Director-General of the NCMM from March 1987 to August 1991, in his Handing Over Notes to his successor made the following troubling remarks concerning the matter: "The Chief Executive of the Commission will be shocked to find that the records show that officials of the Commission at very senior levels, were, or had been indicted as security risks and or agents of traffickers in antiquities . I will only quote the standing warning of Prof. Ekpo Eyo in his own Handing Over Notes that it has to be remembered that the greater risk could come from inside and this is what needs to be carefully watched."(8)
Shyllon referred to the great Ekpo Eyo as having made in 1971 the following forecast:
"unless the theft of Nigerian collections was arrested nothing would be left of Nigerian antiquities in about ten years." (9)
Michel Brent has also provided concrete cases of looting of cultural artefacts from various African countries and explains in detail the structure of the illicit trade: "Some African museums are rumoured to have organized thefts from their own collections. The thief brings the stolen goods to European antiques dealer, and a few weeks later the museum lodges a complaint with Interpol. That report is accompanied by the necessary proof of ownership as well as by the name of the antique shop that has those items in stock. In such circumstances (when the authorities have the proof of ownership, which was not the case in the Komaland story.) the intervention of the police always results in a speedy return of the stolen items to the museum without any financial compensation to the purchaser. Thus, one can easily see that if the same operation is repeated three or four times in different European countries, substantial profits can be made." (10)
The late Frank Willet, well-known for his pioneering and everlasting contributions to Ife art and culture, felt reluctantly obliged to argue against the return of looted/stolen Nigerian cultural objects:
"It is indeed depressing that having spent the last forty years trying to demonstrate that the peoples of Nigeria have a history and an artistic heritage of which they can be proud, to find that those who now hold the roles we once did are not only not taking care of their heritage, but are exploiting this irreplaceable material by allowing its illicit export to dealers and collectors in the West".(11)
Willet referred to various thefts which occurred in museums in Nigeria at Ibadan, Abeokuta, Esie, Jos and Owo. A most glaring case was the theft of a famous ancient bronze stool, from the Ife University Museum of Art, which was stripped of its collection in a series of spectacular thefts in 1993-94. Willet revealed that this stool turned up in America, "accompanied with what appears to be a valid official Clearance Permit issued on 20 June, 1994 and signed by an officer of the National Commission for Museums and Monuments as examined and found to be non-antiquity." Willet wondered whether the authorisation of this export was due to incompetence or to corruption. He concluded that it would be unwise to return to Nigeria stolen/looted artefacts: "I have been keeping an eye on the art market and attempting to arrange for the return of pieces stolen from Nigerian museums ever since I left the paid service of the Nigerian Government in 1963, yet here I am recommending that objects should not be returned." It is difficult not to be moved by the opinion of eminent scholars such as the late Frank Willet. (12)
Looting of African artefacts and the accompanying corruption in African countries must therefore be acknowledged as a serious matter that should worry all those interested in African culture.
But who benefits from the wide-spread corruption and looting? It is clear that those who sell these objects derive some profit. It is also clear that eventually the looted artefacts end up in Western museums. Indeed, it is the existence of a market for African artefacts and the high demand for them created by Western museums that the illicit traffic flourishes. Michel Brent puts it this way: "Just to show how widespread the responsibility for this plundering African heritage, I would like to turn once more to the Tervuren Museum. I must mention here that in Belgium museums are state-owned and therefore financed by the taxpayer. The Museum of Tervuren has all the outward appearances of a most venerable institution. Yet, if you look into the ways in which it acquired African works of art in the past twenty years, links with the illicit trade become evident."(13)
In his excellent study entitled, "Nigerian Art as Endangered Species", Dele Jegede, examines various cases of looting and corruption in Nigeria. However, he also underlines the support and contribution of the West to the looting of African artefacts: "One can contend that without the West's overwhelming interest in African art, illicit trade in cultural property, on the continent would not have assumed the alarming dimensions that it has reached especially in the last three decades. As Peter Schmidt argues elsewhere in this volume, the erasure of Africa's cultural past is a second stage in the process of denigration of the African past by the West; the first was colonization. Indeed, the story of the illicit trade in African art is, in large measure, the story of the unscrupulous Western of loopholes, perceived or created, within the organizational and social structure in Africa for personal gratification or corporate, institutional aggrandizement". (14)
Recently, Eric Huysecom, archaeology professor at Geneva and Bamako, has condemned the continuing looting of African cultural heritage, directing attention, in particular to a current exhibition entitled "African Terra Cotta: a Millenary Heritage", organized by the Barbier-Mueller Museum, Geneva, which is well-known for its collection of African, Asian, Oceanic and Pre-Colombian arts. Huysecom and his colleagues contended in an open letter that many of the terra cotta in the exhibition must have been looted in contravention of the laws of Ghana, Nigeria, Burkina Faso and Niger. It is understood that Nigerian authorities are considering taking appropriate action. (15)
In this connection, we recall the Nok terra cotta from Nigeria which were looted and eventually turned up at the Musée de Quai Branly, Paris. The French bought the three Nok and Sokoto terra cotta knowing fully well that they must have been looted and illegally exported from Nigeria since objects were on the Red List of ICOM (International Council of Museums). This list enumerates a number of items contains forbidden for export. It took the intervention of ICOM to bring the matter to discussion and to the embarrassment of the French who had bought the pieces in 1999 for the planned museum, Musée du Quai Branly. Eventually, France acknowledged the ownership of Nigeria in those pieces and signed an agreement by which Nigeria loaned the pieces to France for a period of twenty-five years which was renewable. The dubious agreement with France shocked those interested in the preservation of African heritage insofar as it sent a wrong message to looters and dampened attempts to prevent looting. The agreement also made nonsense of the rule of law: Violations of Nigerian Law and the ICOM Code of Ethics should not be covered by an agreement of dubious legality and legitimacy. Above all, allowing the French to keep the objects for 25 years and adding an option for renewal shows an absolute lack of respect for legality and the interests of African culture. Nigerians should carefully examine the agreement when it expires, if they cannot renegotiate those terms earlier. ICOM issued a reminder that"the looting of archaeological items in Africa causes irreparable damage, destroying vital evidence of the history of the continent and of mankind as a whole. Museums must therefore take a lead in combating the illicit trade in cultural goods, by adopting scrupulous acquisition policy in line with the ICOM Code of Professional Ethics for museum professionals. (16)
III. Western Determination to keep looted African artefacts
As if it were not painful enough that looted African artefacts end in Europe and the United States, there are museum directors vigorously advocating the right of Western museum to acquire African artefacts even if their provenance is dubious? James Cuno, Director of the Art Institute of Chicago, an institution that collaborated with Nigeria in putting up the recent exhibition, Benin - Kings and Rituals: Court Arts from Nigeria has in books and articles propagated the doctrine that the Western Museums have the right and duty to acquire artefacts without regard to their provenance. Those countries that enact laws to prevent the looting of their artefacts are described by him as nationalist retentionists. Cuno also argues that attempts to regulate export of cultural artefacts are in any case ineffective. (17) He goes so far as to argue that the Nok terra cotta does not belong to Nigeria but to humanity and denies the right of Nigeria to regulate the export of such artefacts: "Anthony Appiah said something wonderful in his book Cosmopolitanism. He says, look we don't know who made these Nok sculptures, these ancient sculptures that are found today in Nigeria. We don't know if they were made for royalty or for one's ancestors or on speculation. But what we know for sure is that they weren't made for Nigeria. Because at the time there was no Nigeria." (18)
Cuno who has no love for UNESCO and the United Nations, ignores the fact that the 1970 UNESCO Convention on the Means of Prohibiting and Preventing the Illicit Import, Export and Transfer of Ownership of Cultural Property, imposes on a State such as Nigeria a duty "to protect the cultural property existing within its territory against the dangers of theft, clandestine excavation, and illicit export?". Moreover, Article 4 of this Convention provides that: "The States Parties to this Convention recognize that for the purpose of the Convention property which belongs to the following categories forms part of the cultural heritage of each State:
a. Cultural property created by the individual or collective genius of nationals of the State concerned, and cultural property of importance to the State concerned created within the territory of that State by foreign nationals or stateless persons resident within such territory;
b. cultural property found within the national territory;
c. cultural property acquired by archaeological, ethnological or natural science missions, with the consent of the competent authorities of the country of origin of such property;
d. cultural property which has been the subject of a freely agreed exchange;
e. cultural property received as a gift or purchased legally with the consent of the competent authorities of the country of origin of such property."
There is clearly no intention on the part of those maintaining views such as those of Cuno to respect legality and legitimacy. Cuno also refuses to repatriate the looted Benin bronzes in his museum.
The determination of the major Western museums not to return looted artefacts has been vigorously expressed in the infamous statement: Declaration on the Importance and Value of Universal Museums. (19) In December 2002, a group of the world's largest museums (The Art Institute of Chicago. J. Paul Getty Museum, Los Angeles, Solomon R. Guggenheim Museum, New York, Louvre Museum, Paris, The Metropolitan Museum of Art, New York, the Museum of Fine Arts, Boston, The Museum of Modern Art, New York, Prado Museum, Madrid, Rijksmuseum, Amsterdam and the State Hermitage Museum, St. Petersburg) signed a declaration instigated by the British Museum which cunningly did not sign it, with the aim of securing for themselves immunity against future claims for restitution. Among the arguments advanced was a statement that cultural objects which have been in these museums for a long time, have in the meanwhile become part of the culture of those countries:
"Over time, objects so acquired — whether by purchase, gift, or partage — have become part of the museums that have cared for them, and by extension part of the heritage of the nations which house them. Today we are especially sensitive to the subject of a work's original context, but we should not lose sight of the fact that museums too provide a valid and valuable context for objects that were long ago displaced from their original source." Thus on this line of reasoning the African objects in the British Museum, London, Ethnology Museum Berlin, Ethnology Museum, Vienna and elsewhere have become part of the culture of those countries. So are the Germans, Austrians and the British now believers in Yoruba religion and cosmology ancestor? Have they adopted Benin culture or aspects of any African culture?
This absurd idea has also found room in some scholarly writings. Thus Enid Schildkrout and Curtis A. Keim write in their book, The Scramble for Art in Central Africa the following:
"We start with the premise that although African objects belong to, and derive meaning from, their use in Africa, once collected they enter into the repertoire of Western material culture. In the last decade such transformations in the meaning of things have been discussed from many points of view, most often in terms of process of appropriation, commoditization, and recontextualization". (20)
These self-serving defences and explanations are also found in the catalogue of the recent Benin exhibition.
In the introductory note by the King of Benin, Omo N'Oba Erediauwa, pleaded for the return of some of the Benin artifacts:
"As you put this past on show today, it is our prayer that the people and the government of Austria will show humaneness and magnanimity and return to us some of these objects which found their way to your country."
Almost immediately following the Oba's note, there is a preface by the directors of the collaborating institutions (without the Nigerians) where this modest demand is rudely rejected by the museum directors who suggest we forget the past and look to the future: "History, whether tragic or glorious, lies forever behind us. We stand on its shoulders and direct our gaze to what lies ahead".
The museum directors were also at pains to explain that the Benin objects had acquired added value in their exile in the Western world and were therefore not the sole property of the people of Benin:
"The transformation of what had been created as architectural ornaments into veritable archival documents, which has occurred up to the time of their alienation from the Benin royal court, illustrates the steady changes in the attribution of meaning and value even within their local context. The present consideration of these works within multi-layered discourses on the past - and on identity in the competing contexts and claims of local tradition, the nation state, and globalization - is part and parcel of the continuation of shifts in meaning and the persistent viability of the material documents of the past. Rather than catering only to western notions of other cultures, museums strive to explain the genera cause and specific articulations of the past and present cultural diversity of the world. This approach enhances the pleasure of aesthetic enjoyment, while providing the basis for the understanding of the cultural content behind the visible forms." (21)
The claim of the right of Western museums to hold on to looted artefacts could not have been more clearly and better formulated than in this citation. We should note the Oba's modest request for "some of the Benin artefacts" bearing in mind that some of the participants in the exhibition and signatories of this infamous preface have a large number of the Benin bronzes: Ethnology Museum, Berlin 580 and Ethnology Museum, Vienna 167. The Oba was clearly not given the royal treatment. Would the signatories have responded otherwise if the Oba had been a European monarch?
The refusal to return artefacts on grounds of corruption or lack of infrastructure is, not surprisingly, made mostly by those museums with large collections of African artefacts. Thus we read in the report of the UNESCO conference on the Return of Cultural Objects, the Athens Conference, 17-18 March, 2008 a statement presented on behalf of the Royal Museum for Central Africa at Tervuren in Belgium and its Director, Guido Gryssels:
"Guido Gryseels, the Director of the Tervuren Museum, shared his views on thereturn of cultural heritage artefacts. According to Gryseels, museums have to improve the accessibility of their collections, both for scholars and the general public, by digitizing their collections so that they can be viewed on line and by creating databases and virtual museums. Discussions relating to the physical locations where collections are displayed will then assume less importance. However, a blanket return of all cultural heritage is deemed out of the question. No objects can be returned to their country of origin before these countries have acquired political stability and basic infrastructure. From this point of view the return of artefacts would seem impossible at the moment. Gryseels states that only "duplicates" can be returned in the foreseeable future. In the meantime, museums that have in their possession African cultural objects can develop partnerships with museums in Africa in order to strengthen their management. They can also collaborate in the organization of exhibitions, training and research programmes". (22) This statement demonstrates with exceptional clarity the hypocritical, arrogant, paternalistic, racist and self-serving nature of the arguments of many Western museums and States that refuse to return looted African cultural artefacts. An examination of such statements reveals that arguments based on lack of security in African museums and corruption in African cultural institutions are mere pretext for a determination to hold on to stolen objects. Ironically, at the beginning of colonialism African art which later became an important constitutive factor of modernism in art, was designated as primitive art, in no way comparable to European art. At the same time, Europeans used all means, including violence in Benin, Asante, Ethiopia, Congo, and elsewhere to collect these objects.
Who gave the beneficiaries and inheritors of the cruel and despotic King Leopold II, who robbed the Congo of its resources and massacred millions of Congolese, the right to speak in an insulting manner and to determine when looted objects may be returned? (23) Gryseels who heads the Royal Museum for Central Africa has no legality or legitimacy to lecture Africans on how to manage their museums. His museum, founded by the cruel and murderous King Leopold, has amongst its 400,000 objects, pieces looted or acquired in dubious circumstances. Schildkrout and Keim have correctly stated that:
"Leopold also sponsored a Brussels-Tevuren Exposition on the Congo in 1897 to publicise his work. The objects collected for the Exposition were eventually housed in the magnificent Royal Museum of the Congo (later called the Musée Royal de l'Afrique Centrale and now called the Musée Africain) which Leopold constructed at Tervuren". (24)
How dare Gryseels require from African museums to improve "the accessibility of their collections, both for scholars and the general public"? Is he running the African museums? Do the Western scholars not have enough of the looted objects in Europe and America? Most people would agree that the best places to see African art objects are London, Paris, Brussels, Tervuren, Berlin, New York and Amsterdam and not Accra, Lagos Abuja, Doula, Kinshasa. What access do Western scholars still need? Is the idea that they can then deal with the remaining objects in African museums as they want? It is known that certain objects have been taken from museums for study or repairs but never came back. Either Gryseels does not know African conditions or he is deliberately setting up standards which he must know cannot be fulfilled. Many Western museums cannot fulfil these standards. How can he set as condition for restitution the accessibility to collections "by digitizing their collections so that they can be viewed on line and by creating databases and virtual museums"? Could anybody tell us how we can dance with digitalized masks? African cultures were not developed through computers and virtual museums but by active use of the objects which are now lying in Western museums for aesthetic contemplation. Nobody plays the 8000 African drums and other instruments assembled in the Royal Museum for Central Africa, Tervuren.
Gryseels is generous enough to offer Africans duplicates of our cultural objects which the Europeans have stolen, so we can pursue our cultural practices with "duplicates" even though we produced the original artefacts. Does he think our people are so uninformed as not to know the original from the duplicate? Is he aware that many of these objects are not supposed to be seen by the uninitiated and definitely by Europeans so that their presence in forced exile in Europe requires special purification ceremonies if they are to resume their roles in the African culture? Is he aware that some of the looted objects have religious and spiritual importance that cannot be recovered by replicas made in the Western world by artists who do not share our beliefs and culture? Replicas, however well made, cannot replace our stolen originals. Western museums could alternatively, return the originals and keep the duplicates? What speaks against that, apart from arrogance and disrespect for the cultures that produced these objects? After all, they need these objects only to teach their people about African culture; Africans need them to practice their religions and culture.
It is interesting that European museum directors have now become concerned about "political stability and basic infrastructure". Since when are these conditions within the domain of museum directors? Have they become politicians and statesmen who can now try to impose their vision on African States? When the cultural objects were being stolen nobody thought about how the illegal and illegitimate actions of Leopold II and other colonialists contributed to political instability, destruction and disorganization.
Gyryseels makes it clear that his museum has no intention of returning any cultural object to African States: "However, a blanket return of all cultural heritage is deemed out of the question. From this point of view the return of artefacts would seem impossible at the moment. Gryseels states that only "duplicates" can be returned in the foreseeable future".
Gryseels, like some Western museum directors, creates a deliberate misrepresentation that we are asking for all cultural heritage. This misrepresentation is deliberately made in order to avoid a serious consideration of demands made for restitution of specific objects. What many Africans have suggested is that some of the looted African objects should be returned, especially those with religious or political significance. Most Africans find it intolerable that we have few of our own cultural artefacts when thousands are lying in Western depots, most of them forgotten. There have been cases of some of the looted objects in depots in the original packages in which they were sent. The several appeals made by the Royal Family of Benin and the Nigerian Government for the renturn of some of the Benin bronzes have been to no avail. The British Museum was ready to sell Benin bronzes even to the Nigerian Government. (25)
The argument against return of looted cultural objects because of corruption in the country of origin may at first sight, seem plausible until one begins to examine its wider implications.
What level of corruption and in which areas of life would corruption justify refusal to return stolen cultural property to its owners, if this is at all legal and legitimate? Must corruption be detected in the cultural area or any aspect of life in that country? How long does the noted corruption act as effective barrier to restitution ? Does this refusal apply at all times or until corruption ceases? Who has the right to establish the cessation of corruption? The cultural objects in Africa were made by Africans and not given to us as some form of rewards for good behaviour by the gods. How then can someone sit somewhere, far away, especially in the looting States, and decide that because of our corruption the cultural objects cannot be returned? Are corrupt persons to be without culture or are they not entitled, as part of their human rights, to own cultural objects? Does the presence of corrupt persons in a society authorise deprivation of the whole society of its cultural objects?
Is the argument based on corruption only valid for African countries? Will anybody accept, for a second, a British argument that because of an alleged corruption in Greece they are not returning the Parthenon Marbles? Some tried to present an argument based on the presence of military rule in Greece but the patent dishonesty of the argument led quickly to its abandonment. Will the current expenses scandals which have shaken the British Parliament, resulting in the dismissal of the Speaker of the House, the first time in some 300 years, be sufficient ground for non-restitution to Britain based on corruption?
Who authorized those who looted cultural objects to sit now in judgement over their owners and refuse to return them? Can it really be accepted that those who loot determine when they will return the objects depending on their assessment of the conduct of the owners?
Are we making the wolf the shepherd? The Europeans who looted African cultural artefacts now sit in judgment over Africans. Should it not be the other way round? Those who have been accomplices in looting now generalize the wrong doing to affect whole nations, indeed a whole Continent. Similarly, the same States that have assisted in looting African resources and keep billions of illegally obtained money in their banks, refusing to repatriate the amounts, sometimes argue that they cannot repatriate large sums to corrupt countries. When these sums were sent to the West no one seems to have been worried by illegality or corruption.
Corruption should be faced directly. Those supporting arguments based on corruption have not gone to suggest that other countries should not deal in petroleum with Nigeria, for example, because of corrupt officials and institutions. No Western State has boycotted any African State because of corruption. Trade goes on as usual. Attention is thus diverted from the real problems of corruption to defend wrongful detention of cultural artefacts that were looted long before corruption ever became an issue. The British Army that looted the Benin bronzes did not advance corruption as a ground for the invasion.
None of us would like to defend corruption and corrupt officials but better arguments would have to be presented and above all, those countries that are accomplices in corruption should exercise some reserve and balance in their hypocritical criticisms. They should also avoid wholesale insults and demonization of whole States and a continent. There are no doubt some corrupt officials in many countries but is it right to insult a whole country of some 180 millions, such as Nigeria, as being corrupt in order to deprive the population of their cultural artefacts?
We should certainly pay attention to the various allegations and proofs of corruption, coming from Africans and friends of Africa. But are the friends of Africa the masters of Africa, its resources including cultural heritage? We must by all means recognize the inestimable work by some Western scholars on African culture but what right do they have over the disposition of looted/stolen African treasures? The treasures belong to the African peoples and not to the Western scholars whom Africans allowed to live among them and study their culture. Cultural objects of a people do not cease to belong to them even though they allow others to study their culture.
The scandalous situation where those illegally and illegitimately detaining the cultural objects of others can insult them with untenable arguments and accusations or proofs of corruption in which they are, directly or indirectly, involved must cease. Post facto arguments that are obviously self-serving when presented by Western museums are insults to those claiming the return of their cultural heritage. African scholars and Governments should energetically and decisively reject these arguments and insults from the West. That would clear the way for dealing with the serious question of restitution.
Corruption, where it exists must be dealt with but by the African Governments and peoples themselves without former colonial States, in many ways participants in the corruption, interfering and using this factor to justify, post facto, robbery in the colonial and post Independence period.
If corruption were a serious justification, why did the colonialists not return cultural objects when the governments were not corrupt? Or have the African countries, from Egypt to South Africa, from Senegal to Kenya, always been governed by corrupt elements?
IV. What is to be done?
In view of the very clear position of the major Western museums not to return any of the looted/stolen African artefacts, what should be done? Below are few proposals in this regard.
1. Urgent examination of existing cooperation agreements and arrangements between African museums and Western museums.
There is a need to establish clearly what benefits accrue from such arrangements and whether the agreements respond to the needs of the African public as opposed to those of the Western public.
It is intolerable that Western museums that cooperate with African museums continue to maintain a colonialist and an imperialist stance as regards the restitution of looted African artefacts. They do not feel obliged to moderate even their tone and language.
Nigerian institutions have been cooperating with the British Museum but that museum refuses even to consider the repatriation of the Benin bronzes. On the contrary, the director of the museum, in a recent speech, argued that the Benin bronzes were made of materials from Europe and that gave the museum a legitimacy to hold the bronzes. (26)
The British Museum is known to have been selling these objects and even sold some to the Nigerian Government. In the recent Benin exhibition, the Western institutions cooperating with Nigeria made it clear that they had no intention of returning any looted object. When one considers that the British Museum has some 700 pieces, the Ethnology Museum, Berlin, 580 and the Ethnology Museum, Vienna, 167 pieces, the extent of their contempt for Africans becomes clear. Do they need Benin cultural artefacts more than the people of Benin? None of the Western institution was prepared to return even one piece to the Benin Royal Family, the legitimate owners. Self-respect and national pride should set limits to cooperation with such Western institutions.
As far as I am informed, no African museum has a single European masterpiece, even on loan, from a Western institution. Is this how cooperation should look like?
2. Ratification of Major Conventions on Culture.
One depressing factor in discussions on restitution of looted African artefacts is the fact that many African countries seem reluctant to ratify the major conventions on culture: UNESCO Convention on the Means of Prohibiting and Preventing the Illicit Import, Export and Transfer of Ownership of Cultural Property, adopted in Paris, 14 November 1970 (http://portal.unesco.org.) and the UNIDROIT Convention on Stolen or Illegally Exported Cultural Objects, adopted in Rome 24 June 1995. (http://www.unidroit.org ). In an article in 1999, Prof. Folarin Shyllon noted that only twenty African States had become parties to the UNESCO Convention and not a single African State was party to the UNIDROIT Convention. (27) The situation has improved a little since then. Twenty - seven African countries are State Parties to the UNESCO Convention. Only seven African countries have become State Parties to the UNIDROIT Convention. (28)
The two conventions are the main international instruments for combating illicit traffic in artefacts. If African Governments are really interested in the efforts to stem the depletion of cultural heritage, they should ratify these conventions without further delay. Such ratifications would help to underline their determination and commitment to recovering the looted artefacts.
Whilst Western States seem ever ready to act outside the framework of International Law, if their interests so dictate, it is clearly in the overall interest of African States to strengthen the international regime.
3. Inventory of Looted/Stolen artefacts.
African States should finally establish inventories of their national heritage. Those artefacts which were looted in the colonial period and those recently stolen or looted should be clearly marked so as to help in identifying the present holders. Sources for the inventory of the looted objects could be catalogues of exhibitions, books on African art and individual visits to museums known for harbouring looted objects such as the British Museum, London, the Louvre, Paris, Musée du Quai Branly Paris, Ethnology Museum, Berlin, Ethnology Museum, Vienna, Royal Museum for Central Africa,Tervuren and others.
4. Policy Statements.
African States should issue clear policy statements outlining their position regarding objects stolen in the colonial period and recent loot. It is surprising that States such as Nigeria still have not issued clear policy statements on this subject even though Parliaments in the past and some Ministers have made requests for the restitution of the Benin Bronzes. There is need for a statement or document that we can all refer to when necessary.
5. Formal Requests for Restitution
African States should finally lodge formal requests for the restitution of the looted/stolen artefacts. Such demands should be sent to Governments, Parliaments, political parties, Museums and other institutions concerned.
Such formal demands should state the full extent of the claim e.g. requesting, in addition to the physical objects, interests. They should also ask for interest that has accrued since the illegal lootings as well as a share of the financial benefits that the museums have derived from the possession of the artefacts. It may be difficult to work this out in detail but at least, a substantial compensation should be paid for withholding those artefacts for so long and depriving the owners of their whilst the museums made profit from their possession.
6. Legal Actions and Dispute Settlement
It is now clear that quiet diplomacy has not resulted in any significant cases of restitution nor is it likely to do so in the near future. The looted cultural objects, as national treasures and property, should have been returned at the time of Independence. Many African States have been independent since 1960 (Ghana, 1957) and have expressed their wishes for restitution but there have been no remarkable results. On the contrary, Western museums are becoming more hysterical in their denials.
African States should finally proceed to taking legal actions in individual Western countries and making use of other processes of negotiation, such as the UNESCO Intergovernmental Committee (Intergovernmental Committee for Promoting the Return of Cultural Property to its Countries of Origin or its Restitution in case of Illicit Appropriation) (29)
It is amazing and discouraging that Nigeria for instance, has not submitted the case of the Benin Bronzes to this Committee.
7. Laws and Regulations
The laws and regulations regarding cultural artefacts and their exportation should be reviewed and strengthened. They should be presented in an easy form for general consultation. It is frustrating when these laws are not easily available. Severer penalties for looting should be imposed.
8. Public Information.
The general public in the African States should be fully informed about activities and actions on restitution in which national and other public institutions are involved. This educational process could start with providing materials that explain the events that led to looting of Africa cultural artefacts. For instance, in Nigeria, it is obvious that documentation prepared should be prepared by the Government or other institutions on the Benin Expedition of 1897. The availability of material for popular consumption will yield immense benefit not only in the particular context but also in other areas. People in Nigeria and elsewhere will come to learn about Benin, Ife, Nok and other cultures and appreciate the very rich and varied cultures that exist in Nigeria, from North to South and from West to East.
Materials on restitution and other cultural items should be made available also on the internet. A special unit of the Ministry of Public Information/Ministry of Culture should be charged with producing material and putting them on the web. There should be specific sites dedicated to restitution of cultural artefacts.
Education should also emphasize the damage caused by looting and the need to protect and preserve cultural heritage.
9. Coordination at the African and International Levels
Since most African States have experienced great difficulties in trying to secure the return of their looted/stolen artefacts from Western States, it stands to reason that coordination of plans and exchange of information would be to the benefit of all. Some States such as Egypt have had some success. Egypt has been successful in the last few years in securing the return of some 5000 artefacts. Nefertiti however is still in captivity in Berlin. Some Germans even argue she is more German than Egyptian. The British refuse to discuss the return of the Rosetta Stone. Ethiopia has secured the return of the Axum obelisk which the Italian Fascist Government of Mussolini looted. Ghana, Nigeria and other States have not been so successful. Perhaps more consultation may reveal that the Egyptian success is largely due to the presence of the energetic Secretary-General of the Supreme Council of Antiquities, Zahi Hawass. Hawass has undoubted authority to speak for Egypt. http://drhawass.com In other African countries it is difficult to know who speaks for the country on such matters. It may also be helpful to coordinate efforts within the framework of the African Union.
At the international level UNESCO, ICOM and the United Nations have resources which have not as yet been systematically utilized by the African countries. The secretariats of the organizations have long experience which could be used more effectively.
Other countries such as China, Turkey and Greece could be helpful in restitution activities, having all suffered imperialist domination leading to loss of national cultural artefacts.
10. Western Public and Restitution
One aspect of the attempts to recover artefacts looted that has not been given much attention, is the public opinion in various Western States.
Contrary to the impression often transmitted by some parts of the culture establishment in Western States, especially by the directors of the major museums, their people do not support them in the negative position taken against restitution. The majority of the public, while appreciating the advantage of being able to see foreign artefacts in the West, are not in favour of retaining such artefacts against the will of those who produced them. Often, as a result of inadequate information about the circumstances of the acquisition of specific objects, the public is, generally, ignorant about disputes concerning ownership of specific objects. Where the public has adequate information, their inner convictions and sense of justice revolts against the untenable position of the museums.
If we take as an example, Great Britain where many looted objects are to be found in the museums, the public is not behind the museums directors where adequate information is available. The British Museum has always denied the request of the Greeks to return the Parthenon/Elgin Marbles. Countless United Nations and UNESCO resolutions have urged the British to return the Marbles. The dispute has been in existence for decades but has now gained added momentum because of the new ultra modern Acropolis Museum.
Many public opinion polls have shown that the majority of the British people are in favour of returning the Marbles to Athens. Recent polls by the Guardian have confirmed this 94.8 5% were in favour of returning the Marbles to Athens and only 5.2% were against. (30)
African States should seek to bring the issue of restitution to the public in the Western States so that additional pressure could be exerted on the museums and the politicians.
Kwame Opoku, 17 August, 2009
Is he Nigerian or German?

Altar Group, Oba Akenzua I, Benin, Nigeria, now in Ethnologisches Museum, Berliun, Germany
.NOTES
* A version of this article will be published in 1897.com:
An Art exhibition on Benin, by Peju Layiwola.
1. Peju Layiwola, "Edo Art: Memory and Reconstruction", Lecture delivered at University of Zurich, 2005; see also "The Benin Massacre: Memories and Experiences" Barbara Plankensteiner (Ed), Benin: Kings and Rituals - Court Arts from Nigeria, Snoeck, 2007, pp.83-89.
2. The British Museum and other museums have always refused to tell us exactly how many of the artefacts they possess. The German anthropologist, Felix von Luschan, head of the Berlin Institute for Ethnology and the person responsible for acquiring many of the bronzes for his institute estimated that about 2400 of the Benin objects ended up in Europe.
In a Memorandum entitled The Case of Benin (Appendix 21 ) submitted by Prince Edun Akenzua to the Select Committee on Culture, Media and Sport of the British House of Commons in 2000, the Prince stated "that the British carried away more than 3,000 pieces of Benin cultural property." http://www.publications.parliament.uk
Most European and American museums have some Benin objects.
According to Charlotta Dohlvik, Museums and their Voices: a Contemporary Study of the Benin Bronzes, (Master's Dissertation, May 2006, Göteborg University): "the largest collection of Benin items are found at the Ethnological
Museum in Berlin". The author also found out that the "collections of Benin
heads are strongly concentrated in museums of Western Europe and the United
States" and that "The often-heard statement about the collection of Benin
material being dispersed all over the world is thus a point of description that
should be expressed with some moderation". p.29
Listed here below are some of the museums where Benin bronzes are found and their numbers, as far as we can tell. This is not an attempt to be complete but to give the reader an idea about how widespread these looted art objects are. For a complete list, consult Philip J.C. Dark, An Introduction to Benin Art and Technology, 1973, Oxford University Press, London, pp. 78-81. Useful information can be found in Barbara Plankensteiner (Ed) Benin: Kings and Ritual - Court Arts from Nigeria, Snoeck Publishers, Ghent, 2007.
List of Museums and Number of Benin Bronzes in their Possession
Berlin - Ethnologisches Museum 580.
Chicago - Art Institute of Chicago 20, Field Museum 400.
Cologne - Rautenstrauch-Joest-Museum 73.
Hamburg - Museum für Völkerkunde, Museum fur Kunst und Gewerbe 196.
Dresden - Staatliches Museum für Völkerkunde 182.
Leipzig - Museum für Völkerkunde 87.
Leiden - Rijksmuseum voor Volkenkunde 98.
London - British Museum 700.
New York - Metropolitan Museum of Fine Art 163.
Oxford - Pitt-Rivers Museum/ Pitt-Rivers country residence, Rushmore in Farnham/Dorset 327.
Philadelphia - University of Pennsylvania Museum of Archaeology and Anthropology 100.
Stuttgart - Linden Museum-Staatliches Museum für Völkerkunde 80.
3. Kwame Opoku, "Nefertiti, Idia and Other African Icons in European Museums: The Thin Edge of European Morality", http://www.modernghana.com
See the following websites: Afrikanet, http://www.afrikanet.info
CultureGrrl, http://www.artsjournal.com/culturegrrl/ ,
Elginism, http://www.elginism.com
Looting Matters, http://lootingmatters.blogspot.com
Modern Ghana.com, http://www.modernghana.com
Museum Security Network, http://www.museum-security.org
"Benin to Quai Branly: a Museum for the Arts of the Others or for the Stolen Arts of the Others?" http://www.antropologi.info"Benin to Berlin Ethnologisches Museum: Are Benin Bronzes made in Berlin?" http://www.google.at/"Does Collaboration between Nigerian Institutions and European/American Museums Bring us closer to Restitution of Nigeria's Stolen/Looted Arts?"
http://www.afrikanet.info
4. Michel Leiris, Afrique Fantôme, see Annex I below.
5. James Cuno, Who Owns Antiquity? Princeton University Press, 2008; Whose Culture? Princeton University Press, 2009. Kwame Opoku, "Do Present-Day Egyptians Eat the same Food as Tuthankhamun? Review of James Cuno's Who Owns Antiquity?"http://www.modernghana.com
Kwame Opoku, "Whose "Universal Museum"? Comments on James Cuno's Whose Culture?"
http://www.modernghana.com
Neil MacGregor, "The whole world in our hands", http://www.guardian.co.
Kwame Opoku, "Benin to Chicago: in the "Universal Museum?"
6. Kwame Opoku, "Comments on Article by Bernard Mueller", le Monde diplomatique
http://list.africom.museum
7. Peter Garlake, Early Art and Architecture of Africa, Oxford University Press, 2002, p.27.
8. Folarin Shyllon, "Museums and Universal Heritage: Right of Return and Right of Access", http://www.blackherbals.com/museums
9 Folarin Syllon, "The Nigerian and African Experience on Looting and Trafficking in Cultural Objects", in Barbara T. Hoffman (Ed.) Art and Cultural Heritage, Cambridge University Press, 2006, p.139.
10 .Michel Brent, "The illicit trade in African countries", in Peter Schmidt and Roderick J. McIntosh (Eds.) Plundering Africa's Past, Indiana University Press, Bloomington and Indianapolis, James Currey, London, 1996, p.68,
11. Martin Bailey, "Don't return artefacts to Nigeria "http://cache.zoominfo http://www.museum-security.org
12. Martin Bailey, op.cit. Martin Bailey has also reported that some Nigerian diplomats have been involved in the illicit traffick by using the diplomatic pouch "Yaro Gella, former director-general of Nigeria's museums and monuments, claims that diplomats in Nigeria misuse their privileges to smuggle objects out of the country in the diplomatic pouch, particularly at the end of their term in the country. 6 Usually no action is taken against any of these diplomats. http://www.thebrokeronline.eu
13 Michel Brent, op. cit. p.72.
14. Dele Jegede, in Peter Schmidt and Roderick J. McIntosh (Eds.) Plundering Africa's Past. 126.
See also Olalekan Ajao Akinade"Illicit Traffic in Cultural Property in Nigeria:
Aftermaths and Antidotes", African Study Monographs, 20(2): 99-107, June 1999 http://d01-404.kyoto-u.ac
15. Eric Huysecom, "Le pillage de l'histoire africaine », http://www.letemps. "Out of Africa, ou le pillage d´un patrimoine archéologique" http://www.afrikanet.info K. Opoku, "Let Others Loot for You: Looting of African Artefacts for Western Museums", http://www.modernghana.com
16. ICOM Press Release entitled NIGERIA'S OWNERSHIP OF NOK AND SOKOTO OBJECTS RECOGNISED http://www.icom.org/redlist see also, K. Opoku, "Does the Demand for the Restitution of Stolen African Cultural Objects Constitute an Obstacle to the Dissemination of Knowledge about African Arts?
17. James Cuno, Who owns antiquity? Museums and the battle over our ancient heritage, Princeton University Press, Princeton, 2008.
See also, Kwame Opoku, "Do Present-Day Egyptians Eat the same Food as Tutthankhamun? Review of James Cuno's Who owns Antiquity?"
http://www.modernghana.com
18. James Cuno, interview of January 27, 2008 with Richard Lacayo, "A Talk With: James Cuno" http://www.elginism.com/20080201/976/
K. Opoku, "A Blank Cheque to Plunder Nok Terra cotta?"
http://www.modernghana.com
19. Declaration on the Importance and Value of Universal Museums. http://cool-palimpsest.stanford.edu/icom/pdf/E_news2004/
See also, Tom Flynn, "The Universal Museum- A valid model for the 21 Century?" www.tomflynn.co.uk/
Mark O'Neil, "Enlightenment museums: universal or merely global? http://www.le.ac.uk/ms/m&s/Issue%206/ONeill.
20. Enid Schildkrout and Curtis A. Keim, The Scramble for Art in Central Africa, 1998, Cambridge University Press, p.1
21. Museum International, UNESCO, nos. 241 and 242, May 2009, Return of Cultural Objects - Athens Conference, p. 24.
22. Plankensteiner, ibid. p.17)
23. Great profit can be gained by reading Adam Hochschild's account of the Belgian King Leopold's oppressive and cruel rule in the Congo: King Leopold's Ghost: A Story of Greed, Terror, and Heroism in Colonial Africa, 1999.
Those with strong stomachs can also read the article on Leopold II in Wikipedia where it is stated that "A result of Leopold's colonialism, children had their hands amputated when they didn't meet demands for the Belgians" A photo of two children with amputated hands is shown there. http://en.wikipedia
It as been said of the Tervuren Museum in connection with its exhibition in 2005, The Memory of Congo: the Colonial Era and Congo: Nature and Culture: that:
"The museum has come to represent the worst abuses of Belgian colonialism in Africa, though in touring Brussels, visitors can see other vestiges of Congo's plundering. Ivory, rubber, copper, diamonds and gold from the Central African nation, now called the Democratic Republic of Congo, funded the construction of the broad Parc du Cinquantenaire and the colossal neoclassic Palais de Justice. And everywhere in the Belgian capital there are statues of King Leopold II, whose stated purpose in Congo was to "bring civilization to the only part of our globe it hasn't yet penetrated." Along the way, the king, who died in 1909, reaped a profit from the colony of an estimated $1.1 billion." http://users.telenet.be
See also an article in the Museum Security Mailing list of December 2001, entitled http://www.museum-security.org
Samuel Sidibé, director of the Mali's National Museum, has described Belgium as "a hub of illicit trade" in an excellent article, "When farmers become
curators", http://www.unesco.org/courier/2001. Sidibé also gives an account of Mali's efforts to combat the illicit traffic.
Some Swiss authors have also described Switzerland as "paradis des collectionneurs", Didier Fontannaz, « Pillage et traffic de biens culturels:la Suisse paradis des collectionneurs? » Culture en jeu, no. 22. juin 2009, pp. 19-23. See also, Peter Watson and Cecilia Todeschini, The Medici Conspiracy: The Illicit Journey of Looted Antiquities from Italy's Tomb Raiders to the World's Greatest Museums, New York, Public Affairs, 2006. The revelations of the Medici case led to several American museums having to return in 2007 to Italy cultural artefacts that had been illegally exported from Italy and ended in major American museums, such as J. Paul Getty Museum, Los Angeles, Museum of Fine Arts, Boston, Metropolitan Museum of Art, New York and Princeton University's Art Museum.
Kwame Opoku, "Returned Stolen/Looted Art Displayed by Italy", http://www.elginism.com
24. Schildkrout and Keim, op. cit. p.14.
25. Martin Bailey, "British Museum Sold Benin Bronzes" (19), http://www.forbes.com
26. Kwame Opoku, "When Will Everybody Finally Accept thet the British Museum is a British Institution? Comments on a Lecture by Neil MacGregor", http://www.modernghana.com
27. Folarin Shyllon, "The Recovery of Cultural Objects by African States through the UNESCO and UNIDROIT Conventions and the Role of Arbitration", http://www.unidroit.org/english/publications/review/articles/2000-2a.htm
28). African countries that are State Parties to the 1970 UNESCO Convention with their dates of ratification: Algeria (1974), Angola (1991), Burkina Faso(1987),Cameroon (1972), Central African Republic (1972), Chad (2008), Côte d'Ivoire (1990),Democratic Republic of Congo (1974), Egypt (1973), Gabon (2003), Guinea (1979), Libyan Arab Jamahiriya (1973), Madagascar (1989) Mali (1987), Mauritania (1977), Mauritius (1978),Morocco (2003), Niger (1972),Nigeria (1972).Rwanda (2001), Senegal (1984) Seychelles (2004), South Africa (2003), Tunisia (1975) United Republic of Tanzania (1977),Zambia (1985) and Zimbabwe (2006).
The African countries that are State Parties to the 1995 UNIDROIT Convention, with their dates of ratification are:
Burkina Faso (1995), Côte d'Ivoire (1995), Gabon (2004), Guinea (1995), Nigéria (2006), Senegal (1996) and Zâmbia (1996).
29. http://portal.unesco.orgl
30. Aida Edemariam "How G2's Parthenon marbles poll went global", http://www.elginism.com
See http://www.parthenonuk.com for more information on the Elgin Marbles.
ANNEX I
EXTRACTS FROM AFRIQUE FANTÔME, MICHEL LEIRIS
(Gallimard, Paris, 1951. Translations from the French are by K. Opoku)
28 August 1931After the journey. Dinner at Sido (128 km). Raid, as in the other village, of all that we can find by way of dance costumes, utensils, children's toys, etc." (Ibid. p.96)
6 September
"On the left, hanging from the ceiling in the midst of a crowd of calabashes, an indefinable packet covered with feathers of different birds and in which Griaule feels that there is a mask.
Irritated by the equivocations of the people our decision is quickly made: Griaule takes two flutes and slips them into his boots, we place the other things in place and we leave." (Ibid. p.103)
"Griaule decrees then and through Mamadou Vad, informs the chief that since they are obviously mocking us, they must, as reprisals deliver to us a Kono (a religious object) in exchange for 10 francs, on pain of the police, said to be hiding in our vehicle, coming to take the chief and the important persons of the village to San where they will have to explain themselves to the Administration. What a terrible blackmail!
With a theatral gesture, I gave the chicken to the chief and as Makan has arrived with the canvas sheet, Griaule and I ordered the men to bring us the "Kono" (religious object). With everybody refusing, we went there ourselves, enveloped the holy object in the canvas sheet and went out like thieves whilst the panic-stricken chief fled and at some distance, drove his wife and children to their home with a baton. We crossed the village, which had become completely deserted, in a deadly silence, we reached our vehicles…
The ten francs are given to the chief and we leave in a hurry, in the midst of general astonishment and crowned with the aura of particularly powerful and daring demons or rascals."(Ibid. pp.103-104)
7 September
"Before leaving Dyabougou, visit to the village and the taking of the second "Kono", which Griaule had spotted by entering into the reserved hut surreptitiously? This time it is Lutten and myself who have the responsibility for the operation. My heart beats very strongly for since the scandal of yesterday, I realize with more clarity the enormity of what we are committing." (Ibid. p.105)
"In the next village, I recognised a hut for a "Kono" with a door in ruins, I point it out to Griaule and the action is decided. As in the previous case, Mamadou Vad announces suddenly to the village chief whom we have brought before the hut in question, that the commander of the mission has given us the order to seize the Kono and that we are ready to pay an indemnity of 20 francs. This time, I alone take care of the operation and penetrate into the sacred small place, with the hunting knife of Lutten in my hand in order to cut the links to the mask. When I realise that two men - in no way at all menacing, have entered behind me, I realise with an astonishment which after a very short time turns into disgust, that one feels all the same very sure of one's self when one is a white man and has a knife in his hand." (Ibid. p.105)
"Towards the evening, the French teacher informed us that the mosque was the work of a European, the former administrator. In order to implement his plans, he destroyed the old mosque. The natives were so disgusted by the new building that they had to be punished with imprisonment before they would agree to sweep the building." (Ibid. p.115)
"Departure to the Habés. From the first village visited problems. The Habés
are nice peoples who stand firm on their feet and do not seem to be ready to let others disturb them. Attempts to buy a few locks, even a purchase, they will protest and denounce a completed bargain; in a gesture of anger, Griaule breaks a "waamba" (a music instrument for the circumcised) which he had paid for and let it be said that he curses the village." (Ibid. p.120)
12 November
"Yesterday, we were refused with shock several statuettes which were used to cause rainfall, as well as a statuette with raised arms, found in a sanctuary.
Taking away these objects would have been like taking away the life of the country, said a young man who, even though had been in the army, had remained faithful to his customs, almost crying at the thought of the disasters that our impious gesture would have provoked, and opposing our evil design with all his strength, had alerted the old men. Feeling like pirates: saying good-bye this morning to these affectionate old men, happy that we had spared them a disaster, we kept an eye on the huge green umbrella which was normally used to protect us but was today carefully bound. There was a strange bulge looking like the beak of a pelican: it contained the famous statuette with raised arms which I had myself stolen at the foot of the earth mound which served as its altar. I first hid it in my shirt… and then I put it in the umbrella… pretending to urinate in order to divert attention.
This evening, at Touyogou, where we are camping at a public place, my chest is full of earth: my shirt served again as a hiding place for a kind of double edged blade, as we left the cave of masks of this village." (Ibid. p.156)
14 November
"In addition, the abductions continue and the information. Sanctuaries and holes in which one throws old masks are systematically explored." (Ibid. p.157)
15 November
"Our friends, Apama and Ambara brought us secretly costumes of fibres for masques which we had asked them. They requested us, above all, to hide them well. Today, I am preparing with them cards on these objects. Apama and Ambara are very attentive to the slightest noise. A child who wanted to enter was scolded. No doubt; our methods have set an example and the two nice boys went to take the costumes of fibres in the cave of masks where they were hidden. The influence of the European..." (Ibid. pp.157-158)
18 November
"In another cave, we were authorised to take one of these objects (objects destined for causing lightning to fall on the heads of thieves). But when we put our hands on it, the people turned away from us, for fear of seeing us terribly punished for our sacrilege… To the right of the cave, in a small sanctuary, a beautiful wooden sculpture. We did not look at it too much in order not to draw too much attention; but it was agreed that this night, Schaeffner and I, we were going to seize it." (Ibid. p159)
ANNEX II
Conclusions of the Athens International Conference
on the Return of Cultural Objects to their Countries of Origin
Athens, 17-18 March 2008 *
Experts on the issue of the return of cultural objects to their countries of origin, who participated in the first International Conference held in Athens, on 17th and 18th March 2008, within the framework of the meeting co-organized by the Intergovernmental Committee for Promoting the Return of Cultural Property to its Countries of Origin or its Restitution in case of Illicit Appropriation and the Hellenic Ministry of Culture, in the presence of the Member States of the Committee have reached the following conclusions:
• It is important that UNESCO organise international conferences, so that experts intensify their study of the issue of the return of cultural property to its country of origin, in order to produce viable and realistic solutions;
• Cultural heritage constitutes an inalienable part of a people's sense of self and of community, functioning as a link between the past, the present and the future;
• It is essential to sensitize the public about this issue and especially the younger generation. An information campaign may prove very effective toward that end;
• Certain categories of cultural property are irrevocably identified by reference to the cultural context in which they were created (unique and exceptional artworks and monuments, ritual objects, national symbols, ancestral remains,
dismembered pieces of outstanding works of art). It is their original context that gives them their authenticity and unique value;
• The role of the Intergovernmental Committee for Promoting the Return of Cultural Property to its Countries of Origin or its Restitution in case of Illicit Appropriation must be strengthened through the necessary means, resources and infrastructure. Effort should be made to encourage mediation either through the Committee or by other means of alternative dispute resolution;
• Requests and negotiations for the return of cultural goods can work as a vehicle for cooperation, collaboration, sharing, joint research and economic promotion;
• In recent years a clear tendency towards the return of cultural objects to their countries of origin has been developed on legal, social and ethical grounds. The return of cultural objects is directly linked to the rights of humanity (preservation of cultural identity and preservation of world heritage);
• Museums should abide by codes of ethics. On this basis, museums should be prepared to initiate dialogues for the return of important cultural property to its country or community of origin. This should be undertaken on ethical, scientific, and humanitarian principles. The cooperation, partnership, goodwill and mutual appreciation between the parties concerned could lead to joint research programs and exchange of technical expertise.