What type of politics is practiced in Ghana?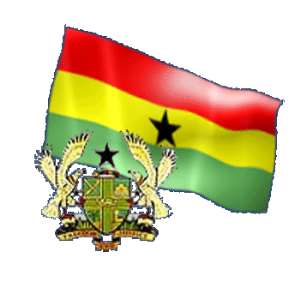 Coming from a country where problems facing the residents of a local community in a particular constituency or a region is believed to be only solved by a minister, member of parliament or assembly member for that community, it is very difficult to change the minds of the people to fight for their own development instead of solely relying on government officials.
As reliance on government officials to solve problems deepens, so it makes certain politicians explore deceitful ways of telling lies in order for their electorates to believe and elect them as their leaders in parliament.
Since many of these selfish politicians think it is only by telling lies that can push them up or get them elected by the people, they device all sort of lies, some unsubstantiated against others thinking the electorate in their constituencies will believe and vote for them. And some have succeeded.
Many are those who claim that politics is dirty looking at the way some of our politicians physically or verbally attack other persons of political parties who do not share the same opinions as that of their political parties.
Their mouths rant with insults least they think their opponents are speaking something different from what they believe in and think could win more votes to cause them their defeat.
But in reality and truth, politics is not as dirty as some of us think. It is a nice game where one with the best strategy wins and for one to win has to device scientific strategies that can let him be accepted by the majority of the electoral population.
Therefore it is very sad that many residents in Ghana have this perception at the back of their mind that politics is dirty so the best way to win an election is to embark on politics of deceit, lies, libel.
To throw a big challenge, politics has lived with Africans since generation and to support the argument, before the white man came to the shores of Gold Coast, our historians tell us that our chiefs were ruling not with iron fists but in consultation with their subjects.
They sat in state where issues of consent were brought forth for discussions and the ordinary person's opinion was sort before the final decision was made by the chief where everyone has to obey.
Apart from that, politics is a critical study of events of the past under the leadership of certain persons and find out whether their policies implemented brought the freedom and development yearned by their subjects and if there was the need to support them to carry on or booth them out and get new experts to implement new policies that will benefit the masses.
In this direction, Ghanaians can be praised for that since they do a lot of research before they vote for a particular party they think can lead them well. If not so they would not have voted for the NPP in 2000 elections after haven listened to Mr. J.A. Kufuor's campaign message on the economy which he then described "shambolic".
After his eight years term in office, the NDC managed to wrestle power from his party because they managed to convince the electorate that his and for that matter the NPP government can never improve the economy of the country and Ghanaians voted for the NDC to come to power.
Whether they did their home work well before voting for the NDC or not, the cries raging from the constituencies of "ye nu yenhu" tells it all. Do not take the good thinking Ghanaians for granted and if I say this I mean, they are very assertive and even five months in office of president Atta Mills, they have started to complain on the airwaves that what they were made to believe are not what they are seeing now.
Politics of deceit or truth, trust the Ghanaian electorate to assess the leaders in government and effect a change when the time is due therefore president Atta Mills should not waste time to fix the economy if he claims it was bad when he took over from Kufuor otherwise Ghanaians are going to show him and his NDC government the exit come 2012.
President Atta Mills, please open your eyes like an eagle, ears like that of the parrot and act swiftly to ensure that no dirty water pass under your bridge otherwise 2012 will be unfulfilled dream for you to get re-elected as Ghana's president.
Some of us do not want to hear from you making flimsy excuses if things does not go your favour as people who could not climb mountain Everest complain that the boundaries prevented them from climbing it.
By: Stephen A.Quaye
Toronto-Canada.