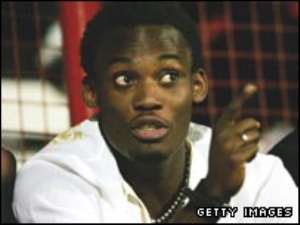 Essien will stay at Chelsea
Ghanaian midfielder Michael after coach Carlo Ancelotti said he has completed his business in the summer transfer window.
  Form for use with Basic debt advice factsheet, to help with budget planning and paying off debts. brownh Budget, Budget sheet, Debt, Expenditure, Expenses, Financial statement, Income, Income and expenditure, Income and expenses, Non-priority debt, Outgoings, Priority debts 11.9999 The English side had reportedly offered up their Ghanaian star to sweeten the bid for AC Milan's Andrea Pirlo.
  Chelsea have been strongly linked with  Pirlo , the http://www.goal.com/en/teams/italy/1/milan Milan http://www.goal.com/en/people/italy/50/andrea-pirlo playmaker, over the past few weeks with reports saying the Blues have added a further enticement to their bid for the ex-Inter player.
However, as Chelsea prepare for their Community Shield showdown with Manchester United on Sunday, Ancelotti has confirmed there are no plans to add to the squad before the transfer window closes.  
"Now we stay with the players I've got. I don't want to take other players because the squad is very competitive,'' said Ancelotti.
  "We don't need other players and I don't expect to make any more signings before the window shuts.''
 
This means for the upcoming season.
  The Blues have made just three signings this summer, with Ross Turnbull, Daniel Sturridge and Yuri Zhirkov moving to Stamford Bridge.