Fighting ends Zimbabwe conference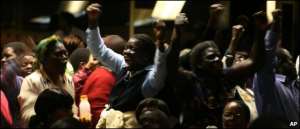 Mr Mugabe's supporters disrupted the conference minutes after it had begun

Zimbabwe has abandoned a conference on a new constitution after fights broke out between rival delegations.
Supporters of President Robert Mugabe disrupted the meeting by dancing and singing revolutionary songs.
Some delegates walked out in protest, others threw water bottles. Riot police had to clear out the Harare venue.
Thousands of politicians and activists had joined the talks, which were intended as the start of a year of consultations on the issue.
A referendum is scheduled for a year's time and once a charter is in place, Zimbabwe is expected to have another attempt at holding a free and fair election.
Former opposition leader Morgan Tsvangirai was sworn in as prime minister in a power-sharing government in February to end months of political deadlock following last year's disputed elections.
'Lack of sincerity'
More than 4,000 delegates are reported to have turned up at the constitutional talks.
Mr Mugabe was due to open the conference and Mr Tsvangirai was also expected to attend.
But neither man showed up, despite the start time being pushed back by several hours as organisers struggled to register all the delegates.
Parliamentary speaker Lovemore Moyo opened the conference by telling the audience that a constitution is about "the people deciding how they are governed".
"It is not about the government or anyone else telling the people how they want to be governed," he said.
But minutes into his speech he was drowned out by hundreds of Mugabe supporters who gathered in front of the stage and chanted revolutionary songs.
Mr Moyo, a member of Mr Tsvangirai's Movement for Democratic Change (MDC), left the hall as scuffles broke out between MDC and Zanu-PF backers.
The first session of the All Stakeholders Conference was brought to a halt by the intervention of riot police.
MDC minister Nelson Chamisa said the events demonstrated a lack of sincerity and deficit of goodwill from Mr Mugabe's Zanu-PF.
Battle lines
The BBC's Jonah Fisher, in neighbouring South Africa, says the battle lines had already been drawn between the two main partners in the country's power-sharing government.
The MDC is calling for this to be a genuine public process - with ordinary people given a real say in drafting the document.
Zanu-PF wants the constitution based on what is called the Kariba Draft, which was drawn up by the parties last year.
But critics of the Kariba document say it gives the president too much executive power.