Pearls of Wisdom from Barack Obama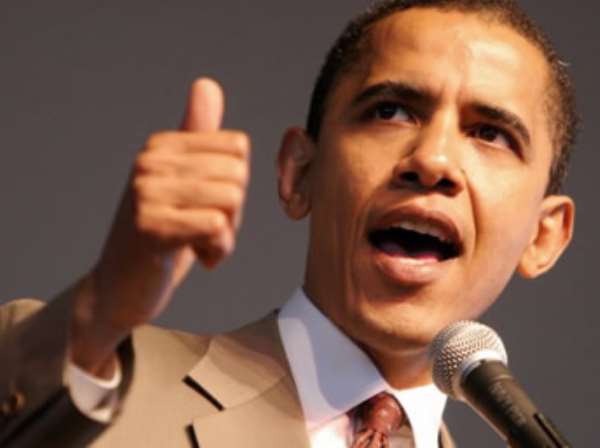 By Anis Haffar
[A prelude to his historic visit to Ghana, July 10, 2009]
Harvard University overflowed with various graduation ceremonies on June 4, 2009. At the Harvard Law School, on my recent educational tour, I sensed the atmosphere seething with optimism. Like Franklin D. Roosevelt and John F. Kennedy, the 32nd and 35th U.S. Presidents respectively, a Harvard favourite son was making waves across continents, and all eyes were on him with great expectations. What was conspicuously missing at the function that Thursday was the presence of Barack Obama himself. The new U.S. President had cut his legal teeth at the School, having served as the first African-American President of the Harvard Law Review.
But on that day, he was out in Egypt at the Cairo University delivering a speech dubbed "A New Beginning", regarding the future of the Middle East. For some African students, relatives, and friends who had gathered for the graduation ceremony, the suspense was in the historic visit to Ghana, July 10th, and an Obama speech expected to radiate a brave, new light on U.S. foreign relations with the continent.
In Ghana, an Akan adage goes like this: "Kokofu 'ball' bo, se wonnua nni mu a, yenbo mma wo." To wit: In soccer games in the Kokofu village, without a brother on the field, the ball is hardly ever passed to you." And, I may add, "passed in a way in which you score a winning goal."
I read Obama's "Dreams from My Father", with the complete text of the 2004 Democratic Convention Keynote Address. Like him, at the time, I felt that his presence on that stage was "pretty unlikely". But it dawned on me that the new century had hatched a pretty, new man for the turf. History meanders, playing cute little tricks in its courses. Two special dates have astounded historians lately: One - May 10, 1994 - with Nelson Mandela sworn in as President of South Africa, and the apartheid regime buried; and Two – January 20, 2009 - the inauguration of Barack Obama as the 44th President of the United States. What a span of fifteen years can do!
It was a great pleasure mining, selecting, and editing these "Pearls of Wisdom" from the book by the man Oprah Winfrey christened "The One". It is with a greater honour that I share these gems. Africans, especially, the African youth everywhere, stand to gain immensely from them to uplift this great continent of ours. In "Dreams from My Father", Obama echoes the following themes: Self-Discovery and Reflection, Imagination, Fear, Passion for Community Work, Mother and Father, Children, and Religion.
To improve one's life is to improve one's thought. With that in mind, let's peruse these pearls as we prepare the "Akwaaba" for this maverick who believed that "Yes, we can." And, "Yes, we did!"
On Self-Discovery and Reflection
Education doesn't do us much good unless it is mixed with sweat.
Wisdom is content with common sense.
The resurrection of the self is self-alloyed to something larger.
But always better to be strong yourself. Always.
Sometimes you can't worry about hurt. Sometimes you worry only about where you have to go.
The constant, honest portion of myself sturdied a bridge for my future.
Maturity with time left, energy with means, and recognition of accomplishments free the spirit.
Some plans grow bolder the further they receded from possibility.
True love knows your life in the round, and will survive disappointment.
A healthy dose of guilt never hurt anybody.
Like hairs swept across a bald man's head, hastily planted saplings refuse to grow.
If you want to grow into a human being, you're going to need some values.
With the basics take care of, each of us could search for our own sense of self-worth.
On Imagination
I close my eyes and imagine I'm there.
Imagine an alternate history for yourself.
The hint of what's possible spurs us on.
Begin to see a new map of the world.
Like poetry, a luminous world always presented itself beneath the surface, a gift.