Patriotism and Bipartisanship is Key for Ghana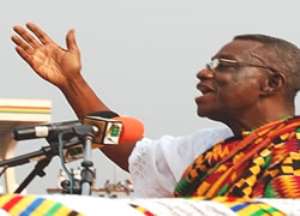 On January 19, 2009, the third President of the Fourth Republic of Ghana, President John Evans Atta Mills delivered his State of the Nation address to Ghanaians in Parliament.
The president's message contained a lot of interesting issues worth discussing. The most inspiring of all the issues he raised was his call on all Ghanaians to assist him in the development drive of the nation and that he alone could not develop Ghana, as well as his call for consensus building on issues of national interest and development.
In his inaugural speech the president also did indicate to all Ghanaians that he was going to be the father of everyone. That was an inspiring remark!
It is indeed important for the politics of the winner takes all to be consigned to the dustbins of history by ensuring that there is real political inclusiveness. One that is not only based on inviting political opponents to serve in government, but one that ensures that through policies and programme that what each and every Ghanaian deserves, irrespective of his political, ethnic, religious and other considerations is given.
The spirit of nationalism, bipartisanship and larger national interest should be re-awaken in Ghanaians and should be made a guiding principle in any activity or action any Ghanaian anywhere engages in. America is what it is today because Americans have trust and confidence in the systems they have toiled together to build over hundreds of years ago.
One major issue that has over the years militated against Ghana's development is the politicization of every issue of national interest and lack of confidence in our institutions and their ability to provide solutions to nagging problems on a sustainable basis.
The phenomenon of proceed on leave as seen in the seven month old government of the NDC does not augur well for the development of the country and attraction of the best Ghanaian brains abroad due to such imprudent actions of government emanating from pressures from party supporters and the so called invisible hands perceived to be manipulating the political system.
The actions of governments over the years regarding the appointments to very sensitive parastatals and development departments, boards and agencies have greatly been politicized to the extent that rules and regulations that would instill that sense of confidence in the minds of Ghanaians in those institutions and officers are eroded.
Consensus building and spirit of nationalism can be revived if we begin to depoliticize appointments to key institutions in the country as well as giving every Ghanaian the opportunity to discover his or her worth based on his experience and competence, but not on cronyism and political considerations.
Most of Ghana's development problems are intertwined, in that, the politicization of almost every issue in the country has led to a lack of continuity of development projects, programmes and policies which are in reality beneficial to the nation.
For instance, the overthrow of Dr. Kwame Nkrumah brought about the abandonment of key developmental projects which were geared toward the industrialization agenda of Ghana.
As president Mills noted,"A house which is constantly rebuilding its foundation is doomed."
On the economy the president mentioned a lot of figures on fiscal deficit, expenditure deficit and inflation rate. The over all national debt and the much disputed Tema Oil Refinery debt were also mentioned. I will not repeat the mistakes of the two elephants, so therefore I will not mention the figures the president stated in his state of the nation address in parliament. The reality is that I am anti-figures (Mr. no figures).

The polarization of the country along partisan lines has often led to the question of "Na who caus am." President Barak Obama of the United States of America in his inaugural speech said that what a government does at a point in time was done in the interest of the nation and the issue of apportioning blames should not arise at all, especially when the messes have already been created. The important thing according to him was what to do collectively to resolve the problem and move the nation forward.
It is surprising that in Ghana we hear and see our politicians spending the rest of their productive hours, stay and energy on earth blaming each other on who is doing well in unraveling the mystery surrounding the murder of 44 Ghanaians in the military-transformed civilian Yahya Jemmeh's Gambia to who caused Ghana's inflation rate to increase and who caused the floods to destroy lives and property in Accra-all in the name of scoring cheap political points. I think Ghanaians deserve better than we are seeing today from our politicians.
On the 22nd of February, 2009 the Australian government organized a memorial service in honour of Australians who lost their lives in the deadly bushfires that swept through the Victorian neighborhood. All the people who spoke across the political divide during the ceremony spoke as Australians, but not as members of a political party in government or in opposition. The disaster to them was a national calamity.
It is gratifying to note that President Mills during his state of the nations address outlined certain mechanisms to ensure that the nation saves some money for development. Paramount among them was the promise to reduce protocol budget. It is true that there are a lot of waste and leakages in the system. He also promised a lean government but not a lean budget for the presidency.
The tea and water drinking spree of the Transitional Team that cost the tax payer huge sums of money can best be described as some of the REAL waste that takes a lot of political will and selflessness to do away with.
Our situation is pathetic. It's like fetching water into an unsealed basket without making an attempt to seal the holes in the basket. No matter how we widen the tax net in Ghana, no matter how much aid we get, no matter how much loans we get, and no matter how much debt cancellations we get as a country, if we do not control the leakages, unnecessary ceremonies and expenditures and fight corruption-which the Atta Mills led National Defenders and Cover Ups party have failed significantly to do in the test case of the former Minister of Youth and Sports, we can never save enough to provide health, education and other infrastructure for our development.
The workshops and seminars need to be cut down drastically especially at the ministries, departments and agencies as most of these workshops are nothing but talk shops, where people gather to talk, drink and eat but act little. It also goes to reinforce the widely held perception that Ghanaians talk too much, but act little.
One of the greatest challenges the Mills administration is likely to face in the area of trade is the Economic Partnership Agreement (EPA) between the European Union and the African Caribbean and Pacific Countries (ACP)-which a deputy ministerial nominee for the trade sector ministry did not even know.
Some African countries including Ghana have signed the EPA light in 2008 already with the major pact itself to be signed this year. We are being told that trade and services will not be part of the agreement in 2009. The ACPs are also told that the EPA will lead to economic, trade and investment and transfer of technology opportunities for them.
The Mills government should scrutinize the deal very carefully and make sure that issues like the development of local industry capacities to compete favourably with their outside counterparts are included in the deal.
Protection of vulnerable or weaker industries or sectors over some period is also included in the deal. The EU must be made to understand that the ACPs are not afraid of trading with them, but they are afraid of unfair and exploitative trade with them. More civil society involvement in its debate should be enhanced before its final close up.

I can not conclude without mentioning what is so dear to my heart and what the National Defenders and Cover Ups party(NDC) used as a campaign tool to clinch power and yet have failed abysmally in their first test to fight corruption involving the former Minister of Youth and Sports-CORRUPTION.
Even ex-President Rawlings used it as a basis for staging his illegal military takeover in 31st December, 1981, yet the fact still remains that it was in his government in the history of Ghana that the most ministers and officials of state were convicted of corruption.
Corruption has denied Ghana a lot of development, no doubt about that. Corruption has often been looked at from the narrow perspective in Ghana.
An African social scientist, Adigin Agbaje pointed out in a debate on corruption that, "the social foundations of the link between corruption and the problematic development have not been fully explored."He points out, "While highlighting the social basis of corruption, theoretical and policy attention tends to focus on state institutions as the predominant generative and barometric instruments and platforms forms for corruption and behavior antithetical to the development process."
Often over looked by our governments or under reported by the media and state institutions established to fight corruption are the socio-cultural foundations and correlates of such behavior and performance, as well as the extent to which forces and interests in other spheres of community (family, neighborhood and clan associations, religion, business, professional) contribute to and support corruption in the polity. As in the case of the former Minister of Youth and Sports, religious leaders, some party constituency executives and other media men tried defending him.

In Ghana, corruption can not be fought well without cutting what I will boldly describe as the F-connection (family, friends and firms). As in the case of the former Youth and Sports Minister, we are being told he forged an introductory letter for his girl friend to obtain a visa to travel with him outside the country and the alleged allocation of a VW saloon car to his wife which falls perfectly under the family and friends mentioned above.
This issue has a profound effect on household size and average per capita expenditures. It is a pervasive social custom by which households extend an open and indefinite invitation to family and friends especially those in financial need.
The F-connection has multiple social consequences and represents the basic social safety net. No matter how good the so called F-connection might be, there could be a correlation between this phenomenon and corruption in Ghanaian society because it puts so much economic pressure and responsibilities on wage earners and politicians alike.
Invariably, Ghanaians who can not afford to feed their over increasing circle of friends and relatives and most at times greed, have to look for other avenues to meet this social and economic responsibility.
Establishing institutions of fighting corruption is a demonstration of commitment of fighting it, but is highly regarded as ineffective a measure. In other words, to deal with the structural cause of this social canker –corruption requires a scientific and African-in our case a Ghanaian specific understanding of this phenomenon.
Corruption clearly hinders sustainable development and affects the poor even more. Yet in Ghana, NDC and NPP have often politicized the issue and therefore have limited it to"witch hunting"thus making it difficult to have an open minded debate about corruption.
Contrary to popular public opinion in Ghana, I will say corruption is not limited to state institutions and the elite in society. The Public Accounts Committee of Parliament's revelations will attest to this assertion. Its roots extend into the cultural foundations of social institutions and practices and are watered and supported by our everyday practices and beliefs of the ordinary Ghanaian.
It is a highly held instrument for survival by all- elite or non-elite, political or non-political. What must be made clear is that those who benefit from it, and ensures its survival are those in the ruling class in all societies. As the case may be always, the masses only take the crumbs.
It is clear that corruption is complicated and above all multifaceted. In view of that it cannot be combated by mere rhetoric, white washing and wrong beginning as in the case of the NDC and the former Sports Minister, harsh punishment and surcharges.
The truth is that if people cannot afford to pay school fees, medical bills and look after their families from their meager or slave salaries, they would invent more creative and ingenious ways of survival and corruption is an unusually one form.
My advice to the President, Prof. John Evans Fiifi Atta Mills is that he should take full charge of his government and make his SECOND STEP, because he has failed in the first step of fighting corruption in the Mohammed Muntaka Mubarak's case, towards the re-fight against corruption is economic development and re-creation of a Ghana where the welfare of the people- irrespective of ones ethnic, political, social, economic, religion or intra-political, intra-religious and intra-social background and not profit is the norm.
Credit: Abdulai Abdul-Rahman
The author of this feature is the Executive Secretary of Security and Dialogue-Ghana.
Telephone: 0246605449
E-mail: [email protected]