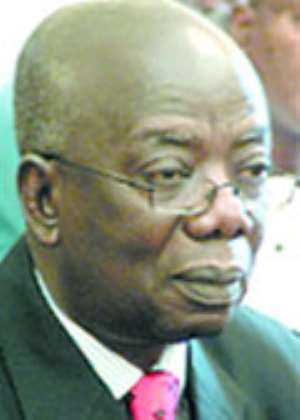 Mr. Kwadwo Mpiani, Former Chief of Staff
The once most powerful Chief of Staff, who was feared by virtually every government employee in President Kufuor and his New Patriotic Party (NPP) administration, Mr. Kwadwo Mpiani, seems to have turned a new leaf, after agents of the Bureau of National Investigations (BNI) were alleged to have gone to his house to invite him for questioning.
Mr. Mpiani, who used to speak with a high level of authority and bluff, that he was not afraid of a probe into his role and involvement in certain businesses of the previous administration, appears to have been shaken by the BNI invitation, and has softened his hard stance.
In an interview with Joy FM's 'Super Morning Show' host, Kojo Oppong Nkrumah, yesterday, Mr. Mpiani said he was prepared to make himself available to the BNI boss, who was looking for him, on Monday next week.
According to him, his aide, who was holding his phone, told him that the Secretary to the Director of the BNI called that her boss wanted to have a meeting with him (Mpiani). He was then at a funeral in his hometown.
Mr. Mpiani could however not tell what the invitation or the meeting was about.
He has however offered to turn himself in to the BNI by Monday morning, after returning from a funeral he was attending in his hometown.
In his hey days at the Osu Castle, the seat of government, Mr. Mpiani rarely answered probing questions from journalists.
Occasionally, when he was invited to Parliament, he refused to answer specific questions, in strict disregard for the Members of the august House, who had a hell of time dealing with him.
Not long ago, Mr. Mpiani dared the new administration to send him to court for prosecution, if they found anything wrong with the role he played as Chief of Staff in the previous administration.
He thus indicated his readiness to face the ruling National Democratic Congress (NDC) at the law courts, over threats that he and other former Ministers would soon face prosecution, indicating his preparededness to answer questions relating to his duties under the NPP administration, and that he had done nothing untoward to be afraid of any court action.
This paper quoted him as saying, "I am not worried about the threats. It is the prerogative of the government to prosecute people that they think have done something wrong.
If the NDC claims they have incriminating evidence, after their transitional team investigations, to put us before court, we are ready for them."
The tough talking politician said, "It is good that this is not a military era, where it would be difficult for anybody to express his views. I am entitled to go to the court and explain my case," he said, adding, "For me, I am not worried at all.
The threats are not something that I think about, but it is important that things are done through due process."