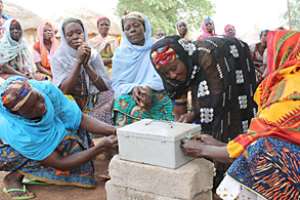 Women unlock their safe to collect and distribute loan money to the rest of their microfinance group. Photo by Mikaele Sansone/CRS
Fr. Kevin Feeney, Vice President and Dean of Formation at Mundelein Seminary in Chicago, IL, recently traveled with a group of seminarians to Burkina Faso and Ghana. The trip was part of CRS' Global Fellows program, a grassroots speaking initiative that draws on the talents of Catholic priests, deacons and seminarians to spread the Gospel message and the mission of CRS in parishes throughout the country. The group visited a women's fair trade cooperative and a microfinance group supported by CRS.
We travelled to a small boutique which had been made possible by "Collaboration with Women in Distress" (COLWOD) a charitable organization founded to help abandoned women.
Through teaching them skills, tie-dye, batik and sewing, COLWOD enables them to achieve economic independence as well as regain their dignity. Every purchase helps to improve a life. With outside help, women are moving together through the paralysis of poverty and the impasse of social stigma to a new life, one of dignity and possibility.
A road trip to Yendi followed, bringing us to the residence of Bishop Vincent Sowah Boi-Nai, the ordinary of Yendi since its inauguration ten years ago. After leaving our meeting with the bishop, we visited a SILC (Savings and Internal Lending Community) in Yendi. There, two groups of women engaged in a well-organized, spirited and dignified display of collaboration designed to benefit all.
They engaged in paying back loans taken to finance small business ventures. They also engaged in saving, not only for each individual but for the well-being of all in the community. (All donate to a "social fund for welfare activities" from which members can draw in times of special need.)
CRS funds the training of the supervisors; all other funds come from the women themselves. In this country, as in many others, it is the women who are most paralyzed by poverty. With SILC, women are breaking through to a new place of possibility and hope. The women's collaboration is yielding the added dividends of improved family lives and community relations. Greater prosperity is bringing a fragile peace to this place.
The healing of the paralytic in Mark's Gospel (Mark 2:3-5) interprets, to some degree, the experience of the poor in Burkina and Ghana: with some help from friends at CRS and elsewhere, important breakthroughs continue to occur. People who were at an impasse now move more freely and with greater dignity and possibility. On another level, we visitors also find ourselves in the place of the paralytic, carried to the feet of Christ, who lives in the poor here. Here we find blessing, healing and new possibility.