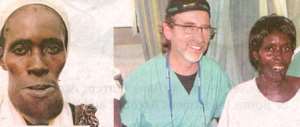 Madam Elizabeth Coffie, a woman who had a tumour under her chin, has undergone a successful surgery at the 37 Military Hospital, courtesy the Ghanaian Times which launched an appeal on her behalf.
The operation took about eight hours to remove the tumor and reconstruct the lower jaw and was performed by a medical team led by Dr Markowitz Mendel, Director of Medical Mission of International Humanitarian Aid Foundation and assisted by Col Yeboah Agyepong and Col. Alhassan Mahama, both of the 37 Military Hospital.
Briefing the The Ghanaian Times after the exercise, Dr Mendel said they heard of the Times appeal through the medical authorities of the 37 Military Hospital after a medical outreach collaboration.
He said the medical outreach team from New Jersey, USA, on hearing of the situation dispatched a team of doctors to Ghana to assist with the situation.
Dr Mendel said most of the cases they treated involved people suffering from advanced aneloblastoma which is caused by dental cells through development detention.
He said it will take about two to three weeks for the wound to heal while four to six months will be needed for the tissues to function well.
In all, seven doctors, 10 nurses and 20 volunteers came down from New Jersey to assist in other medical issues.
He said while one group went to the Buduburam Refugee Camp in the Central Region to address the medical needs of the people there, others went to the Osu Children's Home to work on dental problems of the children there.
Mr. Agyovi Quarm, brother of Madam Coffie, who was full of joy as he sat by his sister's bedside, thanked the medical team for their kind gesture and said the success of the operation gives immense happiness to the family since a lot of money had been spent on getting her cured over the years but to no avail.
He praised the Ghanaian Times for its continuous concern for the needy in the society, describing it as par excellence.
The Times, in its March 13, 2009 issue, published the appeal of Ms Coffie of Nzema Akropong in the Ellembele District who then needed GH¢4,000 to remove the tumour on the lower jaw at the Korle-Bu Teaching Hospital.
The medical team from New Jersey left for home at the weekend after spending 10 days in Ghana during which they performed five surgeries on similar cases.
Following the appeal Mr Kwasi Blay, MP for Ellembelle on March 13 donated GH¢50, which has already been given to her.