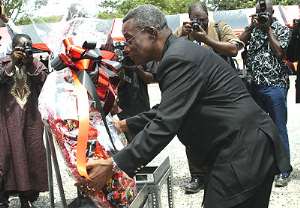 President J.E.A Mills laying a wreath at the state funeral of the late MP for Jirapa Constituency. The state today held a funeral and burial service for the late Edward Kojo Salia, former Minister for State and Member of Parliament for Jirapa Constituency in the Upper West region at the forecourt of the State House in Accra.
The late MP, who died in February, 2009 at the age of 57, after battling with a protracted sickness, was survived by his wife, Mrs Mary Salia and four children.
In a tribute read on his behalf by Mr Mike Hammah, Minister for Transportation, the President, Professor John Evans Atta Mills observed that the late Salia's determinations and vim had contributed in no small way to the success the country has chalked in the telecommunication sector as he was instrumental in the passage of the National Telecommunications Act of 1996 Act 524.
He made the people Jirapa in the Upper West proud to have such an illustrious son. 'It was no surprise to me therefore that even though he was not in the best health condition, the chiefs and people of Jirapa went on and took him as their representative in parliament', he said.
The President said it is sad that as the country embarks on a journey to build a better Ghana, they will not be able to tap in the deep reservoir of knowledge of the Mr Salia, but will take consolation in the fact that when he had the chance to serve the nation, he did with the best of his ability.
The Most Rev. Paul Bemile, Bishop of the Wa diocese, in a sermon observed that the departure of the late MP was a great blow to the NDC Party and said politics is about development and that the bye election should be conducted in a peaceful manner without any rancor.
He urged the people to conduct themselves well in order to maintain the peace the people of Ghana are enjoying adding 'it should not be a do and die affair'.
Dr Kwabena Adjei, Chairman of the ruling National Democratic Congress, in a tribute described Mr Edward Salia as a good man whose sole purpose in politics was to serve his nation.
He said he stood with the party in good and bad times and his contribution to the party was priceless.
Among the large dignitaries that gathered at the forecourt were President John Mills, Chief Justice, Mrs Georgina Wood, speaker of Parliament, Mrs Justice Bamford-Addo, former Vice-President, Alhaji Aliu Mahama, Ministers, Parliamentarians, Party Executives and other political parties.