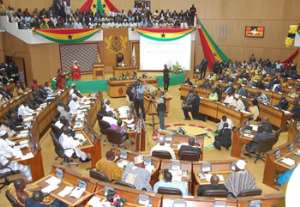 The Minister of Finance and Economic Planning, Dr. Kwabena Duffour has outlined four thematic areas President Mills' administration will focus on for the year 2009.
Presenting the first budget of the ruling government christened "the better Ghana budget" to parliament on Thursday, Dr. Duffour mentioned the areas as the building of a vibrant economy, a strong infrastructural base, running a transparent and accountable government and investing in people.
He lamented the poor state of the country's economy the NDC Government inherited from the previous government.
Outlining some of the shortcomings, Dr. Duffour said real Gross Domestic Product (GDP)for the year 2008 stood at 6.2 over a target of 7%, inflation 18.1% as against 6-8% target, international reserves of 1.8 months import cover as against 3 months of import cover with an overall budget deficit of 14.9% as against 5.7% target.
These imbalances, he said, posed a great challenge to the new government but was quick to add that the government will pursue a stringent macro economic stability to stem the tide.
Dr. Duffour cited the strict adherence to policy of a lean government and to streamline proper wages and salary regimes.
He called for a collective effort to solve the economic challenges facing the country, adding, "anything short of that will be a neglect of our responsibility."
Story by Nathan Gadugah