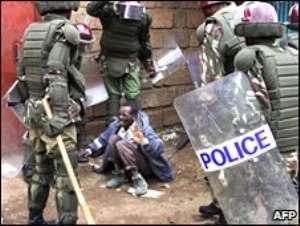 A UN investigator has called for the removal of Kenya's police commissioner and attorney general over a wave of alleged extrajudicial killings.
Philip Alston said: "Kenyan police are a law unto themselves. They kill often, with impunity."
His remarks came as video emerged of an officer saying the police commissioner had ordered the killing of suspects.
The government rejected the report's findings and said it appeared to have been issued in bad faith.
Mr Alston has been on a 10-day visit to probe claims of arbitrary killings amid violence after the December 2007 polls.
The UN rapporteur on extrajudicial, summary and arbitrary executions said on Wednesday that police commissioner Maj Gen Hussein Ali should be sacked and also urged Attorney General Amos Wako to quit.
'Killing spree'
Mr Alston has been investigating allegations that the security forces went on a killing spree against rebel militias in Mt Elgon in western Kenya, and against the Mungiki sect in the capital, Nairobi.
He lambasted Maj Ali for failing to give him any details in response to claims against his force.
And Mr Alston, an Australian law professor, said the attorney general was "the embodiment in Kenya of the phenomenon of impunity".
"I have received overwhelming testimony that there exists in Kenya a systematic, widespread and well-planned strategy to execute individuals, carried out by the police," Mr Alston said of the alleged killings of some 500 suspected Mungiki members.
But government spokesman Alfred Mutua said it was concerned that such far-reaching conclusions had been reached after just a 10-day trip.
"The government is further concerned that such a report has been released without having sought a government response in accordance to the principles of natural justice, and international practice," he said.
Earlier, footage released by Kenya's state-sponsored rights body showed police constable Bernard Kiriinya admitting officers had been rewarded with $65 (£45) for brutally killing a suspect.
He claimed he had seen other police officers execute 58 suspects instead of arresting them and said the police commissioner had ordered killings.
Mr Kiriinya was shot dead last October in mysterious circumstances after filming his testimony for the Kenya National Human Rights Commission.
"They brought him down to the ground and started hacking him with machetes and hitting him with clubs. They disfigured his face so that nobody would recognise his body," Mr Kiriinya says in the clip.
"The [police] commissioner was pleased with the work done and instructed us to remain quiet."
'Callous'
Denying all the allegations, police spokesman Eric Kiraithe said the human rights group's claims were "callous and irresponsible".
The BBC's Anne Waithera in Nairobi says Mr Alston has heard horrifying witness accounts of how young men and defenceless women were executed by Kenyan police, apparently for being in the wrong place at the wrong time.
Mr Alston has urged President Mwai Kibaki and Prime Minister Raila Odinga to ensure those implicated by his investigations are punished.
The failure to establish a local tribunal to charge the perpetrators of the post-election violence which killed 1,500 people has cast doubt over the government's commitment to ending impunity, say correspondents.
Kofi Annan, the chief mediator, expressed disappointment and said he would hand a list of the suspected ringleaders of the violence to the International Criminal Court if a local court was not set up soon.
Violence broke out between supporters of President Kibaki and Mr Odinga, after claims that the presidential results were rigged.
The rivals agreed to share power to bring an end to the violence in February 2008, following weeks of talks led by Mr Annan.