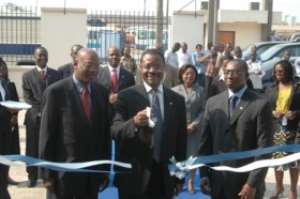 Last August, Ecobank Transnational Incorporated (ETI) launched a US$ 2.5 billion hybrid rights issue and public offer, simultaneously, in the three West African stock markets, namely the Ghana Stock Exchange, the Nigerian Stock Exchange, and the Bourse des Valeurs Mobilières Régionales (BVRM) in the West African Economic and Monetary Union (UEMOA) countries.
ecobank-new-branch
This hybrid offer was the first of its kind, extending across three different market jurisdictions. The three stock exchanges and their respective capital markets had to agree on the same prospectus, which had to comply with the rules of the three markets.
ETI Group Chief Executive Officer Arnold Ekpe notes of the unique exercise, "the process has been a rather long but good case study for all three markets, which welcomed the opportunity to work with ETI on this landmark issue. It was also consistent with Ecobank's mission – to promote financial integration across Africa."
With all necessary approvals now obtained, ETI is pleased to announce that a total of US$550, 758, 912.82 was raised from all three markets as well as other markets across Africa where the local regulation permits.
Richard Uku, ETI's Group Head of Brand & Communication points out that "the offer coincided with much turmoil in global financial markets as well as the general decline in the Nigerian stock market."
Against this backdrop, the offer was largely subscribed by African investors. International investors were, understandably, not able to subscribe to the offer because of the international stock market situation, to which many were exposed. As a result of the offer, Ecobank has bolstered its equity capital to over US$1.5 billion.
The bank's shareholders also increased from 7,633 subscribers before the offer to more than 140,000 subscribers after it, as a substantial part of the equity capital was raised from small African investors.
In addition, the company raised US$150 million during the year in long-term loans from leading international development finance agencies.
"Ecobank is particularly gratified by this outcome because it reflects our commitment to Africa," Group CEO Arnold Ekpe says.
The proceeds will be used to further capitalize the banking subsidiaries of the Group, and to finance the expansion of the Ecobank network across Africa. Ecobank operates the largest network of banks across Africa.