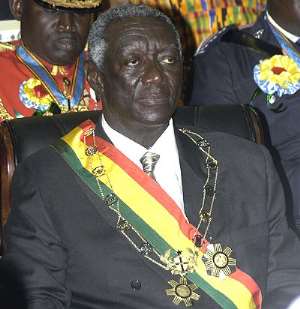 The Bejeweled President
Emancipate Kufour from Unnecessary Medals
As we watched one of the most vibrant Olympics, if not the most animated, in history came to an end with the host nation, China, aggregating an impressive 51 medals, it is very crucial to take a look at how things turned out for our motherland, Ghana. In fact, I had wanted to write this article for publication on the opening day of the recent Olympics but I didn't want to write anything in my frustration hence I delayed making my opinions known at that juncture. Apart from the host nation's walk onto the world stage and soaring over it with spectacular infrastructure and organization, other countries' achievements were and still continue to be measured by the number of medals won during the Olympics.
Activities of the office of the President of Ghana, leading to the Olympics call for serious scrutiny and evaluation. In fact, the Headline news – both in and outside Ghana – never seized to draw attention to actions of the President, John Kufour. "Four National Award Medals Gone Missing," "Ghana President under fire over medals," "Asamoah Boateng: We bought three-year stock of medals," "Presidency reacts to story on cost of National Awards," and "Kufuor Compared To American rapper, 50 Cent." These are some of the many captions. However, nothing caught my attention more than a conversation I had with my Chinese roommate.
"Namesake, is your president an athlete?" My Chinese roommate, Yao Wu (pronounced who), asked curiously.
"No. Why do you ask?" I enquired.
"I thought your president "Ku-Four" just awarded himself 'Four' medals not too long ago." Yao Wu commented with a big smile on his face. I must admit, I could barely see his eyes (use your imagination, he is Chinese).
"Yao, I am confused. What do you mean?" I asked.
"As if the four medals were not enough for your president, I just saw on the news that he is going to my country, China, for the Olympics where hundreds of medals will be awarded to athletes. I guess president Ku-Four must be on a medal hunt. After one more medals you guys should probably call him "Ku-Five."? My roommate said, laughing. I couldn't help but laugh with him.
"Man, seriously, I know there are smart people from Ghana. Yao, look at yourself, you are one smart Ghanaian I have ever met. You people should call your president's attention to his actions. How can he award himself awards? He needs deliverance from earthly desire for medals. The funny thing is that he just left Trinidad and Tobago after participating in this year's Emancipation Day. It is sad that he wasn't emancipated from these unnecessary medals. Instead he jumped onto a plane for his usual trot around the globe, this time to China." I could sense venom in Yao's voice. He was angry.
In my attempt to defend the president, I said, "Yao, come on, he is going to China for the opening ceremony as President of Ghana. He is representing country just like any other president would do."
"Man, that is why athletes are sent to the Olympics, to represent countries. Not presidents? By the way, how many athletes is Ghana sending to the Olympics?" Yao asked me.
I admitted to my roommate, "I don't know."
"You see. Instead of your president helping others get there, to the Olympics, he is jumping on planes flying all over the world sniffing medals. The most ridiculous thing is that he doesn't even recognize that, at $65,000 (£32,700), his award cost many times more than an Olympic gold medal. It is insane. No wonder people are comparing your president, Ku-Four, to the medallion-wearing American rapper, 50 Cent." Yao Wu concluded.
We both laughed over his observation and comments but I became very uneasy for subsequent days, especially when the Olympics ended without anything to write home about when it comes to Ghana's performance. The caption, "Beijing08: 9 +13 +1 = 0", posted on Ghanaweb's Sports News of Monday, 25 August 2008, says it all: Our president attended the opening ceremony, we sent Nine (9) sportsmen that were accompanied by 13 officials and an unknown number of ministers, yet we have nothing to show for it. In fact, the only thing that the president came back to Ghana to show for his visit to China was to announce that "a high-powered team leaves Beijing for Accra to seek drilling license in the aftermath of Kufuor's 24-hour visit."
If you look with critical eyes, at the activities of the presidency, especially when it comes to travel plans, you would realize that the country is always left in the dark as to the real purpose of our president's visits abroad. The office of the president is quick to announce that the president is honoring an invitation by this big country or that powerful nation and that tiny Island country. We never heard the president turn down any request from any nation. On the other hand, our president denies the request by many ordinary Ghanaians in every front – the cry for help when it comes to poverty, quality education, fighting crime, corruption and the likes. His recent awards show how much President Kufuor cares for ordinary Ghanaians.
As a concern citizen who cares so much for the country we all love, I cannot sit on the fence when it comes to what many of my international friends, like Yao Wu, observe and criticize all the time. At this point, it is important to turn the spotlight on a few things: President Kufuor's obsession for Medals, his love affair with other nations instead of Ghana, the Oil discovery and what Emancipation should be about. We have witness our president misplaced priorities over and over again.
Just watch the president spend over $1.4m (£704,000) buying 515 gold medals from a company that can hardly be traced while more than 20 sons and daughters of ordinary Ghanaians gather around to share one textbook often in the shade of a big tree or, if at all lucky, in a dilapidated school building. Read about how cronies of the president defend his decision about the medals despite the fact that common Ghanaians cannot pay their school fees or put food on the table for their families. In a country where we don't have nothing like food banks, quality books, no first class medical care – not even for the president, his cronies and the other corrupt politicians who would rather spend money to travel outside to receive medical treatment than to build one in the country they try to govern, in a nation such as Ghana, where the colonial roads that were inherited are spotted with deep potholes, officials insist that it is rather the vehicle owners who must obtain road-worthiness certificates for their vehicles and not the roads that must be made vehicle worthy. In Ghana where people are in dire need of basic amenities the President in the best state of his mind was able to stack up expensive medals. His Deputy Information Minister, Frank Agyekum, defends his boss by saying "The remaining medals will be used for the next three to four years." Interesting investment, isn't it? How can a country whose yearly budget is funded by the magnanimity of foreign countries afford to mass "Eighteen-carat gold" medals for the next three years when we don't even have a year's supply of Chalk for our primary schools?
The Deputy Information Minister does not think that the President decorating himself with expensive jewellery, while ordinary Ghanaians suffer, is wasteful. "You can't put a price tag on an award which is meant to encourage, motivate and congratulate people for making a great contribution to the country," he said. "This was not extravagant."
There is nothing wrong with the motives of the award. I believe Ghanaians need to be motivated for a cause, we should encourage everyone to be part of the socioeconomic development of the country and it is irrefutable to congratulate people that make contribution to the country. However, I don't believe that honoring people should serve as an avenue for the creation of debt and misplacement of national priorities. And there is no doubt that that is exactly what this National award had created for the country – more debt and division among Ghanaians. Why can't we find other alternatives to honor people? Building a school block, or a library or a daycare center and the likes and naming them after the people we intend to honor would have gone a long way to help the whole country instead of an individual. The funny thing is that the president even honored comedians who make a living by making fun of the current state of the country.
Whether there is a change of government or not, come next year, I would not be surprised to see officials – NPP or NDC – ordering more expensive medals to mark these egocentric awards, especially the Grand Order of the Star and Eagles of Ghana created by President Kufuor while the school feeding program is in jeopardy for lack of finance. It is clear that Our President is obsessed with himself and unnecessary medals. He obviously needs deliverance.
I thought the President would have learned something from his visit to the tiny Island nation of Trinidad and Tobago or at least get emancipated from mental slavery to medals; after all, Ghanaians were told that the reason why he reportedly went in the first place was to mark "Emancipation Day." For me, this reason is not compelling enough for his visit. From my observation I realized that the President's trot around the globe – from Ghana to Trinidad and Tobago, to China and back to Ghana – is fueled by the Oil Discovery in Ghana. Obviously, he was in Trinidad to learn how to manage our oil resource and then off to China to see who can buy something that is even not extracted yet. Supporters of the President would be quick to say that he is learning from different countries in order for Ghana to be able to manage the "Black Gold." This is a warning sign for all Ghanaians. I am not trying to suggest any foul play by the president but considering the fact that he has less than four months in office yet he never seizes on, what I call, his "trotamundo;" worldwide travel, Ghanaians need to be concerned about whether this president really cared about them in the first place. Come December, no matter which party we elect – NPP, NDC, CPP – to power, I caution everyone to choose somebody who has the interest of ordinary Ghanaians at heart.
Ghana was once called Gold Coast and now we see our President in his egocentric mind bejeweling himself with Gold Medals. We should all be on the watch lest we see our next president and his cronies with gallons of Crude Oil chained around their necks as awards for doing nothing but impoverishing Ghanaians.
Until then, our President has to emancipate himself from unnecessary medals – it is rather unfortunate he wasn't able to do that in Trinidad – and start caring for ordinary Ghanaians. God Bless Our Homeland Ghana. And make our Nation great and strong and, most importantly, free of unnecessary "medal-loving" Presidents.
By: Godsway Yao Sappor