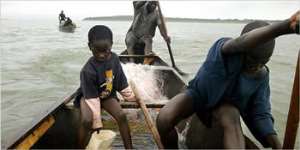 "How would you feel when you try to forget some of the horrible abuses you went through as a child and yet almost on a weekly basis you run into some of those who abused you?"
This was the genuine question 34-year-old James Kofi Annan, a former child slave turned banker and private businessman, posed to this writer during the interview for this article on his experiences as a victim of child trafficking vis-à-vis his current commitment to saving, helping and educating child slaves.
James had to change his name for two reasons - to forget his horrible past and for the safety of himself and his family.
"I try everyday to forget the seven years of physical, emotional and mental torture I was put through but I sometimes see some of my abusers walking the streets of Accra; some almost mentally derailed and I am reminded of my horrible past," he said.
He would add that the feeling is always that of aggression, not towards his abusers but towards child trafficking and child slavery and that fuels the drive in him to want to save more child slaves.
That explains why senior James, as he is affectionately called, would quit his lucrative job as a manager at Barclays Bank and commit his time, treasure and talent to saving children suffering the same fate he suffered from age six to 13.
"I am sold out to the conviction that as I save, help and educate more children, I am doing all that for myself because I did not get anybody to do that for me when I was a child slave," he said with such passion and conviction literally beaming from his eyes.
James epitomizes resilience in the real sense of the word and here is why - instead of coiling into his shell and blaming life for treating him unfairly as the average Ghanaian in his position would have done, he chooses to live his life on the principle that "to whom much is given, much is expected".
One would have thought that having "lost" seven years of his life in slavery, he would count himself unfortunate but just as the London-based Nigerian Pastor Matthew Ashimolowo admonishes - "don't waste your tears and pains - make them count for your rising".
Indeed Senior James' tears and pains have counted for his rising and today he is writing his thesis for his Masters, even though he started primary one at age 13. He also runs the multiple international awarding-winning Challenging Heights, an anti-child trafficking/slavery advocacy organization with a school for over 300 former and potential child slaves in Winneba in the Central Region of Ghana.
Depending on God and Self
Senior James has learnt through his child slavery days to depend on nobody but God and himself. That has translated effectively into his resolve to do his charity work largely at his own expense. Currently his charity activities are funded mainly with proceeds from his own printing press - Challenging Steps.
Through that he has put quite a number of former child slaves through the University of Ghana and other vocational training institutes. He employs them too.
He recently got international recognition through which he was presented with the Frederick Douglass Freedom Award for a single individual, who survived the scourges of child trafficking and slavery and is using his freedom to contribute towards the freedom of other children.
As part of his award he was decorated by the renowned South African Nobel Laureate and human rights activist, Bishop Desmond Tutu during the Freedom Awards in California, USA and was also presented with a cash prize to intensify his projects.
"Even though half of the prize money I won is for me personally, I have invested every cent into the charity projects because I just can't bring myself to enjoy that money whiles some children are being sold into slavery due to poverty," he said.
Such is the conviction of Senior James, who has sworn to mount a major anti-child trafficking/slavery/labour campaign in the next couple of months and warned that those who played politics with the lives of children should be ready for his vengeance.
The story of Senior James is real, and so is his passion to save child slaves. He has put his printing press on sale to raise more money for his full-time commitment to anti-trafficking activities.
State needs to do more
Meanwhile state actors have admitted to their own failures in dealing with child trafficking. A Board set up within the Ministry of Women and Children Affairs to deal with child trafficking are virtually handicapped financially. The Board's activities had been mainly workshops and seminars with very little real action.
Ironically the Board members have congratulated themselves for having done their best so far "under the circumstances", notwithstanding the fact that hundreds of children, like Senior James, are still being trafficked domestically on daily basis.
Generally, politicians have been denying the child slavery claims and some have even compared it to the Oliver Twist true stories in Britain and said if child labour wasn't wrong in their context, it couldn't be wrong in our context. "The we and them syndrome."
Senior James, like many other children, was sold into slavery at the age of six by his own father and senior brother and from Sanku in the Central Region, he was sent all the way up to Yeji, a notorious child-trafficking fishing town along the Brong-Ahafo Region corridor of the River Volta in the West African country of Ghana.
"At six, I did not understand what happened to me except that my mother's tearful protests of my leaving home made me suspect that something bad was going on but I was too little to resist my Dad's and my Senior Brother's decision.
Senior James was one of 13 children of his abjectly poor parents and admits that his mother was too poor to stand her grounds and stop his father and brother from selling him.
He argues, therefore, that the economic empowerment of women is one sure way of stopping child trafficking and that if his Mother had been economically sound enough, she would have prevented his Dad and brother from selling him.
According to James, from Yeji he and others were taken further on a day's journey by canoe on the River Volta to an almost inaccessible village called Accra Town, where he served under different slave masters for seven years.
James said he was initially sold into slavery for two years but his brother always came to the slave destination and renewed the contract until the seventh year when he had to run for his life at age 13.
Before his final escape, he made several failed attempts to escape and when he was caught, they tied a thick rope around his neck and pulled him around like an animal. He has marks on his neck to show the deep cuts from the ordeal.
He urges politicians and State actors to look beyond the known communities along the River Volta and reach out into the inaccessible communities across the River where the actual child slavery takes place.
James said in those communities, like Accra Town, where he served, beyond the normal practice of waking up at 0300 hours and sleeping at 12 midnights for child-slaves, when a boy-slave offends the master, he would be thrown into deep side of the Volta River and made to drown partially before being picked out. In the process some of the children die and their death is concealed.
"This is not something I was told. It is my own experience. I was thrown into the river on several occasions but I survived on each occasion," he said with some pride. "The mortal remains of some of my unfortunate colleagues who died in the waters are often washed ashore and we the children were made to bury the remains."
The working of a trafficked child
As a normal duty, the boys are also made to dive deep into the crocodile infested river to either set or remove fish traps and they sometimes meet with their fate in the deep waters and die.
In such circumstances, the slave masters tell the parents of the dead children that their wards are alive and serving with other masters elsewhere.
"As for the girls the slave masters pick them at random and have sex with them and return them to join us to work - the girls suffer more than we the boys because in one day they are subjected to several rounds of sex, as and when the masters feel like it," he said.
James would also report that those communities were snake infested and that he had several snakebites, but survived them all. Others were not that lucky.
James stated with definite conviction that he could not sit by and watch more children sent into such servitude. Sadly efforts by people like James had not been complemented much.
In fact there is documentary proof to show that politicians and State actors are rather planning to stifle the efforts of people like James because they are considered as people washing the dirty linen of the country in the open. The media are also grouped with people like James for facilitating exposure of the heinous crime of child trafficking.
But James thinks the government's Capitation Grant and School Feeding Programme are good mechanisms for preventing child trafficking because they enable children of poor parents, who would have otherwise been sold into slavery to go to school for free.
Senior James thinks the government must do more to empower women economically, because but for poverty, women were more protective of their children and would rather keep their children instead of selling them into slavery.
He also questioned the provisions of the Children's Act to the effect that in a case of the interception of a trafficking operation, both the giver (child's parents) and the buyer (slave master) would be held liable. Senior James wants the law to make the interest of the child paramount and therefore spare the parents from prosecution.
The attitude of some parents whose children are rescued have also been a challenge to Senior James and his team - they tend to treat the rescued children as culprits instead of victims and some of them insist that the children should be returned into slavery. Indeed some rescued child slaves get re-trafficked because their families simply reject them.
People in the Sanku community considered Senior James himself as a wizard when he managed to return home from Yeji. But he would explain that his escape was not through witchcraft but through the help of some truck driver who came to Yeji to off-load goods.
Campaign against child trafficking
But Senior James is gearing up to launch an unprecedented and compelling campaign against child trafficking/slavery/labour, which would enjoin State actors, corporate organizations like the banks, mobile phone companies and all fish eating Ghanaians to contribute more meaningfully to the fight against child trafficking/slavery/labour.
He pointed out for instance that all those who have benefited and continue to benefit from the cocoa scholarships meant for the children of cocoa farmers, would all have roles to play in the flagship anti-trafficking campaign by Challenging Heights in a few months.