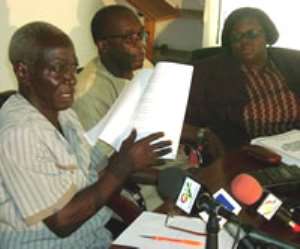 "FIFTY cross-country pick-up vehicles have been released for distribution to political parties which have 10 or more parliamentary candidates in the December general election.
The vehicles will be distributed on the basis of the number of candidates fielded for the parliamentary election with each party qualifying for one vehicle if it fields more than 10 candidates.
The Chairman of the Electoral Commission (EC), Dr Kwadwo Afari-Gyan who announced this in Accra yesterday at the opening of a one-day forum for parliamentary candidates said the gesture was to assist in electioneering by the political parties.
He announced that the New Patriotic Party (NPP) and the National Democratic Congress (NDC) would each be allocated 2 vehicles, as the two parties fielded the same number of parliamentary candidates.
He said the Convention People's Party (CPP) would be given one vehicles; the People's
National Convention (PNC), seven; the Democratic Freedom Party (DFP) six; the Democratic People's Party (DPP), two, while the Reform Patriotic Democrats (RPD) would get one.
Dr Afari-Gyan also announced that copies of the voters' register were ready to be collected by the political parties, adding that each party would be given 10 copies.
He stated that the register had been cleaned with the removal of 349,000 names comprising minors, foreigners and the dead, adding that 76,000 people had also engaged in multiple registration. He gave the assurance that the exercise was still ongoing to ensure a clean register during the elections.
He said printing of the ballot papers was well advanced, saying they would be ready way ahead of time before the elections on December 7, 2008.
Dr Afari-Gyan advised aspiring parliamentarians to report any complaints or differences they might have to the EC, not the media, especially the radio stations which might not be able to solve their problems for them.
The EC Chairman said a number of changes had been made to reduce the number of rejected ballot papers after voting, explaining that this year's ballot paper would be the longest, with wide, thick black lines to distinguish between candidates.
He said .during the polls any fingerprint or mark would be accepted by the EC if it clearly showed the intention of the voter.
He expressed concern over the fact that during the exhibition of the voters register recently only 23 per cent of registered voters showed up to check their names and said that always created problems on voting day.
Dr Afari-Gyan assured all that measures had been put in place by the EC to ensure free, fair and transparent elections and advised parties to appoint good people who could 'make reasonable judgement as their agents, not macho men.