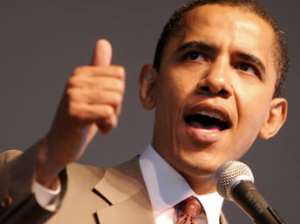 The rise and rise of Barack Obama has him on the brink of the White House
"That's all very well" said Napoleon Bonaparte, waving his hand impatiently , "but is he lucky?" he asked after being told of the virtues of a new general – the man's heroism, bravery, intellect, skill in battle and so on.
Barack Obama's rise to within spitting distance of the US presidency has surprised many political observers in America but a look through his political career provides a insight into how Obama is on the threshold of achieving what many, black and white alike, thought they will never witness in their lifetime.
Obama arrived in Chicago after attending Harvard Law School where he was the first black president of the Harvard Law Review. He had turned down a lucrative job on Wall Street instead for a career in state politics. He became a community organizer and met Bettylu Saltzman who was active in Democratic politics. Salltzman was so impressed with Obama that he introduced him to David Axelrod with the belief that Obama would be the first black president.
Axelrod, at the age of 29 had managed Paul Simons' victorious 1984 US Senate campaign and was a pre eminent Democratic political and media consultant in Chicago. He did not share the same enthusiasm for Obama as Saltzman and their relationship was more personal than professional - they played basketball together and although Obama used Axelrod to hold a fundraiser for him when he decided to run for the Illinois State Senate, that is as far as it got despite Obama's best efforts to convince Axelrod to take him on as a client. Axelrod was an uninterested onlooker when Obama run for Congress in 2000 in an unsuccessful bid to topple the incumbent Bobby Rush.
Four years later , when the ambitious Obama decided to run for the US Senate, Axelrod was unimpressed and counseled Obama to forget about statewide office and wait till Richard Daley, the Chicago mayor retired and run for Mayor instead.
But the intransigent Obama was not to be deterred by Axelrod's rejections and kept courting him because of the recognition that Axelrod was key to his political future.
Axelrod had a reputation as a genius in marketing black candidates to white voters, having worked for a series of black mayoral candidates from Cleveland, Detroit, Philadelphia to Washington DC and Houston. Once Obama had won him over in 2002, Axelrod used that expertise and experience to help elect Obama to the US Senate.
However, Obama's elevation from the Illinois Senate to the US Senate can also be attributed to some outrageously good fortune. The Republican incumbent Peter Fitzgerald announced in 2003 that he would not be seeking re-election and his predecessor, Carol Moseley Braun declined to run again for the senate.
The Democratic primary election comprised seven candidates who spent a combined $46million, making it the most expensive US Senate primary election in history. Obama came from behind in the race to win after the leading Democrat, Blair Hull, a wealthy Chicago futures trader, became embroiled in a domestic abuse scandal a month before the election. Blair Hull was forced to divulge divorce papers that brought to light, among other unsavory details, his wife's assertion that he had threatened to kill her.
Obama, from 20% points down in the opinion polls won the Democratic primary by a landslide margin of 29%.His total votes equalled the combined votes for all eight candidates who contested the Republican primary.
Then, in the general election for the US Senate, luck struck again for Obama. His Republican opponent, Jack Ryan, had run on a platform of being a squeaky clean politician, from a different breed of Republicans. However, a few months before his face off with Obama , he announced his withdrawal from the race – four days after the Chicago Tribune newspaper succeeded in persuading a Los Angeles court to release previously –sealed child custody records containing embarrassingly damaging revelations Ryan's ex wife, Jeri, had made in their divorce proceedings.
It transpired that Ryan had taken Jeri to sex clubs in several cities including Paris, intending for them to have sex in public. Obama was left without an opponent and despite the best efforts of the Republican Party – they replaced Ryan with Alan Keyes, a conservative black Republican from Maryland - Obama won election to the US Senate with 70% of the votes cast, a landslide winning margin of 43%, again the largest in Illinois US Senate election history.
In 2006, Axelrod, having led Obama's successful senate campaign, went on to steer Deval Patrick's successful campaign for governor of Massachusetts. Unlike the various mayoral elections he had masterminded for black candidates across America, Patrick's quest was breaking new ground never treaded by any black politician in the state's history. Working with David Plouffe , Obama's presidential campaign manager, Patrick won the gubernatorial election in Massachusetts. As Plouffe observes, "the campaign techniques being used in Obama's presidential campaign has been market tested in Massachusetts".
Whilst working on the Patrick campaign, Axelrod was pushing Obama to run for the White House in 2008 as he felt the environment was ideal. Obama took up the extremely formidable challenge. It takes an enormous amount of courage and a supernatural dose of self confidence for a black candidate to run against the Clintons.
No one challenges the Clintons in the Democratic party and for a freshman Senator who could not gain admission to the Democratic party convention in 2000, that was a potential career killing move. Obama thought and hoped otherwise, trusted his better judgement and with guidance from Axelrod, reasoned that Hillary Clinton, quite apart from harbouring deep flaws as a candidate was of a polarizing disposition that can be exploited to his advantage.
The two Davids – Axelrod and Plouffe – assembled some of the best young brains to run a campaign rooted in the themes of hope, opportunity for all and change. Obama, through his often mocked community organizing background forged during his first foray into Chicago politics, created a ground organization that formed the basis of his stunning victory in the Iowa primary caucuses.
The win in Iowa propelled him into the national consciousness which helped build momentum towards winning the bitterly fought primary with Hillary Clinton. At the heart of that success was Obama's much vaunted fund raising machine.
His strategy of eschewing lobbyists, big donors and the use of the internet as a vehicle to amass a database of small donors was a masterstroke Hillary Clinton could not match, leading to Obama's inexorable coronation in Denver, Colorado as the Democratic presidential nominee, the first black to achieve that feet in American politics.
His amazing fundraising machine raised an astonishing $150million last month, bringing the total amount raised throughout his campaign to $604million from over three million small donors which has no historical precedent. Obama's money machine has enabled him to be competitive in Republican (red) states where Democrats were long considered extinct. At the heart of Obama's competitiveness in red states is a massive advertising expenditure compared to John McCain at a ratio of 8:1 in favor of the Democrat.
"McCain is in a shouting match with a man with a megaphone" according to Evan Tracy of TNS Media who tracks ad spending. The money advantage has also aided Obama's ground organization to a level previously unseen in American presidential politics. Obama has more offices in the battleground states of Ohio, Florida, Colorado, North Carolina and Virginia to name a few, than the well oiled and much feared Republican party ground organization.
The final stroke of luck (so far) for Obama was the financial tsunami which blew a gale through the American political landscape last month, taking John McCain's straight talk express off course at a time he was leading in the opinion polls and his choice of Sarah Palin as his running mate seemingly inspired.
The financial crises afforded Obama the opportunity to project leadership whilst McCain stumbled like a drunken sailor in search of a reverberative message. His erratic response to the crises – from his call for the sacking of the head of the Securities and Exchange Commission to his gaffe amidst the financial uncertainty that America's economic fundamentals were strong, to his barmy decision to suspend his campaign – created the indelible impression of a man out of touch with ordinary Americans and political grandstanding .All Obama had to do was to look empathetic and presidential which he did. Within two weeks Obama had opened an unassailable lead in the opinion polls which, if historical precedent is to be believed, cannot be overturned with less than a week to polling day.
However, Obama has demonstrated an ability to make the most of his good fortune. His astute mind, natural intelligence, discipline and oratorical eloquence has enabled him to make his own hay in the sun. Through his aura, Obama has managed to establish a cult of personality unmatched since John F Kennedy. This personality was evident during the presidential debates when he came across as thoughtful, calm and likeable. After all, Americans elect presidents because of how he makes them feel, not how he makes them think.
In his book, The Audacity of Hope, Obama espoused the themes which has formed the bedrock of his campaign for the presidency. Hope, he writes, is "imagining, and then fighting for, and then working for, struggling for what did not seem possible before." Former presidential candidate Gary Hart describes the book as Obama's "thesis submission" for the U.S presidency.
Obama has the support of Catholics, working class voters and the elderly – groups McCain needs to win the election. McCain has failed to make his long years of military service relevant to the problems America faces today. Barring a seismic event (such as an unlikely McCain comeback in the polls today), Obama will be the first black president-elect of the United States tomorrow morning.
Barack Obama has introduced quite a few new things to electioneering and politics in general. As the sages would say, "we never saw it in that fashion!" His extensive use of the internet for spreading his message, for soliciting donations and rallying his supporters; his extensive grassroots machinery such as America has never seen - reared during his days as a community organizer; his cool poise even under extreme pressure; his oratory, which has even been intertwined with songs; But best of all, his policies are very timely and fitting for the United States of America at this point in time. Bill Clinton acknowledged it.
Hillary Clinton acknowledged it as did his former Democratic opponents. Perhaps this is best summed up by his running mate Joe Biden when he said "Obama has a spine of steel"!
He is also a master strategist, with a game plan that will be studied for years to come. Barack Obama has changed the face of American presidential campaign politics forever.
Napoleon regarded luck as a personal attribute rather than a matter of chance. A lucky person would always win out over adverse circumstances, he believed, whereas an unlucky person - even a general who was an expert in the techniques of war - was fated to meet with failure and disaster on the battlefield.
However, people also make their own luck, and success is the reward for hard work, persistence and the good fortune to be in the right place at the right time. Gary Player, the renowned South African golfer once said that the harder he worked, the luckier he got. As the first century Roman philosopher Seneca concurs , "luck is when preparation meets opportunity".
Is he Lucky? Barack Obama would definitely pass Napoleon's test.
E.E.Mensah is a writer on current affairs based in the UK. He is a Chartered Marketer and has an MBA from Nottingham University.