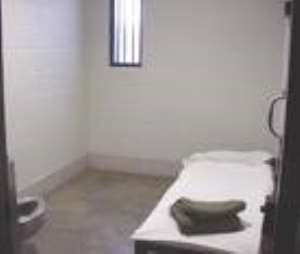 Over two hundred Ghanaians are currently languishing in jail in Libya in conditions that can be compared to those of the Nazi concentration camps in Hitler's time.
The crime of the Ghanaians is that they entered that country through unapproved means and some of them have been in jail for eight months.
The Enquirer's sources at Gat 'Concentration' camp in Libya said most of the 'prisoners' are ill but the Libyan authorities do not care about their health situation.
Currently, there is an outbreak of tuberculosis and Cholera and there are fears that some of them may die, as there are no medical facilities at the 'camp.'
One of the 'prisoners,' (name withheld) who managed to send a mobile phone into the prison, in a conversation with The Enquirer, said that some of his colleagues have started vanishing into thin air.
"We have noticed that some of our colleagues cannot be found in the 'camp' and we can not question anybody," he said.
He told the paper that some of them have spent close to one year and have not been questioned by the Libyan police or taken to court.
"The food that we eat here cannot be described, as there are no words for the food and most of us are sick but we don't get any medical attention," he said.
He told The Enquirer that the Libyan authorities constantly subject them to torture, making a number of them to get physically weak.
"If care is not taken most of us will not get out of this place alive and those who will come out will not be fit for the rest of life," he added.
Sobbing intermittently during the phone conversation, the 'prisoner' said that majority of them have not been able to get in touch with their families back home because all their luggage containing contact telephone numbers has been seized.
"I think we are lucky to have you on the phone today because somebody out there through you will hear of our plight," he said.
He said that the so called African Union concept is a hoax because the Libyans are treating other Africans like something else.
"It is time for the whole of Africa to get things straight. The AU is just on paper and that some countries think they arc above others," he said.
Meanwhile, The Enquirer sources at the Ministry for Foreign Affairs have confirmed that the ministry has received reports of Ghanaians languishing in jail in some African countries.
The sources said that the government has always been swift in attending to such problems.
The sources were, however, quick to add that the government always encounter problems, as some countries are not ready to cooperate with Ghana because of the human right abuses involved in such incarceration.
The sources advised Ghanaians to use approved means to travel to other countries to seek greener pastures.