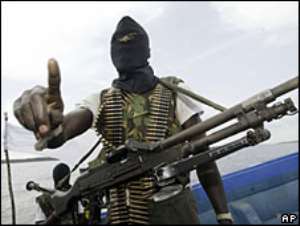 Armed pirates in speedboats have kidnapped and threatened to kill 10 crew members from an oil vessel off the West African state of Cameroon.
The vessel's owners said those taken hostage were seven French nationals, two Cameroonians and a Tunisian.
The attack reportedly took place near the Bakassi peninsula, which Nigeria recently handed over to Cameroon.
A group called the Bakassi Freedom Fighters has claimed to have carried out the attack.
The group said it would kill the hostages within three days if Cameroon's government did not meet its demands.
It was not immediately clear what the group's demands were.
Reuters news agency reported that the attack had been carried out jointly with a second group called the Niger Delta Defence and Security Council.
Bank raid
There have been a number of attacks over the last year against oil installations in the Gulf of Guinea, where the kidnapping took place.
A diplomat in Cameroon said the raid had happened near the Bakassi Peninsula, which is on the country's border with Nigeria.
Attacks on oil installations in Nigeria's nearby Niger Delta have been especially frequent, and the diplomat told AFP news agency that the boarding of the vessel off Cameroon resembled recent raids in the Delta.
Militants there claim to be fighting for greater control over oil wealth in the impoverished region, though opponents say they make money from criminal rackets and trade in stolen oil. The vessel seized off Cameroon, the Bourbon Sagitta, is owned by the French maritime services company Bourbon.
A company spokesperson said armed hijackers had boarded it from three speedboats at around midnight.
Five crew members stayed aboard the vessel, and neither the crew members who were seized nor those who stayed on board had been injured, Bourbon said.
Earlier this month, armed robbers carried out a daring raid on banks in a seaside town of Limbe in Cameroon.
Some 50 masked men who arrived by speedboat blew up safes in banks and made away with the money.