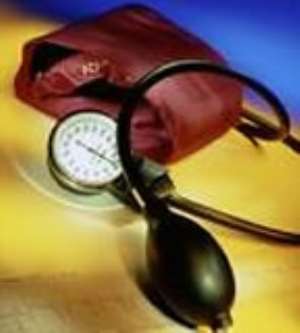 The leadership of the Ghana Medical Association (GMA) on Thursday reminded government of its relapse in fulfilling its part of negotiations for the review of the salaries for doctors.
According to them, government had failed to respond to their proposals and the process of negotiation as stipulated by the National Labour Commission (NLC) by the end of October 2008 despite repeated attempts of by GMA leadership to reach an amicable settlement.
Briefing the media in Accra, Dr Emmanuel Adom Winful, president of GMA, said the leadership of GMA was losing confidence in the ability of government to "use a process of negotiation, dialogue and non-confrontation to resolve labour issues, at least as far as it concerns the GMA".
He noted that GMA's demand for salary review as ruled by the NLC was fair and just.
Government in April this year signed a Memorandum of Understanding (MOU) with GMA to review salaries of doctors.
According to the doctors, their salaries had not been reviewed for the past three years, whereas the salaries of public sector workers were reviewed regularly since 2006.
Dr Winful said, although both formal and informal approaches had been adopted without any positive results, "we are gravely concerned by the slow pace of the entire process especially in the light of the NLC's ruling that calls for a clear resolution of the outstanding issues by the end of this October".
He dismissed the claim by government that Ghanaian doctors salary was the second highest only to their South African counterparts and said Ghanaian doctors were currently worse off than they were three years ago when the original negotiation was concluded.
The leadership of GMA urged government to honour its part of the negotiations as agreed in April this year.