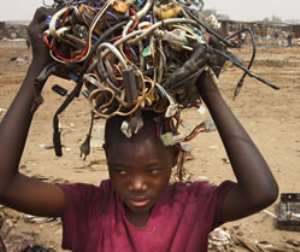 The United Kingdom (UK) environment authorities have initiated investigations into the dumping of e-waste into Ghana.
The Environment Agency of the UK has confirmed the ongoing investigations to ghananewstoday.com in an email response Friday October 17, 2008.
The Environment Agency has responsibility for protecting and improving the environment in England and Wales.
The Senior Press Officer responsible for environment protection, Scarlett Elworthy wrote, " Thank you for your recent inquiry about the reports of UK computers being dumped in Ghana.
Yes. The Environment Agency's National Investigations Crime Team are carrying out inquiries within England and Wales into the circumstances of the alleged illegal exports and we are pursuing a number of lines of inquiry."
She however said she couldn't say anything beyond confirming that indeed they are investigating the illegal exports of e-waste into Ghana.
She promised, "I will be happy to provide you with an update once the investigation has concluded."
E-waste issue watchers believe the investigations are as a result of a report published by the Greenpeace, an environmental NGO about e-waste dumping in Ghana. The report led to public outcry in the UK, and citizens criticized the Agency for failing to do its work which was making it possible for recycling companies to export broken-down computers to Ghana.
During investigations on e-waste dumping in Ghana, some damaged computers found at the Agbogbloshie dump site in Accra had labels of the National Health Service (NHS). Some other computers with NHS labels were also found to be on sale at secondhand electronics equipment dealers' shops in Ghana's capital Accra.
Some of the PCs were also found to have come from UK local councils and universities, including Kent County Council, Southampton County Council, Salford University and Richmond upon Thames College's (RUTC).
The Agency while admitting the investigations refuses to name the firms under investigation. It also denied that the investigations were prompted by media and public criticisms.
It is believed that some recycling companies in the UK after collecting broken-down computers, instead of recycling them collude with some Ghanaian business people and divert the items to Ghana to be sold cheaply.
The UK and other European countries including Germany have come under severe criticisms recently following media and other reports indicating that e-waste from their countries are being dumped in developing countries including Ghana.
And that is in spite of the fact that these countries have passed legislation over a year ago to regulate the handling of e-waste. The Waste Electrical and Electronic Equipment (WEEE) directive stipulates that Information Technology (IT) manufacturers are legally responsible for the safe disposal of their products, and are obliged to ensure all products are disposed of in an environmentally friendly manner themselves or sign up with a government-approved waste-handling firm to do it on their behalf.
But unfortunately, some of these discarded computers end up in Ghana. There is evidence that despite the more stringent regulatory regimes in the European Union, as much as 75% of the e-waste generated in the EU cannot be accounted for. Presumably, if e-waste ends up in Ghana, then it is only logical to say some of the EU's 75% unaccounted for e-waste is being dumped in Ghana.
The Greenpeace study found that soil and water bodies at the Agbogbloshie dump site contain high levels of a cocktail of poisonous chemicals. They found levels as high as100 times more than allowable levels.
At the Agbogbloshie site, adults and children, some as young as eight years engage in dismantling broken down computers, burning the cables to extract copper wires for sale. They do not were protective clothing as they work and therefore are exposed to heavy metals like lead, cadmium and ploybrominated flame retardants.
In April 2008 Ghana's Environmental Protection Agency (EPA) announced the setting up of a committee to draft a policy guideline to regulate e-waste in Ghana, but not much has been heard about the initiative to date, despite the escalation of the incident of dumping of e-waste in the country.
Ghana's Ministry of Local Government, Rural Development and Environment, has also said it has no immediate plans of banning the importation of used computers and electronics equipment into the country, because if that is done, the prices of computers in the country would soar.
This is in spite of the suspicion among e-waste observers that the open door policy of importation of used computers into Ghana has made it possible for some individuals and organizations to smuggle obsolete and broken-down electronics equipment into the country.
At the Climate Change Conference in Ghana August 21, 2008, Ghana's Local Government Minister Kwadwo Adjei Darko appealed to e-waste exporting countries to stop using Ghana as a dumping ground.
It is hoped that the UK example would be followed by other European countries including the United States, which is yet to ratify the Basel Convention on the Control of Transboundary Movements of Hazardous Wastes and their Disposal.
The Basel Convention on the Transboundary Movement of Hazardous Wastes and their Disposal was adopted on 21 March 1989 and went into force on 5 May 1992. It establishes a framework of control over the transboundary movements of hazardous wastes.
The Convention was initiated in response to numerous international scandals regarding hazardous waste trafficking that began to occur in the late 1980s.
It has become imperative at this stage to call for a global action to curb the growing menace of e-waste dumping, because Ghana does not have the scientific and medical capacity to deal with the dangers that e-waste could possibly pose to the environment and human health.
By Emmanuel K. Dogbevi Email: [email protected]