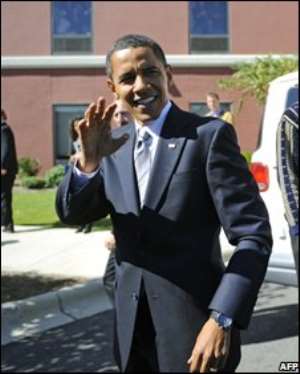 Barack Obama was on the stump in North Carolina on Sunday
MINNEAPOLIS - The latest Star Tribune Minnesota Poll shows Democrat Barack Obama is holding his lead over Republican John McCain in Minnesota.
The poll said likely voters believe Obama would do a better job with the economy than McCain, and the economy was their top issue by a wide margin. The poll of 1,049 likely voters found that 52 percent favored Obama while 41 percent are backing McCain. The margin of error was 3.8 percentage points. The poll was conducted Thursday and Friday.
The results showed that while McCain has cut into Obama's 18-point lead found in another Minnesota Poll two weeks ago, it was not enough to put the state back into the toss-up column.
The new poll found that when asked which candidate would do a better job handling the economy and jobs, likely voters favored Obama over McCain by 55 percent to 35 percent.
The poll, which was released Sunday, found Obama supporters across most demographic measures. He was favored by whites and female voters and is tied with McCain among men, a traditional Republican base in presidential elections. Among voters younger than 35, he had a 2-1 edge and an overwhelming lead among first-time voters.
On the other hand, McCain led Obama 2-1 among white evangelicals. McCain also had a slight edge with likely voters age 35 to 44 and those with an annual household income of more than $75,000.
The only issues where McCain beat Obama were on the Iraq war — a slight edge — and terrorism and national security — a bid lead. However, both issues register only in the single digits when likely voters were asked to rank their importance.
Ben Golnik, McCain's regional campaign manager, said the poll "shows the volatility of the race in Minnesota." If the state's voters focus on Obama's plans for taxes and spending, "more Minnesotans will choose John McCain," he said.
McCain supporter Daniel Weinzett, 19, a carpenter from Cambridge, is worried about the economy, but said Obama "is just talking in circles about it. I just don't think he really knows much about it when people are out of work and losing their homes. McCain's a better alternative."
The economy is also a top issue for Michelle Aspelin, 37, a real estate broker from Victoria, only she favors Obama.
"I like the way Obama's talking about the economy overall. ... Yes, he's talking about spending more to help it, but he's talking about spending as an investment," she said. "He's saying the same thing about energy and transportation — by making investments, we're going to be better in the long run."
Jeff Blodgett, Obama's Minnesota campaign manager, shrugged off the poll results. "At this point in the campaign, we're ignoring the polls and focusing on implementing our organizing plan," he said. "Minnesota's still a battleground state."
Commentary: All Ghanaian-Americans and Ghanaians registered to vote in the US elections are urged to ensure they cast their vote. Every vote counts. Please vote wisely.