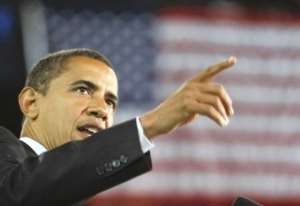 Democratic presidential nominee Sen. Barack Obama campaigns in Roanoke, Va. today. (Getty photo by Joe Raedle / October 17, 2008)
However this election turns out, it will dramatically advance America's slow progress toward equality and inclusion. It took Abraham Lincoln's extraordinary courage in the Civil War to get us here. It took an epic battle to secure women the right to vote. It took the perseverance of the civil rights movement. Now we have an election in which we will choose the first African-American president . . . or the first female vice president.
In recent weeks it has been easy to lose sight of this history in the making. Americans are focused on the greatest threat to the world economic system in 80 years. They feel a personal vulnerability the likes of which they haven't experienced since Sept. 11, 2001. It's a different kind of vulnerability. Unlike Sept. 11, the economic threat hasn't forged a common bond in this nation. It has fed anger, fear and mistrust.
On Nov. 4 we're going to elect a president to lead us through a perilous time and restore in us a common sense of national purpose.
The strongest candidate to do that is Sen. Barack Obama. The Tribune is proud to endorse him today for president of the United States.
Obama chose a more experienced and more thoughtful running mate--he put governing before politicking. Sen. Joe Biden doesn't bring many votes to Obama, but he would help him from day one to lead the country.
McCain calls Obama a typical liberal politician. Granted, it's disappointing that Obama's mix of tax cuts for most people and increases for the wealthy would create an estimated $2.9 trillion in federal debt. He has made more promises on spending than McCain has. We wish one of these candidates had given good, hard specific information on how he would bring the federal budget into line. Neither one has.
We do, though, think Obama would govern as much more of a pragmatic centrist than many people expect. We know first-hand that Obama seeks out and listens carefully and respectfully to people who disagree with him. He builds consensus. He was most effective in the Illinois legislature when he worked with Republicans on welfare, ethics and criminal justice reform.
He worked to expand the number of charter schools in Illinois--not popular with some Democratic constituencies.
He took up ethics reform in the U.S. Senate--not popular with Washington politicians.
His economic policy team is peppered with advisers who support free trade. He has been called a "University of Chicago Democrat"--a reference to the famed free-market Chicago school of economics, which puts faith in markets.
Obama is deeply grounded in the best aspirations of this country, and we need to return to those aspirations. He has had the character and the will to achieve great things despite the obstacles that he faced as an unprivileged black man in the U.S.
He has risen with his honor, grace and civility intact. He has the intelligence to understand the grave economic and national security risks that face us, to listen to good advice and make careful decisions.
When Obama said at the 2004 Democratic Convention that we weren't a nation of red states and blue states, he spoke of union the way Abraham Lincoln did.
It may have seemed audacious for Obama to start his campaign in Springfield, invoking Lincoln. We think, given the opportunity to hold this nation's most powerful office, he will prove it wasn't so audacious after all. We are proud to add Barack Obama's name to Lincoln's in the list of people the Tribune has endorsed for president of the United States.