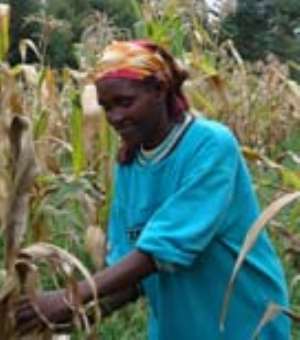 It s harvest time in Bommett, in south-west Kenya. Like many other farmers, Anne Rono stands amongst dry maize leaves, bringing in the harvest with the help of the seven children.
The US$76 Million Purchase for Progress initiative unveiled under the auspices of The World Food Program - supported by the Bill & Melinda Gates and the Howard G. Buffet Foundation - to help poor farmers across the world increase their income is a welcome gesture. It is however important to note that it is not necessarily the lack of money that holds back food productivity in poor countries such as those in sub Sahara Africa. In most cases, it is
1. the total disregard and lack of commercialization of indigenous food crops;
2. poor government policies that discourage the enlightened populations to remain on the farm and produce foods;
3. international policy interference in poor nations activities that lead many (poor nations) to cut back budgetary allocations towards agricultural sector;
4. educational systems that ignore the strategic importance of farmers;
5. international NGOs that engage in fear agenda against technologies that would otherwise increase productivity and the;
6. dependency attitude that is perpetuated through gestures of charity.
As the world commemorates the World Food Day, it is important that we re-examine the traditional top down relationship with farmers in poor nations and give them a chance to own their seeds; make decisions on how to protect their crops and provide a friendly environment through which they can exchange and add value to their produce.