Ghanaians must ignore Rawlings …he is a spent force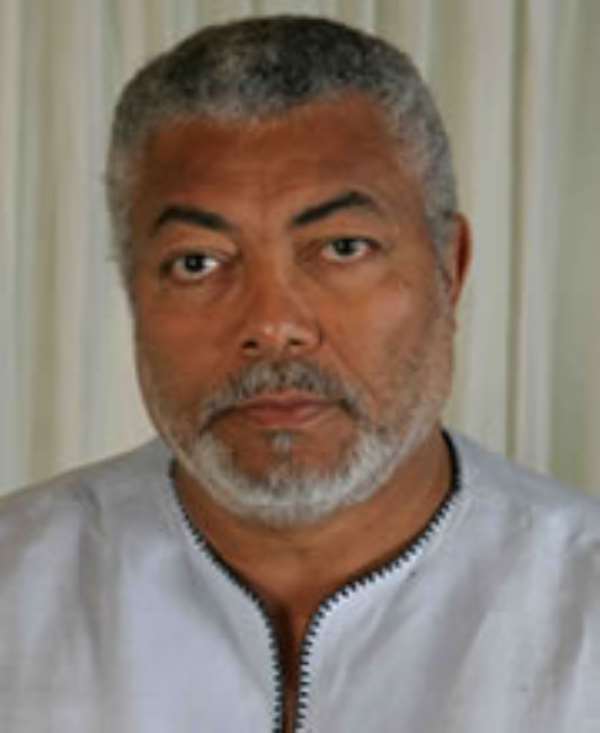 Several years after handing over power, it appears former President Rawlings has still not come to terms with the basic tenets of the theory and practice of democracy.
This is evident in some of the utterances he has been making in-time-between-time.
Sometimes I cannot fathom the outrageous statements he has been making since he claimed to be to speaking for the masses.
At other times, you see him venting his personal frustrations and presenting them as though they were those of the ordinary Ghanaian.
But after analysing some of his utterances, I have come to appreciate and understand who the man Jerry John Rawlings really is-a spent force.
Forget about the occasion or forum; Rawlings will launch an unprecedented and blistering attack on not only the personality of the incumbent President but also his government.
As a man of his stature in society, one would have expected that he will back these claims with facts, but that happens not to be the case with Rawlings. In most all virtually all instances that I know of, he has traded in what can best be described as unsubstantiated allegations.
Unfortunately for him, he happens to be the only person in Ghana who the media has never gotten right after all these years in government and out of power. It has now become a common practice for his spokesmen to clarify each and every statement he makes since they have always had double meanings.
In not one, two or three but almost all instances, his spokesmen, from the days of Victor Smith to Kofi Adams have always sought to deny media reports on statements he makes in public, claiming that he has been quoted out of context.
I recall with nostalgic memory the controversy Rawlings generated when he once said he was a passionate democrat but believed in 'positive defiance', seeking to incite members of the public on government.
If my memory serves me right, I'm not too sure I have ever heard Rawlings making a speech befitting a statement. He has always treaded a treacherous path, which has the tendency of plunging the entire nation into chaos.
What I have observed about Rawlings over years is that he either feels he is the only brave-heart in the country of has no sense of remorse after bequeathing Ghana with a bloody history.
I have barely come to terms with how a former President like Rawlings, with all his record in coup will decide to hold a meeting at his private residence with none but former heads of the military under the pretext of discussing the level of insecurity in the country at a time when the country was less than three months away from elections, also not forgetting the fact that there was and is indeed a sitting government and security agencies tasked with this responsibility.
Human as I am, I sometimes find it extremely difficult to understand his followers and praise-singers, most of who seek to justify his actions.
This is a man I use to like and respect very much for his charisma but developed a strong aversion for him for his divisive tendencies.
For me, Rawlings is none but a spent force in the Ghana's politics, considering the fact that his opinions do not carry the weight befitting a not just a statement and former President in that regard.
This is a man who at a point in time wanted to super-impose his fleeting personal interest on the National Democratic Congress (NDC) to select his choices as Presidential Candidate and Running Mate respectively because he considered himself to be the man who must be obeyed.
Strong as the leadership of the party was, they did not bow to his whims and caprices, thereby making Rawlings become hesitant in joining the campaign of the very party he formed and nurtured.
When he finally decided to join the campaign trail, whether by fault or default, the former President shifted the entire campaign machinery of the NDC out of gear, going contrary to the game plan not to trade in unnecessary attacks but issues.
I was therefore not surprised that the leadership of the party had no option but to somewhat distance themselves from his utterances.
Mills and Mahama should blame no other person than Rawlings if they don't get to see the Flagstaff house because Rawlings is inflaming passions and scuttling their tireless efforts.
Now that we are close to the elections, he has started making certain treacherous statements smacks off fear of insecurity, thinking that Ghanaians will pay heed to his quest for chaos.
I think one thing he has forgotten is that Ghanaians have learnt more than enough from the lessons he thought us during his days and will not allow our emotions and personal beliefs to override the interest of the nation.
Therefore my advice to all Ghanaians is to ignore the Rawlings and let him live with his fate since we are fed up of his tantrums.
By Charles Takyi-Boadu; [email protected] writes from New-Delhi, India