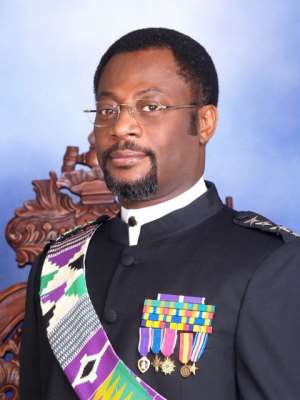 HIS MAJESTY KING ADAMTEY OF GHANA
Rhodes, Greece – His Royal Majesty Drolor Bosso Adamtey I of Ghana will be a keynote speaker for the 6th General Meeting of the World Public Forum (WPF) Dialogue of Civilizations in Rhodes, Greece on October 10, 2008. He will be the first African leader to ever address this international event. The World Public Forum, which began in 2002, is one of the most renowned international gatherings of intellectual, cultural, spiritual, business and political leaders from countries all over the world. The theory of the Dialogue of Civilizations was first introduced to the United Nations General Assembly, by Mohammad Khatami, former President of Iran, to encourage intercultural dialogue among civilizations. Over 400 world leaders are expected at this year's event.
His Majesty is one of the world's foremost authorities on globalization, African development, social justice, and economic development issues. He is the Suapolor of the Se (Shai) Traditional Area in Ghana, West Africa. His Majesty's vision is to lead his people beyond the 21st century into peace, progress and development through educational advancement, economic empowerment, healthcare and medical services, employment and housing development, community and social development, and technology expansion.
A former Special Advisor to the Assistant Secretary General and Director of the United Nations Development Program-Africa, His Majesty is a frequent consultant and sought-after speaker in the areas of international relations, resource mobilization, Christianity, conflict resolution and social justice. He is also the founder of Life for Africa, a Ghana based non-governmental, humanitarian organization which addresses educational and economic needs for sub-Saharan African nations.
His Majesty's remarks at the World Public Forum will focus on "Understanding Culture, Traditions and Religion", with a particular emphasis on the role of Africa in the political, economic and cultural development of the world.