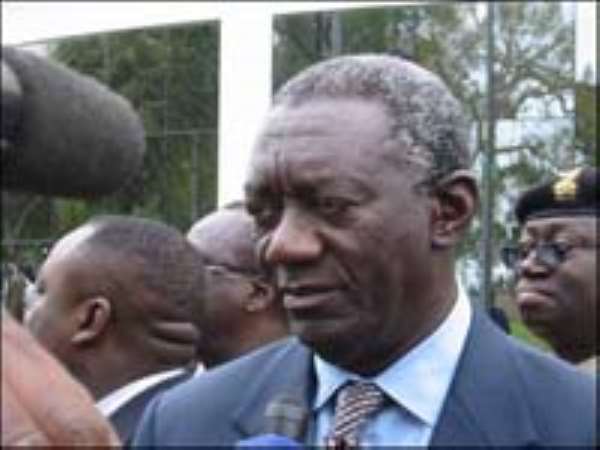 The Concerns Citizens Democratic Alliance for Africa bit the "gongon" according to the author by Mr. Charles Nkansah "The first 100 days in office" saw a dramatic turn of events.
1. Inaugural Day January 7, 2001, Zero Tolerance For Corruption: Listen to Mr. John Kufour: "There will be, under this administration, zero tolerance for corruption," he declared, adding that he would personally set the example". Indeed Mr. Kufour set the first example by renovating his private house with state money and buying Hotel Kufour among other assets. Everyone in this property owning government has benefited tremendously while majority of Ghanaians remain poor. This sham is what Mr. Kufour calls Zero Tolerance for Corruption.
2. Monday January 8, 2001: Unprecedented Debt Forgiveness Began: Due to the sacrifices and wise choices of President Rawlings, Vice President John Atta Mills, and the NDC to respect the will of the Ghanaian people, we had the first peaceful, transparent and historic transfer of power since our nation was born. Canada immediately announced a cancellation of 18.2 million Canadian dollars debt owed it by Ghana. Several donor nations followed Canada's example. Sadly the beneficiaries of this unprecedented cash flow are the same individuals who looted everything into private pockets while the Ghanaian people continue to suffer in the land.
3. Friday January 12, 2001: President John Agyekum Kufuor did what any of us would do during the first days on the job especially so when we cannot understand anything. He took a vacation to Lome, Togo where he visited his personal friend and teacher, the late Mr. Gnassingbe Eyadema. He joined him in celebrating the 34th anniversary of the coup that brought his mentor to power. This reminds me of the 1966 coup d'etat staged by terrorists in Ghana orchestrated and funded by their colonial masters that toppled Osagyefo Dr. Kwame Nkrumah. Take a closer look at coup makers and lovers next time they come calling themselves democrats.
4. Wednesday January 17 2001, VAT: While in opposition the NPP said "Tufiakwa" to VAT. Five innocent lives were lost in vain during the "Kume Preko" demonstration against VAT. Listen to Dr. Kofi Konadu Apraku, the then Minister-designate of Trade and Industries speaking to the GNA on VAT- "We will not succumb to any World Bank conditionality if they are not favourable to the economy of the country. Our government is not prepared to negotiate an increase in the VAT even if the World Bank suggested it".
Dr. Kofi Konadu Apraku was under ghost fire from the wrong quarters and giving real meaning to the independence we won 44 years ago that day against the wishes of his party. These terrorists were throwing bombs all over the place in a despicable act of terror because they wanted independence after some time. Could Dr. Kofi Konadu Apraku, another failed Presidential aspirant who got just 19 votes and now the Communications Director of the NPP 2008 Campaign Committee tell Ghanaians how much increase VAT has seen since the NPP came to power in January 2001? What is the rate of VAT today Dr. Kofi Konadu Apraku?
5. February 2, 2001: 650 million-cedi (65,000 pounds sterling) Burns Intensive Care Unit (BICU) for the Komfo Anokye Teaching Hospital (KATH), commissioned in Kumasi: I thought the NPP said the NDC did nothing? So what was this magnificent 65,000 pounds sterling care unit they commissioned in Kumasi just less than one month after they took over from the NDC? I guess it was conjured from the heavens. Watch a liar's mouth when he talks to you next time.
6. Wednesday February 14, 2001, Job Creation: The NPP's Manifesto promised the "establishment of a National Youth Corps and to create at least 100,000 jobs by Dec. 2001". Seven and half years on, could the NPP please tell us where the jobs are? Even for the many who already had a job before the NPP came to power including Railway workers, teachers and doctors, they have gone without pay for several months now. As for the young people who rushed out and voted massively for the NPP, there are more of them on the streets today not only selling dog chains but also selling the dogs themselves. These fake promises are worse than a 419 scam.
7. Wednesday 14 February, 2001: The President, Mr. John Agyekum Kufour gave a strong warning during the swearing in of his first badge of ministers – "I won't tolerate vices but to set the records right"; President Kufour said. Seven and half years on and one wonders if President Kufour himself could make any sense of what he said. We are talking about the likes of Dr. Richard Anane, Mr. Kwamena Bartels, Mr. Jake Obetsebi-Lamptey, Mr. Muktar Bamba, Mr. Isaac Edumadze, Mr. Yaw Osafo-Maafo, Prof. Christopher Ameyaw-Akumfi, Dr. Kwame Amoako-Tuffour, Dr. Kofi Konadu Apraku and many other supposed "Men" who by their actions have swindled our nation in many ways and were named in numerous allegations of corruption.
8.First Warning Shot and more to come. Price of Petrol Increased by 87.5%: When the NPP was in opposition; they criticized the NDC on petrol prices at the time being sold at 6,400 cedis or 64 Ghana pesewas. The NDC government subsidized petrol prices for the sake of the suffering people. In less than two months into NPP rule, the NPP government removed all subsidies on petrol and made an upward adjustment on the price of premium petrol from 6,400 cedis to 12,000 cedis. Mr F.K. Owusu Agyapong, the then Minister of Transport and Communications, announced the upward adjustment. Certainly, under the NPP it was now right for Ghanaians to pay "reasonable prices". Mr. F. K. Owusu Agyapong can you please tell us the price of petrol today and what percentage it is now since January 2001?
9. February 19 2001: President John Agyekum Kufuor took off to Bamako, Mali. We were told he was to attend a summit of 12 African leaders with the heads of the International Monetary Fund (IMF) and the World Bank. Who are we to say no when President Kufour is looking for help all over the place?
Harassment and intimidation
Myjoyonline Ghana News Photos | John Mahama: Comparing records is mediocrity

John Mahama: Comparing records is mediocrity

10. February 22 2001: In less than 24 hours after President John Agyekum Kufuor returned from Bamako Mali he took another vacation this time to Abuja, Nigeria. I was wondering if we had a Foreign Minister then and why the President has been running the Government all by himself. Could it be that the Foreign Minister was incapacitated or simply could not do his job? If only President Kufour could sit down for at least one day to read through the promises his NPP made to Ghanaians to win votes, he would have known that he had a long way ahead.
11. Monday February 26, 2001, Intimidation, Harassment and Bullying Began: Armed security personnel in the Tamale municipality stormed the residence of Alhaji Sumani Zakari, Northern Regional Vice Chairman of the NDC over that weekend. They claimed they were conducting a search for weapons, ammunitions and narcotic drugs. Are narcotics drugs the same as the cocaine turning to "kokonte" powder and vanishing into thin air at the Police Headquarters strong room under the very nose of the IGP? They will not agree it was just pure intimidation, harassment and bullying. So it has come to pass that unwarranted arrests in churches and just anywhere were conducted on members of the opposition as a day-to-day routine. Unfortunately, Yaa Na and his 40 clan elders as well as Alhaji Mobila were not that lucky. Till today we are still looking for justice and those people who committed these despicable acts of murder are still nowhere to be found.
Then it was the turn of one of theirs, Mr. Francis Poku, the former Security Minister. This is a man who was decorated with the highest award of the land for meritorious service. Armed security men stormed Mr. Poku's home claiming he needs to be debriefed. Debrief him? Mr. Francis Poku himself who has since fled into exile in the UK can only tell the rest of the story.
And just recently, Mr. Alan Kyerematen, the man who appointed Nana Addo Dankwah Akufo-Addo as the NPP's flag-bearer quit the NPP. His reason was he could no longer stand the intimidation, harassments and bullying meted out to him and his supporters. NPP called him baloney and a loose canon. They asked him to show evidence. Anyway, Alan himself has shown he is not principled like them. After telling the world he will never go back, has made a u-turn. Perhaps he is deceiving himself.
While they were still denying it though, Mr. Joe Baidoo-Ansah, the Trade Minister gave us the true evidence and meaning of intimidation, harassments and bullying when he attacked Dr. Nii Moi Thompson on television. The then Information Minister, Mrs. Oboshie Sai-Cofie as usual quickly issued a statement she calls an apology. That statement said: Mr. Joe Baidoo-Ansah, thought he was intimidating, harassing and bullying Dr. Nii Moi Thompson off air. Mr. Alan Kyerematen was damn right after all.
12. Friday March 16, 2001: NPP unveiled her killer plan to privatize water supply against the will of majority of the Ghanaian people. Only the NPP knew what they were doing. They were determined to work for the interest of a non-performing organization called Aqua Vitens. Today Aqua Vitens has bagged millions of dollars while Ghanaians have bagged millions of empty Kufour gallons with no water to drink. Are you thinking what I am thinking? Kickbacks "waa waa waa"?
While we were at it, they sold Ghana Airways to a faceless entity after disqualifying major players in the industry like KLM. This fraudulent deal left Ghana Airways employees with no end in sight. Seven and half years on they are still without full severance pay after working several years. Several other state own companies have had their turn including Juapong Textiles.
Today it is the turn of Ghana Telecom (GT). GT plus our national fibre optics, which does not belong to GT is being dished out in a "dongomi" style to Vodafone at $900 million for 999 years under strange circumstances. This fraudulent deal is a cover up exercise that every concerned Ghanaian must step up and resist.
13. Friday March 20, 2001; Cash and Carry: The NPP promised to abolish this system as soon as they win power. It took them over 4 years to implement the National Health Insurance Scheme (NHIS) after misapplying the people's pension as seed money. To see if the NHIS has resolved the healthcare needs of the Ghanaian people or if this is just another rip-off, please visit one of our hospitals and see how many babies born for this country and their mothers are detained for lack of payment. Yes your answer will be as good as mine.
14. Friday March 20, 2001: Still bagging from the cash flow of donor support, the United Kingdom pledged 55 Million pounds in aid to Ghana. Despite all these unprecedented inflow of cash, unprecedented debt forgiveness as well as unprecedented prices of gold and cocoa on the world market under the stewardship of the NPP, today our public debt has shot up to $7.8 billion. This is just what is recorded. For the rest of the story on how public money was looted from the rest of us into their individual pockets, we shall know that soon when the animal called "Osono" returns to the bush, Insha Allah.
15. Friday March 24, 2001: Listen to Dr. Richard Anane. He was the then Minister of Health telling the Ghanaian Parliament this: "HIV and AIDS are spreading at a frightening pace, especially among the youth". Oh really! HIV/AIDS is spreading at this "frightening pace", yet the Minister of Health could not lead by example. He also forgot his marriage vows and went around having unprotected sex at the expense of the Ghanaian taxpayer. Dr. Anane, who were you deceiving? Time will definitely tell.
16. HIPC Poison Was Released: Listen to Mr. Yaw Osafo Maafo, the then Finance Minister with all chests out presenting his first budget statement to Parliament in March 2001. This was what he said: "The Government had no other option but to accept to join the HIPC". He suddenly seemed to forget his party's campaign promise of "Positive Change" made to Ghanaians. Before Mr. Yaw Osafo Maafo was sacked as Finance Minister he unleashed more 419 scams including the China salon loan saga and the IFC loan. We are talking about proper "willfully causing financial lost to the state". Mr. Yaw Osafo Maafo thought these 419 achievements qualified him to be next President of Ghana. To his surprise he only managed 63 votes representing, 2.76 per cent of votes cast.
17. Thursday April 6, 2001: Vacation time. President John Agyekum Kufuor took off to Benin to attend the inaugural ceremony of Beninois President Matthias Kerekou. More vacations were to come.
So the first 100 days of NPP government led by Mr. Kufour has come and gone. Lots have changed "positively" for the Kufours and their cronies. For majority of Ghanaians, it was 100 days of further plunging into hardcore poverty and more was yet to come. The events of these 100 days were replicated in worse forms throughout all these seven-and-half years. I am still wondering if these were the records Mr. Obetsebi-Lamptey wanted us to compare. If yes, then we are sorry to disappoint him. Let him be told and I will re-echo what Hon. John Mahama said. "It is pure mediocrity". Come December 7, 2008, God willing, the good people of Ghana are going to use the NPP's own slogan: "hwe wasetena mu" and with their thumbs teach the NPP a good lesson.
We would be pleased if Mr. Obetsebi-Lamptey will save us the mistake he made in 2004 by declaring the election results even before the Electoral Commission gets its turn to do so. We are watching.
God Save Our Motherland.
Author: Charles N. Nkansah, Montreal, QC.
Email: [[email protected] com]

Posted on Ceana forum by M. Matilda de-akaba

yao fiagbeto
jonesboro, Ga. 30238