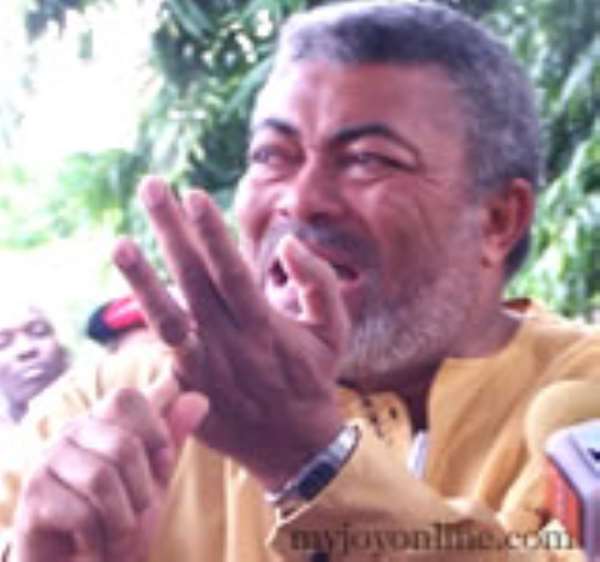 Today we the concerns citizens democratic alliance for Africa will like patriotic Ghanaians not to forget so soon the socioeconomic horror visited on Ghanaians under the Supreme Military Council. Rawlings irrespective of some frailty brought dignity and sanity to socioeconomic environment of Ghana, therefore, we cannot phantom the thought of NDC buying into well orchestrated propaganda that associating oneself with Rawlings is a liability. Ghanaians especially those of us who experienced the era before Rawlings Administration irrespective of one's ethnic affiliations are not stupid and forgetful as NPP want us to believe, Attah Mills will never turn his back on President Rawlings, and he will never be like Al Gore turning his back on Bill Clinton for political expediency. The opposition feared and knew Rawlings has potentials to get Attah Mills elected to the presidency, and want to derail the ascension of NDC to power. Every political leader has someone he leans on and I don't think Professor Mills should be different. There the advisors to Professor Mills should not allow him to distant himself from President Rawlings because yester- years of pre- AFRC and PNDC era are still on our mind.
The Concern Citizens Democratic alliance for Africa want to remind Ghanaians that the P/NDC era, was God's ordained era blessed with Rawlings, a leader not only charismatic but with a SOUL and sincere passion for Ghana to ascend gloriously once again in the eyes of the World. This was exactly what Rawlings has done, brought dignity and respect to Ghanaian manhood, a new meaning to Ghanaian personality all over the world, acknowledged and honored by Bill Clinton's visitation to Ghana. This is the first in the history of Africa for a sitting President of the United States to visit Africa, and to be précised sub-Sahara African country.
It is therefore, proper to give credit to whom credit is due, Even President Kufuor cannot take away such an august accomplishment from Rawlings, he knew Rawlings very well and believed in his potentials and dreams for Ghana and subsequently served faithfully in his administration.
Ghanaians should not forget the Days of the Big six of the "Supreme Military council" yoko gari when yoko gari, was a stable middle class meal in Ghana. When teachers were middlemen selling provisions to students (sardine, sugar, omo, etc.) in classrooms. The Ghanaians in this election must be remindered or be educated about the era before AFRC/P/NDC, an era in the history of Ghana where citizens of Ghana have to sell their soul to survive, no iota of open genuine economic activities, Ghana was rated by many countries in the world as worthless, backyard toilet every nation turned their back on, even Togo and Liberia was Mecca to Most Ghanaians, and to top it all Nigeria was the biblical description of heaven to Ghanaians in those days before Rawlings era.
Rawlings and his Cohort despite human frailties must always receive our standing ovations, if not in public but in our hearts and in our secretly places, especially those Ghanaians who went through life before AFRC/P/NDC, knew that life in a naught shell for the majority was a shit-hole (Fa wotu be dzi golf).
Therefore, we refused to dignify the NPP propaganda of the third coming of Rawlings, tell us something different during this campaign, Rawlings will forever, be the darlings of Ghanaians, therefore will campaign side by side with Attah Mills, because we are not cowards to reject Rawlings full participation because the NPP said so. Only those with cheap political understanding of Professor Mills's services to the nation will fall for those cheap labels.
Professor Mills is noted and revered by Ghanaians as capable, competent, non-vindictive, humble and most all sensitive to our ethnic valor (Just observe his entourage and leadership composition) as the basis for peace, tranquility, wealth creation, and finally work and happiness for average Ghanaian. The reverse is NPP leadership.
The NDC therefore, must vigorously standby the first and second phase accomplishment of PN
DC and NDC era as the foundation needed for the third phase of our democratic and economic sustenance now enjoyed and arrogantly hijacked by NPP.
Every positive economic indicator (expansion and construction of roads and bridges, oil exploration etc) is an offspring of the P/NDC agenda for Ghana.
The Ghanaian voter must be aware that whatever records NPP is proudly boasting off was a done deal orchestrated by the Professors Mills as the Vice President of Ghana, which means in a democracy principles of international regulation and laws protect economic activities to continue regardless of which political party is in power.
Finally, the new Ghanaian voter who is not aware of pre-historical era before Rawlings ancension to power must educated on the facts that led the uprising against Acheampong and Limann governments which I often described as a situational time bump that quickly introduced the tenets of just society.
Africa for that matter Ghana does not need or reward the aspirations of one party state. It is for this and many other socioeconomic and political witch hunting the CCDAA pleads with the Ghanaian voter to reject NPP and vote for NDC this election.
We are therefore; proud to say the NDC gave Ghana a sense of hope and belonging, diligently created an environment for peaceful democratic and economic transformation and political transitions. The Ghanaian manhood has returned as a West Africa force to reckon with, a respectable and dignified NDC Ghana where true capitalism was tailored to suite the realities on the ground, thus each individual Ghanaian start each day with innovational attitudes that will guarantee fulfillment at the end of each days deliberations and endeavors not this current desperation and hopelessness now experience under the NPP.
In conclusion the CCDAA is in solidarity with the NDC founder's passion of how life in general ought to be for ordinary Ghanaians within the confines of global democratic and economic principles.
Enyonyoge, eba hie, ebe yeyie, Allah ki yayi.
Yao Fiagbeto
President
Concern Citizens of Democratic Alliance for Africa (CCDAA)
Jonesboro, Georgia. 30238