NDUOM'S LOVER•Bares Her Heart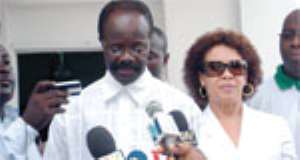 JUST AFTER the Convention People's Party (CPP) had elected Dr. Paa Kwesi Nduom as its presidential candidate, interesting news started making the rounds about his wife, Yvonne, a potential First Lady for Ghana.
There were reports that she was neither a Ghanaian nor spoke any of the local dialects.
Her husband, though had not responded to the issue, seized every opportunity to tell Ghanaians what a 'glorious' woman lay by his side at night.
DAILY GUIDE (DG) had a revealing interview with Mrs. Yvonne Nduom (YN), during which she touched on the issues of her nationality, home, and private life among others. During her interaction with this reporter, Yvonne Nduom (YN) spoke fluent Fante, disclosing that she could even read it.
Please read on.
DG: Your husband seems to be very proud of you.
YN: I am totally in support of my husband. We met in 1972 and started dating and studying together. So we've known each other for a long time. I believe totally in him and he believes in me. And one thing that many people do not know is that my husband is a very committed person. I remember he was 18 when he first saw me and by then when he said he would marry me, I laughed. It was like an 18-year-old talking about marriage to me. I was also almost 18 and it was funny so I did not pay any heed.
But he took me to see his mother and told her he was going to marry me and then went to see my mother and told her same and he has been very close to me ever since. And I think he knows that I have his best interest at heart. It's a mutual affection and love we have for each other.
DG: How true or false is the assertion that you are not a Ghanaian?
YN: I was born and bred in Ghana. I was born on July 9, 1953 in Elmina at the maternity clinic of Mrs. Sackey at Chapel Square. My mother, Mrs. Emily Jonnes Sterling, still lives in Elmina. She had a sort of mixed ancestry. She has got Scottish and Dutch blood in her. So she has a very light skin but she was also born and bred in Elmina.
My father has mostly French blood and some Ghanaian blood, so if you were to look at it, really, I have Ghanaian blood and then I have European blood but I was born here in Ghana.
I grew up basically in and around Elmina and Winneba for a couple of years then went to primary school in Elmina at Our Lady of Apostles (OLA) boarding school. I was there until I left for Archbishop Porter's Secondary School in Takoradi. Then I went to St. Louis for my advanced level education, and then did my Bachelor's Degree at Cape Coast University. I did my national service at Kumasi Girls High School and during the same period, taught English at the Kumasi Polytechnic until I went to the US to join my then fiancée.
So my adult life actually started in the US but after 16 years, we packed and returned to Ghana with our four children.
DG: What then do you think has triggered this talk that you are not Ghanaian?
YN: It might be because my husband is in politics and people would want to say all sorts of things. It might also be because of my colour. If you saw me and you didn't know me, you would think that I am not Ghanaian. People say I am Moroccan, others say I am South American; some hear my name and say I am French.
Even prior to this people often speculated about me. I think its sort of intriguing.
DG: You think it's no problem for people to speculate in an election year that Dr. Nduom has failed to marry a Ghanaian?
YN: What's wrong with that? It's not true but even if it was, it is no crime. I mean how does that take any thing away from my husband's performance as a President, or his campaign to become President? Dr. Kwame Nkrumah married Fathia who was not even Ghanaian at all. Former President Rawlings is half Scottish, half Ghanaian. Former UN Secretary General Kofi Annan is married to a white lady.
DG: How prepared are you to sacrifice your privacy for your husband's political ambition? The insults and the maligning.
YN: There has never been any reformer who had not been maligned. So I understand that anybody who wants to destroy the status quo would have people throwing stones at him. People are creatures of habits and we do not like change.
I used to hate politics and would rather have my peace and quite. I almost did not marry my husband because of politics. However, I have grown to learn that if a country does not do well, it is not the bad people who make it not to do well. It is rather the very good people who sit down unconcerned and are not prepared to sacrifice something to the betterment of the country. I see what he is doing as sacrifice. I see the invasion of our privacy as some of the sacrifices that we have to do for the betterment of the country.
DG: So what do you do for a living?
YN: I have a master's degree in literacy and adult education. So I am a trained management consultant and I do management and development training on consultancy basis. I have run courses for Guinness Ghana, Uniliver, Standard Charted, Barclays Bank, Ecobank, Merchant Bank and many others. I am also the Executive chairperson for the four Regency Hotels so I am actively involved in the management of the hotels.
By Halifax Ansah-Addo