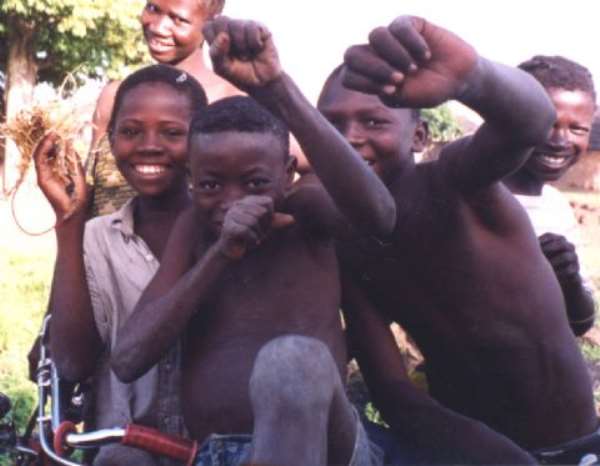 Becoming a successful person in future depends on how best one plans and conducts oneself as a young person today.
The desire for most young people to get rich quick is on the ascendancy. This leads them to commit various errors and crimes including petty thefts, planned serious stealing, frauds of various kinds and degrees, forgery, bribery, armed robbery and even murder especially ritual murder for riches (sikaduro)
Sometimes I wonder why they rush to make such quick money. It is therefore important for every young person to know that success does not depend solely on how much money you have or make but also, how best you shape your life for the future ahead.
By the special Grace of God, we have entered a New Year, which is 2008. As new as the year is, we cannot say what it holds for the future. But for us young people, it beholds on us to plan well for this year for it to be a very successful and prosperous one leading to more successful years in the near future.
It is true that many things have changed in our today's society; some for the better and others for the worse. It is therefore important for young people to be careful with what they do and how they plan for their future especially this New Year.
I was in town during the holidays trying to observe how some young people were celebrating the Christmas. I was very much impressed with some of the programmes organized by some churches and other institutions as a way of inculcating the true meaning of Christmas into the youth.
Other programmes and activities I witnessed are too bad to describe. In fact , I overhead a young lady who I believe should be in a secondary school (because of the identification Haircut) telling someone on phone that,
"if I don't spend the night at your place today, that will be the end of our relationship… just get some condoms ready for me…". She said it just like that, so cool and collected. She just smiled at me when she realized I had overhead her.
Other young people I saw at a street party were just amazing; I don't want to talk about the dresses they wore, so provocative and seductive. I was very surprised to see teenage boys and girls engaged in smoking and other immoral behaviour involving drugs, alcohol and improper holding of the opposite sex.
Have the authorities relaxed on the minimum age for drinking alcohol? How about our drinking spots? Eii ei ei Awurade, Ataa naa nyogmo, Mawu deka loo!!!
I was even surprised that a church I visited during New Year's Eve had some of the young boys smelling of alcohol. This was New Year's Eve! How can you begin a new year drunk and smelling of alcohol?
From the way some of them were wriggling their waists, shaking their heads and singing, one can conclude that, they are under serious influence of alcohol and perhaps, even drugs.
If these young people I saw and others of similar bad character have plans of making year 2008 a successful year, then, na lie. Unless they change now and become more serious with their life, they will not have it easy at all.

For me it is not too late for them to change their bad ways for the better. They may consider these points:
They should take a serious look at their religious and moral status, in which ever religious affiliation they find themselves. Remember that you need to serve your Maker with all your heart, soul and body. They should make it a point to pray without ceasing and commit their whole life to God. It is only God who can and His able to direct our ways. They should not forget to seek His guidance in all that they do.
Some of us are worried about the current moral standing of our young people. The love for money and bad fashion has taken the centre stage leading some of our youth wayward.
Young people must show respect to all manner of persons, especially to our elders In fact, they should respect others as they would like them to respect them. I am specifying elders because it seems that today, some young people in Ghana think they know all and are self-sufficient. Well, they don't. Just think of yourself some few years ago... you're much smarter and experienced today, aren't you? Of course, yet you thought you knew it all some years ago.
They must also be committed to what ever they do, be it school or work and put in their best. They must not be discouraged by the negative influence of other people especially their peers.
It is also very important for young people to be mindful of the way they spend money, and rather cultivate the habit of saving.

So, my fellow youth, these are my humble words for you this New Year.
Let us all try and observe them in our everyday life. HAPPY NEW YEAR!