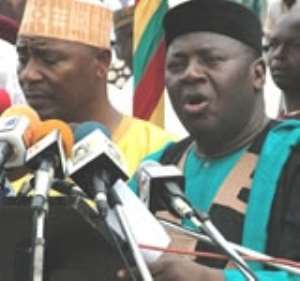 It amazes me when I read the sort of qualities some supporters enumerate, as the best qualities that their men in the NPP Presidential Race have, hence should be given the mandate to lead the NPP.
I am wondering whether they think an Aspirant eventually becoming a President will be a President of Finance, Technology, Housing etc. No, he isn't going to be a Minister but the Father of our great Nation.
I sincerely believe that the type of a Leader/President that the NPP currently need, is a person who can bring together all the talents in our great party for the National emancipation agenda. A Leader/President who will take a decisive action when briefed by his Think Tanks and Ministers. A person who will table his vision and that of his Ministers and challenge them to work as a Team and transform the lives of Ghanaians. An anchorman who will fervently hold his Ministers together in times of despair.
For me I truly believe that in addition with the above qualities, the following are some of the qualities of Alhaji Aliu Mahama that makes him the best person to lead our great party;
• The respect Alhaji Aliu Mahama has earned during his tenure as the Vice President of this country will undeniably position him to receive the trust and confidence from his Ministers, Security Agencies and Ghanaians in general-a longed standing principle, which makes a Nation to be united in development.
• Alhaji Aliu Mahama's attitude clearly gives him the urge as the best person to
have a united Government/Cabinet-he can calm down all perceived ego in our party. Many governments in some parts of the world have crumble when there are wrangling and bitterness in government. Aliu Mahama calm persona will surely play a pivotal role in his government.
• His personal conviction of taking this Nation to another level on the Healing Process started by President Kufour is timely thus many undecided/floating voters loathe him. He will never be divisive nor discriminatory-all Ghanaians will be equal before the law.
• His attitude on shunning victimization and paranoia will motivate both the Civil and the Public Servants to work hard for the Nation
• Passing the litmus test on morality gives Aliu Mahama the urge to instil discipline into Ghanaians- a new way of doing things will surely emerge.
• Alhaji Aliu Mahama's love and concern for ordinary Ghanaian will surely drives him to challenge his Ministers to do more for Ghanaians. (Many Ghanaians have suffered too much)
• His dislike for 'connection connection' will serve as an impetus in dissuading Ministers and Government officials to keep away from corrupt activities that will tarnish the NPP government image.
• His attitude of expressing 'thank you' to a work-well-done will encourage all Ghanaians to willingly join the crusade for the National Rehabilitation agenda.
• Under Aliu Presidency, the 'WE and THEM' culture will be buried and a United Ghana would flourish- ONE GOD, ONE NATION, ONE PEOPLE, he personally pledged-.www.aliumahama08.com
• Alhaji Aliu Mahama listening ability will open the door or a new chapter of negotiation and dialogue between government and students, workers, etc will be pursued. Party activists are assured, for their grievances or concerns will be heard by Aliu Mahama- for he has always opened his arms to all the party activists and will do more if given the mandate to lead the party.
• Aliu Mahama is not arrogant and egoistic and this will serve as a benchmark for all his Ministers to be humble and serve the good people of Ghana well.
• A man from a humble beginning will undoubtedly appreciates the concern of the suffering masses, because he knows poverty- and will undoubtedly bring policies that will alleviate the suffering of the masses.
• In Aliu Presidency, he would in collaboration with Parliament enact laws that will deal ruthlessly with criminals in our society.
One thing is clear, the reason why Alhaji Aliu Mahama name is not been bounded around much in the airwaves is that he is not a 'bourgeoisie', hasn't got a vocal activists in his camp, no macho in his camp, Aliu doesn't believe in 'Tackashie' tactics, as Mr. Kufour in 92,very calm when all the noises were being made in the airwaves, he went calmly going about his campaign, at the end, those Aspirants who embarked upon posh campaigns were told to try next time and Mr. Kufour was given the crown. So shall it happen come December 22 to Aliu Mahama.God's willing!
Alhaji Aliu Mahama we are very proud of you for your commitment to bridge the gab between the rich and the poor.
God bless the numerous potential delegates who have declared their votes for VEEP.
God Bless Aliu
God Bless NPP
God Bless all The Aspirants
God Bless Ghana
MARTIN KWANING, LONDON, UK