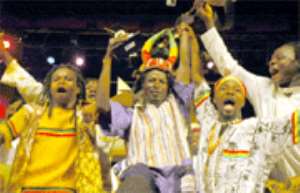 King Ayisoba says that he won the Most Popular Song of the Year ultimate award at last Saturday's Golden Jubilee Ghana Music Awards because he plays music for his people - the ordinary Ghanaian.
"My music has been simple and easy for everyone, no matter their ages, status or location in the country, to identify with and sing along", he said.
He told Graphic Showbiz last Monday he was very glad there is a public voting segment to the selection of winners in certain categories at the Ghana Music Awards (GMA). He knows the masses love "I Want To See My Father" and have played it over and over again in bars, restaurants, public transport, at weddings and even at funerals across the country.
"The public voting aspect of the awards me gave me confidence that I could win the top award. I know there is always controversy over the Most Popular Song award but if you look carefully at things, there should be no debate at all that I Want To See My Father won.
"It was by far the favourite of children and adults everywhere in this country. If you go to a household and the father does not like "I Want To See My Father", the children and the grandparents like it. If you go to another house, everyone likes it and can even sing it from start to end."
Ayisoba's assertion was confirmed by his producer, Panji Anoff. "I've always felt that if you give Ghanaians the chance to choose between a well-made local piece and a foreign song, they will go for the local product, especially if it is rendered with a lot of passion and emotion. If that song also carries a sensible message, the people embrace it hundred percent. "I Want To See My Father" is such a song."
Many patrons at the Coconut Grove Regency Hotel in Accra on March 29 probably did not notice that there was considerable stirring in the audience only when King Ayisoba was mentioned as nominees were introduced at the launch of this year's Ghana Music Awards (GMA).
That endorsement and fondness for the fiddler from Bolgatanga might have translated into votes and well-wishes later as Ayisoba upstaged the supposed top contenders and ran off with the top prize in addition to the New Discovery and Traditional Song of the Year awards.
I Want To See My Father features only Ayisoba singing in his own style of English and strumming away at his one-string kologo traditional instrument.
It is from the 12-track Modern Ghanaians album which features artistes like Batman Samini, Kwabena Kwabena, Sidney, Kweku T and Kontihene. Though they all bring their different flavours to the project, their contributions don't detract from Ayisoba's unique image and touch.
"There are other songs on the album which involve more arrangements and instrumentation but it is important for people to identify Ayisoba in his simplest and most direct form. Some people claim he is too local and cannot go all the way but the GMA awards indicate that it has not been a waste of time packaging himself as a Ghanaian proud of what and who he is. It is obvious he does not have to wear a suit to be liked by the people," says Anoff.
Interestingly, most of the calls from radio stations requesting interviews soon after he was announced winner of the Most Popular Song Award were from the Ashanti Region. Though promotion of "I Want To See My Father" started in the northern regions, it went extremely well in the Ashanti and Volta Regions before touching down eventually in Greater Accra.
The award is obviously a big encouragement for Ayisoba. It gets his name into more places and will hopefully open some doors abroad. His material had already been heavily pirated and is easily available in the sub-region.
Though piracy is not a desirable means to get a foothold in other markets, Ayisoba says he will build on the fact that he is recognizable outsde of Ghana and work harder in the coming years.
"Winning the top prize at the GMA is important because it is good if your own people see and appreciate your worth. I thank all Ghanaians for the honour. I want to go far.The fact that people know me in Togo, Benin, Burkina Faso, Cote D'Ivoire, Nigeria, Mali and other places means I cannot relax my efforts now. Future songs would be greater than what I'm known for now."
It is likely Pidgen Music, the production company behind Ayisoba, will now promote some of the other songs on the Modern Ghanaians album before turning full attention to his second album, work on which has already started.
"I Want To See My Father is just a small representation of what Ayisoba can do. Everything planned for, worked for and hoped for have come to pass," according to Anoff. "The music has been embraced far and wide but there is still some way to go with the first album and there is also so much more about Ayisoba people are yet to discover."
Ayisoba may represent Ghana at the next Kora African Music Awards in South Africa if it comes off this year. That's a big international forum monitored by millions of people around the world. Participating acts often go the extra mile to impress audiences.
Anoff says it is too early now to talk about what Ayisoba will exhibit in South Africa and that logistics, finances and other considerations would determine the approach they adopt to the continental music awards programme.
Reports indicate that there was jubilation in Bolgatanga in solidarity with Ayisoba for his exploits at the last GMA. He hopes to be there next week to share his joy with his family, fans and friends.
Some of them may remember the boy who always had his kologo with him whenever he took the family sheep and cattle out to graze. His father, especially, may recollect the days when the very young Ayisoba often cried to be allowed to play with his grandfather's kologo which hung on a wall at home.
"My grandfather was a great player of the instrument but my father never played. He was forced to make a miniature one for me because I always wanted to play with what hung on the wall. I was playing in public places by the time I was six," Ayisoba said.
A useful musical collaboration started between him and the late Terry Bonchaka when they were introduced to each other by a common friend in Accra. Bonchaka's death was a big setback to him but linking up later with recording engineer and music producer, Anoff, turned his fortunes around.
"Ayisoba has a long career ahead of him. Everything will happen slowly but surely. What is important if you are building a career is that you must avoid falling sideways or backwards," Anoff said with a positive wink in his eyes.
"Some people may still not accept Ayisoba for what he is until he probably wins a Grammy but there is time for everything. We only need to keep working hard and consistently and we will achieve results."
Ayisoba will definitely be accepted as he is when he sets foot in Bolgatanga next week. He will probably be carried shoulder-high again as happened when he was declared winner of the Most Popular Song of the Year award last Saturday.
Story by Nii Laryea Korley