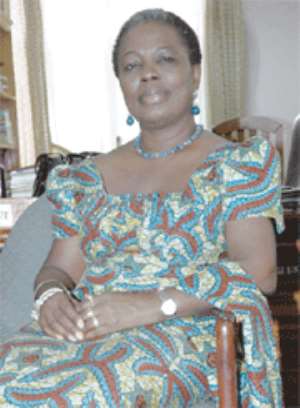 "I've always loved to tell people that I went to Class One three times," the Director of the Institute of African Studies of the University of Ghana, Legon, Professor Takyiwaa Manuh, said amidst laughter when the Junior Graphic contacted her at the institute for a trip into her childhood.
Prof Manuh recalls that she wanted to become a doctor. Eventually her strong belief in justice and fair play pushed her to pursue a course in law.
She remembered that her dad used to call her "Abena Lawyer", for she always jumped to the defence of other children and even adults in the household, whenever she felt one of them was not being treated fairly.
Born in May 1952 to Mr James Kwesi Manuh, a food contractor, and Madam Akosua Akyaa, a trader at Ankaase, near Kumasi, Young Takyiwaa has become what she dreamt to be because she believed in herself and was focused.
Young Takyiwaa, who grew up in a large family of many siblings, started Class One at the Ankaase Methodist School, when she lived with her grandmother shortly at the village.
She returned to Kumasi and started Class One at the Presby School at Adum. From there, She was sent to the Penworth Kindergarten, a boarding school in Kumasi and went to Class One yet again when she was eight years old.
She finished her primary education at the Kwame Nkrumah University of Science and Technology (KNUST) Primary in Kumasi.
Though her parents did not have formal education, she said they were interested in formal education and, therefore, encouraged all of them to study hard in school.
Her parents, she said, were always ready to support them to any level of their ability. There was therefore no discrimination between the boys and the girls; they all had equal opportunity to education.
Takyiwaa, as she was affectionately called by all, enjoyed school and loved to read. She read anything she could lay her hands on. During vacations, she helped her mother by selling oranges, bananas, water and sponge, after which she and her younger sister would go to the British Council Library in Kumasi to borrow books or watch movies.
"Because I liked reading, I travelled in my mind and got into the world the books talked about. That gingered my power of imagination and broadened my outlook," she said.
At Wesley Girls' High School where she had her secondary education, she said her passion for reading was even heightened further. When anyone flouted a school rule she was sent on 'Detention', on Saturday afternoons during visiting time.
That student was made to copy words from the dictionary into a book as a form of punishment. "Well, I enjoyed this punishment very much because I learnt more words to improve my vocabulary".
As far as Prof Manuh is concerned, Wey Gey Hey contributed immensely to who she has become today. The school provided her with the right environment she needed to cause her to surge forward in whatever situation she found herself. "The competitive spirit among the students in my alma mater encouraged me to work hard all the time," she said.
No doubt her commitment to her studies made her to come out with flying colours in the Ordinary and Advanced Level examinations.
From there, she went to the University of Ghana, Legon, to pursue a degree in Law from 1971-1976, after which she was called to the Bar. She then pursued a Masters degree in Law at the University of Dar es Salaam in Tanzania from 1976-1978.
After earning her Masters, she was appointed a Research Fellow at the Institute of African Studies, and promoted Senior Research Fellow later on. She worked in that capacity till she left in 1992 for the Indiana University in Bloomington, Indiana, USA, for a Ph.D. in Anthropology.
After her Ph.D degree in Anthropology from that university, she was promoted Associate Professor in 1997 and became Director of the institute in 2000.
In 2005, she was elected a Fellow of the Ghana Academy of Arts and Science, and was appointed a full professor in 2006.
Prof Manuh has taught courses in gender studies and was instrumental in setting up the Centre for Gender Studies and Advocacy (CEGENSA) at the university.
A key objective of the centre is to advocate for women to realise their full potential in all areas of national life. She has also been instrumental in setting up the Centre for Migration Studies at the University.
Now Prof Manuh chairs several boards and committees in and outside Ghana. She is the Chairperson for ABANTU for Development, a women's activist group, the Media Foundation for West Africa, an international NGO, a board member of the Ghana Institute of Journalism (GIJ), among others.
Prof Manuh is personally committed to educating all children. She believes all children should be given that opportunity, regardless of the resources of their parents.
In line with that, she started supporting underprivileged children in her village, Ankaase, to gain some education four years ago.
She advised children to read widely and spend less time watching television and also devote their time to reading.
"Don't only think of succeeding in what you are doing but excel in it and use your position to solve problems," she further advised them.
Prof Manuh has a son and a daughter.
Story by Fanny Nana Ampon