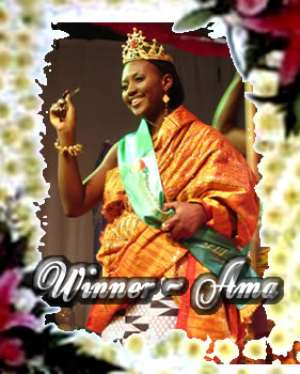 I am not a critic of the arts, but I'm sure just like most Ghanaians who watched the finals of the "Ghana's Most Beautiful" pageant on TV3 this week, no one needed a third eye to conclude that the wrong candidate was chosen--thankfully not by the Judges whose role I found repugnantly redundant as the winner was decided by the voting public, precisely from the constituency of one of the four mobile telephone networks in the country.
I dare say the network, One Touch, is not the most subscribed in the country. It's the second after Areeba, the market leaders.
However, if what I hear is right, that because One Touch was lead sponsor of the pageant, so event organizers were tongue and brain-tied to allow such stage tomfoolery to be displayed, then we ought to re-examine how these are financed and request that opportunity be given all subscribers of other mobile networks to vote.
Also, a certain percentage points ought to be reserved for Judges, otherwise let's not have them at all.
As one experienced Judge asked disappointingly; did it matter to Ghanaian culture at all that we should understand the throes the nation went through to become what it is today? Are the symbols of nationhood, the national anthem, the coat of arms, the motto of the country, and the national pledge worth knowing by any one meaning to represent Ghana at a national and international platform? Not being able to recite the national pledge when competitive prizes are at stake is an offence against a contestant's ego and her fans. As usual it got explained away by some as stage fright-which is common and some times pardonable. But why crown a contestant that demonstrates a penchant for very basic grammatical errors even in her acceptance speech, not to mention the outright deviation of an important question on culture-the epitome of the very pageant she was part of. And she represents the cradle of Ghanaian education-the Central Region!
The contestant was even bemused when she was announced as winner because deep within her soul, she knew she did not deserve that crown. She was just an empty physical beauty, no matter how humble it is alleged she is by some of her colleague contestants. Reminds me of a line in the innovative South African Blue Band magarine advert- "Just because they are taller, does it mean they are better?", to wits, its not by one's height by the brains one possesses as contestant ESI displayed?
Well, thank God Ghana's most-not-so-beautiful isn't representing the country
internationally. Her sheer murdering of the English language would have exposed us as cheer leaders of mediocrity and applause for failure.
But some one might ask, why all this fuss about contestant AMA from the central region? After all didn't some aspiring politicians being vetted recently also fail to recite the national pledge but got appointed? This is our motherland and no matter how strange things happen around here, we have only this gate way to Africa, championing our it's excellence (?) in everything, including condescending beauty pageants. I promise on my honour to be faithful and loyal to Ghana my Motherland.
I pledge myself to the service of Ghana, with all my strength and with all my heart.
I promise to hold in high esteem our heritage, won for us through the blood and toil of our fathers; and I pledge myself in all things to uphold and defend the good name of Ghana. So help me God. Keep this under your pillow, AMA.
Franklin Cudjoe is Ghanaian and Executive Director of Imani: The Centre for Humane Education, a think-tank in Ghana. His email is (franklin-at-imanighana.org)