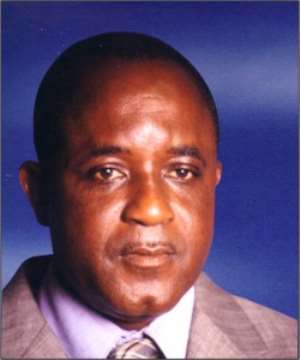 …He will be sentenced on June 6…He will be sentenced on June 6
…Likely to get 30 or more years in jail
Last year, in November to be precise, Mr. Dennis Adjei Brenya of New Hampstead, New York, the Counsel for Eric Amoateng, the Dishonourable Member of Parliament for (the Cocaine Constituency) Nkoranza North Constituency, visited the country at the invitation of the government, to present a statement from the disgraced former MP.
In the statement, Eric Amoateng the disgraced former member of Parliament said "I affirm before my nation that the allegations against me is false. I have not done anything wrong. I emphatically and categorically deny the charges leveled against me. I pray to God that in due time and soon all the facts will come out and I would be totally exonerated".
This year, in March 2007, the disgraced former MP has eaten back his November 2006 words and has now pleaded guilty to charges of conspiracy to import heroine into the United States of America.
According to court document received by the Ghana Palaver from the United State of America, Amoateng would be sentenced on June 6, this year at 3 pm American time.
Judge Roanne L Mann, presiding Magistrate accepting Amoateng's plea said "in pursuant to Federal Rule LL of the criminal procedure, a finding has been made that the plea was made knowingly and voluntarily and the plea was not coerced".
Amoateng on March 19, told the American court that after discussing the matter fully with his counsel, he has decided to enter a plea of GUILTY.
Judge Mann has accepted Amoateng's plea.
Readers will recall that ever since his arrest some two years ago, the New Patriotic Party (NPP) led by the President John Agyekum Kufuor, has never acknowledge the guilt of their member of parliament and had always maintained that he was innocent of the charges.
It took the government and parliament almost two years to accept that there was no way the disgraced MP was going to come back an honourable man, before his Nkoranza North constituency seat (now pupolarly known as Cocaine Constituency) was decleared vacant.
This was after all effort by the then Attorney General, Nana Akufo Addo to place before Parliament a bill that would allow for the ex-change of Ghanaian cocaine prisoners from all over the world had failed.
Today, under the NPP government, Ghana is disgraced by people like Eric Amoateng some prominent members of the party by helping make "Ghana a gate way for cocaine trafficking".
Click Below To Read Court Documents: