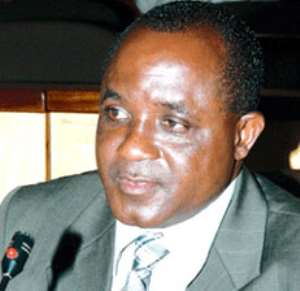 Counsel for incarcerated Eric Amoateng, ex-MP for Nkoranza North, Dennis Adjei Brenya has denied that the former MP has shifted grounds from initially pleading not guilty to a guilty plea.
Amoateng is facing a charge of conspiracy to import heroine into America and has maintained he is innocent.
However The Inquirer newspaper reported on Thursday that Amoateng has finally conceded culpability, changing his initial plea to a guilty one.
The newspaper said sentencing has been scheduled for 3pm on June 6, 2007 and the Presiding Magistrate Judge, Roanne L. Mann in accepting Amoateng's plea observed that "pursuant to Federal Rule LL of the criminal procedure, a finding has been made that the plea was made knowingly and voluntarily."
However, Brenya in an interview with Joy News maintained that Amoateng has not made any such plea.
Amoateng and one Nii Adjei were arrested on November 12, 2005 for allegedly concealing heroine in pottery and hiding it in a storage facility in Stan Island.