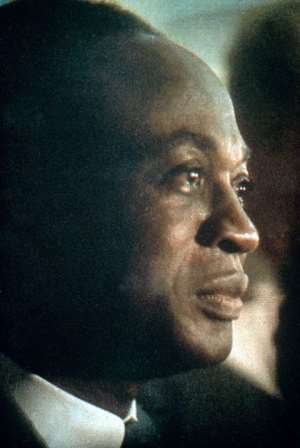 Ghanaians all over the world, I believe, are making serious preparations towards the celebration of Ghana at 50. Ghanaians in Switzerland, for example, are putting everything in place to make the celebration successful.
It is good that we celebrate this wonderful occasion because Ghana has chalked up a lot of successes in its economic development although much is yet to be done. The name of this gallant man is Dr Kwame Nkrumah.
The political achievements of Nkrumah cannot be neglected at this crucial moment of our jubilee celebration. This is why it is necessary to take a glance at some of the achievements of this great man in our political history.
Dr Kwame Nkrumah, the founder and leader of the Convention People's Party (CPP), was born at Nkroful in the Western Region of Ghana in 1909.
He became the first Prime Minister on the attainment of independence in 1957 and the President in 1960 when Ghana became a republic.
From 1957 to 1966 when Nkrumah was removed from power by the army, the political affairs of Ghana were controlled by his CPP government.
Ghana witnessed very impressive achievements under Nkrumah's administration. The economy saw some visible improvements during the early years of his rule.
His government tried to establish an egalitarian and socialist society that would provide better life and happiness for all.
To this end, the government set up many public corporations and state institutions to cater for the industrial and agricultural needs of the country. While these involved heavy expenditure, they also provided, to a reasonable extent, full employment.
The succeeding military government and Busia's regime which disbanded these state institutions were faced with chronic unemployment problems.
It was under Nkrumah that the high number of social services, such as schools, hospitals and roads in Ghana were established.
Ghana became the first country in Africa to provide free education and medical care for her people. Two more universities, one at Cape Coast and the other in Kumasi were established to bring the total number of universities to three.
The well-planned network of roads, an international airport in Accra and one of the highest standard of living in Africa are achievements that the average Ghanaian could be proud of.
Since the overthrow of Nkrumah (1966) no major road of any significance has been constructed in Ghana.
The building of the Harbour and new township of Tema, the gigantic hydroelectric Volta Dam at Akosombo and a progressive housing scheme are some of the monuments for which Nkrumah will be remembered.
Nkrumah suppressed sectionalism and tribalism in Ghana and brought a sense of national unity among Ghanaians. He infused the spirit of oneness and pride into Ghanaians.
Nkrumah and the CPP were popular in all the ethnic areas of Ghana. The national unity which he forged was to be the envy of other African states.
No one accused Nkrumah of tribal favouritism while the governments which came after him in Ghana have faced this accusation.
Internationally, Nkrumah relentlessly pursued his idea of Pan-Africanism and emphasised the need for African Unity. This greatly contributed to the formation of the OAU in 1963.
The first to lead his people to overthrow colonial power in black Africa, Kwame Nkrumah lit a torch which inspired all Africa to free the continent of foreign domination. He thus placed Ghana on the world map.
His commitment to liberation in Africa was total and was demonstrated by the financial and military aid he gave to Africa freedom fighters.
Despite these achievements, Nkrumah incurred the displeasure of many Ghanaians at the time of his overthrow in 1966, for many reasons.
In the first place, Nkrumah deprived many Ghanaians of some of their fundamental human rights, suppressed political opponents.
By the Preventive Detention Act (1958), Nkrumah's government detained many prominent politicians like Dr Danquah and Ako Adjei for years without trial. The death of Dr Danquah annoyed many Ghanaians.
Under Nkrumah, many top civil servants, senior members of the judiciary and university lectures were dismissed for expressing their views, which he considered unfavourable.
Despite this Kwame Nkrumah has a place of honour in our modern political history. And much as we may not all agree with his ideas, Kwame Nkrumah did his best to raise the status of the black man all over the world.