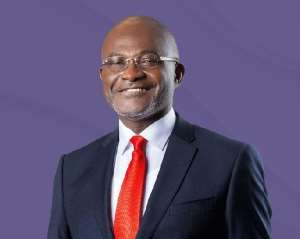 Discussions on who becomes the next president for Ghana began taking over the media space soon after election 2020. Many believe the former president did not go to the Supreme Court to overturn the election 2020 results but to strategically use the election petition to whip up support for his re-election in 2024. In the ruling party, it is believed actions deliberately taken by some potential presidential candidates are maneuvering strategies to court delegates for votes. The latest to join the ruling party's potential presidential candidates is Honorable Kennedy Ohene Agyapong, the member of parliament for Assin-North Constituency. Honorable Kennedy's desire to lead the country out of the current crisis has added another angle to the election 2024 discussions.
He is a firebrand. He is fearless. He is a no-nonsense man. He is impartial. His sword is a two-edged one; it cuts across the political divide. He is the mouthpiece of the ordinary citizens against the elites. People love him for who he is, but for one thing. People are concerned about his temperament, which causes him to lose it when he gets emotional about things that affect his nation and his people. His love for his people could make him sin easily: the very characteristic of the Biblical Moses.
The Biblical Moses had all the riches in Pharoah's palace to enjoy, but he always spoke and fought for the ordinary Israelites. He defended a Jew and got his abuser killed. Moses sinned against God and country. He had to flee because those he defended exposed him. Similarly, Honorable Kennedy has all the riches in the world to enjoy. He can stay silent, play as a political prostitute and enjoy business deals from both NDC and NPP governments. Even in his party, he could always sing praises and win favor from the leadership to enrich himself and his many children. He has sacrificed this comfort and privilege, as Moses did and he consistently speaks for the voiceless. For the love of the ordinary Ghanaian, he criticizes his own party openly, both in opposition and in government. He exposes rot in the system when he has the chance to do so.
God knew the diplomatic, gentle, soft-spoken, orator and older Aaron was still with the rest of the Israelites in Egypt, but he still brought the quick-tempered and younger brother of Aaron from exile to lead his people to the promised land. God knew what time it was, and the kind of leader Pharoah was. God needed a tougher personality to face Pharoah and deliver his people out of slavery. God knew how stubborn the Israelites could be in their exodus to the promised land. God wanted a man with passion to help others to lead His people. Like Moses, is God bringing Honorable Kennedy at this time of our country's history to lead His people? God might be saying to Ghanaians, "I use imperfect people to accomplish my mission.
The rot in the system is never going anywhere until Ghana gets a president who has no respect for those who have captured the state. God might be bringing this man who never dreamed of becoming a president to contest election 2024. Like Moses, he is an outsider regarding Ghana's potential presidential "materials." He is never a presidential "material," and he is politically incorrect. For this reason, the usual power brokers will write him off, but he could be Ghana's Moses in times like this. He shall face the "pharoahs" in the system and deliver his people to the promised land.
Like Moses, Honorable Kennedy does not know how to speak. Contrary to Ghanaian cultural values, he is too straight with the truth. He does not hesitate to insult if he thinks you deserve it. He does not mind his speech whenever he has a message for nation wreckers. These attributes are alien to the Ghanaian culture. In Ghana's social construction, he is a deviant as much as public speeches are concerned. God may appoint his own Aaron to speak for him as He did for Moses. If Ghanaians would permit their own Moses to take them to the promised land, Honorable Kennedy, Ghana's Moses, would do just that.
Eben Johnson – Finland.
(Letters Without Signatures)