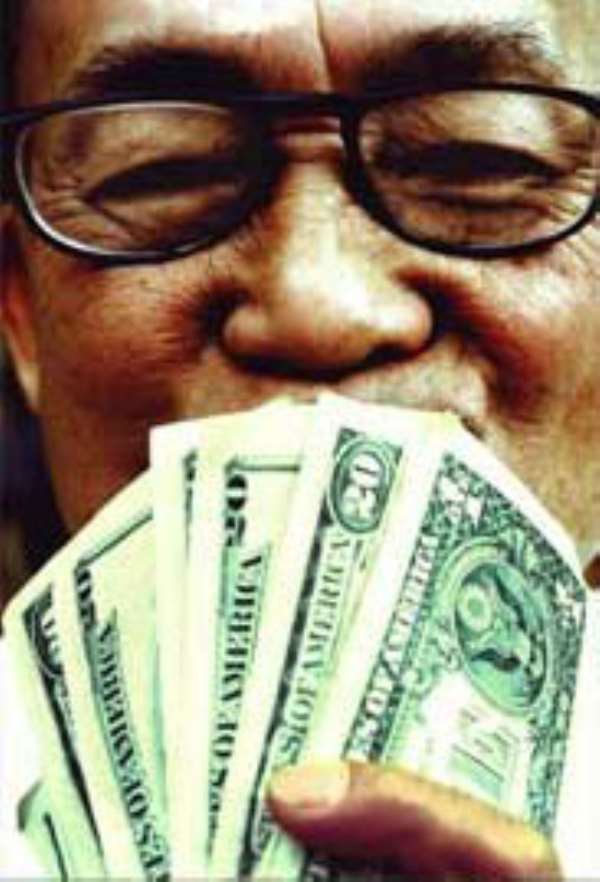 There is a more in depth definition for remittance which may not advanced under this topic. But I will simply limit my definition to say, it is the monies that individuals or groups send home (to a country) either as cash or gifts in kind to family, relations, also sometimes to friends and institutions in need.
The macroeconomic growth of Ghana today is not being felt in "the pockets" of Ghanaians, but remittances are achieving what is beyond meeting the basic needs of the poor (households) in the main and the rich alike; as remittances to the rich go into investment (land, property, small business capital etc.) .
Could someone tell me what journalism is all about or who is this journalist from the Statesman newspaper? Who is in charge of the economic reporting for the paper?
Since I do not have the answer now, I am compelled to shift the focus of my inquiry to the editor or managing editor of the Statesman, Mr Gabby Otchere-Darko. It's nothing personal but very important for this country to move forward.
Just imagine this statement in the said newspaper, "Remittances have enjoyed constant periodic hikes since 2001. The annual total for 2000 was below $350m. Since then a combination of confidence in the country and other factors have seen the figures shooting up."
Gabby again! I wonder what is wrong with the gentleman and the NPP government who keeps using him (or the Statesman) as their ECONOMIC policy mouth piece. This is a person who could not tell listeners to a morning discussion programme on TV in 2003, which school of journalism in Europe he graduated from.
Further revelations last week from the inquest into allegations of the director (Ansa Asare) of the Ghana Law School also revealed that "Otchere-Darko has been awarded a Law Degree he does not deserve for failing two subjects in the Ghana Law School" (Makola).
One wonders how serious we are in Ghana at all, for vital information on the economy of Ghana to be constantly released to the same newspaper from both the Finance Ministry and the Bank of Ghana only to be misintepreted, distorted, toyed with, rather always be given a political bias or even NPP-stilt.
I wish to remind the NPP and its accolades not to pretend to be righteous, because we all know that truth is one, and it does not pay to be untruthful. Just last week the NPP was forewarned by its own woman's leader in Brong Ahafo to beware of half truths.
"The NPP Women's Organizer for the Wenchi Constituency, Madam Rose Adade, has cautioned the New Patriotic Party (NPP) over its waning popularity in the country."
It is not a crime to be ambitious but only the right ambitions do payoff. I do not want to venture into the long term political ambitions of anyone. But my worry is that some ten years or so from now some president will be ill-informed to attempt to think that even with such misguided economic reporting one could be made a Finance Minister of Ghana.
This observation is real in view of the persistent reports we read on the economy coming from just the Statesman.
The only justification to Ghanaians will be that this person had published economic articles for nearly a decade. Everyone is aware how square pegs were put in round holes in many cabinet positions of the Kufuor-government.
The anti-climax was the NPP candidate for the Odododiodio elections in August, 2005. We have seen the worst reports of persons without the requisite professional experience in this government.
It is important to know there has never been any research finding showing that increasing remittance to Ghana is a function of the increasing confidence levels for government or even the country.
Conclusive research globally by individuals (including myself), international institutions (DFID-UK, IMF, UNCTAD, WB/GDF, etc.) and think tanks (COMPAS) in their findings, do not suggest that a decline in the volume of remittances to any country, measure the decline in confidence levels of the country either, as the Statesman did suggest.
I will also share my own research results and surveys conducted with Ghanaian respondents over a period 20 years in 10 countries with you. I will then include my thoughts on remittances to Ghana in my subsequent article. Views expressed by the author(s) do not necessarily reflect those of GhanaHomePage.