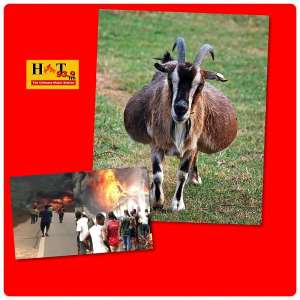 On Thursday, January 19, 2022, Ghana was thrown into a state of mourning as one of the towns in the country was completely wiped out by a deadly explosion.
At least 13 people were killed with several others hospitalised on Friday after a devastating explosion ripped through Appiatse, a mining community in Bogoso in the Western Region.
Preliminary investigation by the police revealed that a truck carrying explosives intended for Chirano Mines collided with a motorcycle, resulting in the explosion that left a massive crater on the side of the road and left buildings with dust-covered heaps of wood and metal.
About 500 houses have been blown into pieces. The rescue team were still combing through rubbles on Friday with the hope of finding buried survivors.
One of the most shocking moments was how rescuers made up of the military, Police and the Fire Services rescued a pregnant goat.
Speaking on Hot 93.9FM's political talk show,'Dwene Ho Biom',hosted by Agya Wusu, Hot FM's reporter, Akoa Paul revealed that the pregnant goat was buried alive together with some two persons by the explosion but survived.
"One of the strange things that has happened is, the town is left with only two fowls ...another thing is while the fire service and the other rescuers were searching for other bodies, they heard a strange noise so they realised that the noise was emanating from beneath the debris.
"To their outer dismay, they found out that there were two persons with a pregnant goat buried alive ...the two persons were dead but the pregnant goat was alive," he reported.
According to Akoa Paul, a goil filling station in the area also survived the explosion even though all the houses around it were affected.
Watch the video below: