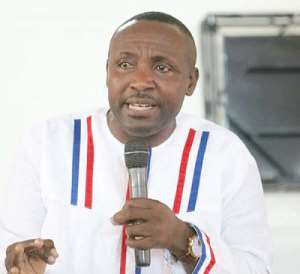 NPP General Secretary John Boadu
The General Secretary of the Governing New Patriotic Party (NPP), John Boadu has emphasised that the party will not support the activities of the LGBTQI+ community in the country.
Over 95% of Ghanaians according to a survey by the Center for Democratic Development, Ghana (CDD-Ghana) are against LGBTQI+ and its activities in Ghana.
Already in Parliament, there is an anti-gay bill that when passed will criminalise LGBTQI+ and all of its activities.
Amid the conversation around the Bill, John Boadu who is a leading member of the NPP insists although the party will respect the rights of every individual in the country, it will not support LGBTQI+.
"The NPP will not support the activities of the LGBTQI+ community. We respect the rights of the individuals but cannot support actions that are against our principles. But should there be a regulation, we would ensure that their rights are protected, but we will not support LGBTQI+ activities," the NPP General Secretary said during the party's Eastern Regional Delegates Conference in Kyebi.
Despite the overwhelming support for the anti-gay bill in Parliament, a group of lawyers and professors numbering 18 has submitted a memorandum to Parliament to oppose the passage of the bill.
The group argues that the Bill infringes on human rights and is also not in line with Ghana's democracy.