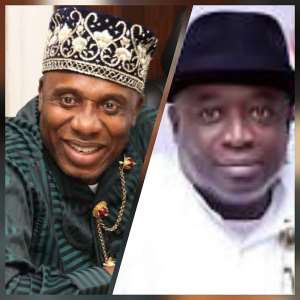 ... As Chief Emeka Beke Emerges State Chair-Elect
...Commends Chizi Nyeomasila, for Staying True to His Pledge
....Commends Amaechi for being a true Promoter of Democracy
Chieftain of the All Progressives Congress (APC), and erstwhile National Publicity Secretary of the defunct New People's Democratic Party, (nPDP), Chief Eze Chukwuemeka Eze, has congratulated the Rivers APC Chairman-elect, Chief Emeka Beke, for his victory at the party congress held yesterday at Polo Club, GRA, Port Harcourt.
In a statement made available to media houses in Port Harcourt, Chief Eze said Emeka's emergence is a plus to the party and has equally added another feather to his cap.
"Chief Emeka Beke, my brother and leader, congratulations for adding a very great cap to your over-crowded head by emerging the second duly elected State Chairman of our great party.
"I am so happy that you went straight to your Church to give thanks to God for the well deserved victory. God is truly behind your success so let Him play a great role in your execution of this onerous task."
"I sincerely pray God to use you to accomplish our common aspiration of victory in 2023 as I have no doubt that the hitch-free congress which produced you to lead the party is a step closer to taking over Brick House come 2023."
While urging all stakeholders and party faithful to queue behind Chief Emeka Beke, Eze assured the in-coming Chair of his unflinching support at all times.
The party chieftain commended Chizi Nyeomasila, the closest rival in the contest for staying true to the common pledge he made with Emeka, to support whoever emerges amongst them.
"During the screening exercise, I and Chief Emeka Beke agreed to support whoever emerges amongst us. On that standpoint and coupled with several other reasons earlier canvassed, I congratulate him and all others who emerged and pledge to work together with all stakeholders to strategically overhaul the party with feasible policies and programmes as we begin to make adequate preparations ahead of the 2023 elections" Chizi had said.
Describing Chizi Nyeomasila as a man of integrity, Chief Eze called on those still laboring in malice and ill-will against the APC to learn from the former Chairmanship aspirant who placed public interest beyond personal gains, noting that his public spirit reflects a thorough understanding of the Chibuike Amaechi model of politics.
Eze commends Amaechi for helping in no small measure to ensure that APC has a creditable platform in Rivers State no minding all the attempts and efforts by Governor Nyesom Wike and other external forces using confused Senator Magnus Abe in their devious plots to jeopardize a functional platform in the State.
In the same vein, Eze congratulated Dr. Abubakar Idris Giedam-led State Congress Committee for conducting a very transparent and peaceful election expressing delight over the thoroughness and fairness exhibited during the election.
Those elected include:
Chief Emeka Beke ; Chairman, Omiete Eferebo; Deputy Chairman, Sam Sam Etetegwung; Secretary, Frederick Oyor; Assistant Secretary, Pius Kpa I; Senatorial Vice Chairman Rivers South East, Emine Awoala Joybe; Senatorial Vice Chairman Rivers West, Obidinma Igwe; Senatorial Vice Chairman Rivers East, Uzor Abueh; Senatorial Women Leader South East, Juliet Mchilips; Senatorial Women Leader Rivers West, Urey Ejims Princess; Senatorial Women Leader Rivers East, Carlos Kakue; Senatorial Youth Leader Rivers South East, Ogboka Chisa; Senatorial Youth Leader Rivers West, Ohochukwu Peter; Senatorial Youth Leader Rivers East, Dike Iheanyichukwu, Esq; Legal Adviser, Nemi Erema, Esq; Asst. Legal Adviser, Christian Don-Pedro; Organizing Secretary and China Ezekwem Bamidele as Asst. Organizing Secretary.
Others are, Senibo Chris Finebone; Publicity Secretary, Darlington Nwauju; Asst. Publicity Secretary, Chidi Nweke; Auditor, Festus Agbomor; Asst. Auditor, Chigbo John; Financial Secretary, Gift Loveday Igoma; Asst. Financial Secretary, Akwe Maxwell; Treasurer, Emmanuel Nnah; Asst. Treasurer, Beatrice Dappa-Amobi; Women Leader, Ndidi Farooq; Asst. Women Leader, Baridakara Gbarato K; Youth Leader, Godwin Jumu; Asst. Youth Leader, Tamuno Nancy Stephen; Welfare Secretary, Israel Iboms; Asst. Welfare secretary, Memiten Alabo Wariboko; EX- Officio 1, Hajiya Ramatu Ashe; Ex- Officio 2, Mohammed Rabi; Ex-officio 3, Amadi Brilliant; Ex-officio 4 and Enyinda Chike as Special Leader.
Eze prayed to God to give Chief Emeka Beke and his team the foresight and all that it takes to lead Rivers APC to the next level.