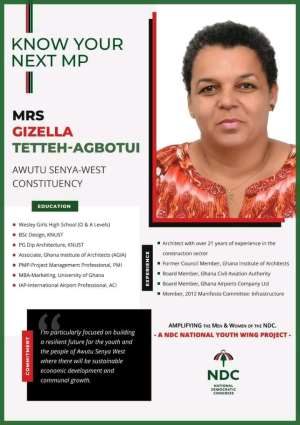 In 2016, Awutu Senya West became the centrality of media attention in the Ghanaian political space. This stemmed from the fact that Nenyi George Andah, a known Marketing Guru in the Telecommunication World, decided to contest an experienced political giant and states woman in the person of Her Excellency Hanna Serwaa Tetteh of the National Democratic Congress political stock.
Just like 2016, we expect Awutu Senya West Constituency to become the focal point of media attention between 2022 and 2024. The latest political events in the swing constituency tells it all. The swingiest constituency in the swingiest region of Ghana (Central Region) will be experiencing its fiercest electoral contest in the political history of Ghana and this will attract unimaginable media attention. This is due to the fact that a big political fish from the seat of the Presidency in the person of Mr. Eugene Arhin, the Director of Communications at the Presidency, has expressed his interest in the Awutu Senya West seat.
Having expressed his interest in the Awutu Senya West seat, Mr. Eugene Arhin has announced his readiness to promote the welfare of the people by introducing a number of infrastructural projects. He is on record for repairing damaged school blocks, putting up a library, attending to water problems of Senior High School, building a basic school infrastructure for a community that hitherto did not have one, transforming a health centre to a polyclinic status and engaging in a number of humanitarian projects like attending to the medical bills of sick people and assisting the needy to pay their fees.
Similarly, Hon. Gizella Tetteh-Agbotui, the sitting Member of Parliament, has also honoured her campaign promise by quickly getting in touch with her constituency after wrestling the seat back for her party. True to her words of not waiting for an election year before attending to the needs of her constituents, the Architect, Consultant, Marketer and Law Maker, Hon Gizella Tetteh-Agbotui (Mrs), has also shown her readiness to respect the sovereign will of her constituents.
In view of this, she has repaired damaged schools. She has also started her human capacity building project by helping her constituents to acquire job skills and giving them financial resources. Just like Eugene Arhin, Hon Gizella Tetteh-Agbotui has also engaged in humanitarian projects and partnered with Awutu Traditional Council to cut sod for the construction of an edifice to serve as offices for the Awutu Traditional Council and Paramountcy. Among other things, dozens of students have also benefitted partial scholarships from her common fund.
Having these two popular political figures vying for the Awutu Senya West seat, there is no doubt that their personalities and political activities will by all means attract media attention. Nevertheless, having been forced out of open partisan politics by the ethics of my work, my focus is not on how their activities will attract media attention but rather on what the entire people of Awutu Senya West can maximise from this situation.
In this regard, I will seize this opportunity to appeal to the sitting Member of Parliament, Gizella Tetteh-Agbotui, to take advantage of the situation to push hard, her agenda of making the constituency a tourist hub as she promised in the last election. I believe that as a Marketer and Architect, she can ride on the publicity the constituency will get through the political activities of Eugene Arhin and herself to make her tourism vision happen.
I will therefore appeal to the supporters of these two political figures to desist from all forms of name-calling and politics of insults and market the ideas of these two qualified political figures. At the end of the day, one of them will by all means emerge a winner for the good of the people.
BY Bala Ali
Social Commentator
Awutu Beraku