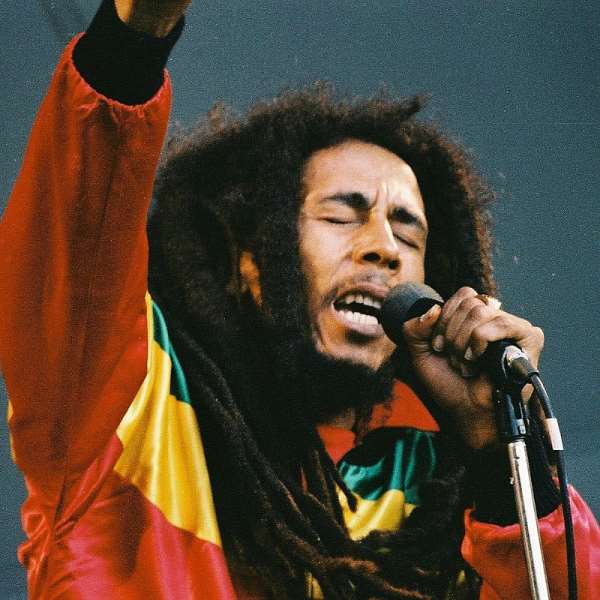 Last week we celebrated the 40th anniversary of the death of Reggae Legend Bob Marley and as a huge fan, I felt like writing something about a man who died when I was not born but yet had a great influence on my life and the way I think and sees things. Then again there are so many things running through my head as a young Ghanaian. It is for this reason I expect all young Ghanaians to reflect on the impact Bob Marley had on the world. Through his music, he inspired revolutions, he conscientize men of great thought and gave the world an anthem for love with his song titled 'One Love.' Bob Marley (in his song One Love) pleaded with mankind to get together and feel all right in one love and with one heart without prejudice, suspicions and hate.
But today I want you the young Ghanaian to do more than spreading love. I want you to pay attention to his song co-authored with Peter Tosh and The Wailers titled, 'Get Up, Stand Up.' In 'Get Up, Stand Up' the legend admonishes us to get up and stand up for our rights. He says most of us think [a] great God will come from the skies and take away everything and make everyone feel high but [no!] if you know what life is worth, you will look for yours on earth.
Bob is telling us that, unless we strive to change our situation, mana will not fall from heaven on a silver platter. Before I left for work to work on Tuesday 11th May 2021, I shed tears listening to a mother narrate how she lost her son at Korle Bu Teaching Hospital. "The doctors didn't fail me, the system did." She told Kokui Selormey of the Citi Breakfast Show. She reminded us all that the surgical ward her son was admitted to had only four beds and in emergencies, people have to wait their turn. In that ward, when you come with an emergency, "they won't ask you whether you are NDC or NPP before giving you a bed" she added. Whoever you are, your chances of surviving or dying is the same. That a piece of equipment as small as a defibrillator, seven of which can be bought at the price of one Toyota V8 can determine whether you live or die in a hospital as big as Korle Bu built 98 years ago should be enough trigger point for any reasonable young man to say, "enough is enough, we've got to fix this country!"
However, if that isn't enough for us to (in the words of Bob Marley) see the light and fight for our rights to a functioning healthcare system, what else will shine the light on us? We live in a country in which people willing to donate medical equipment to our facilities are asked to foot the shipping fees while those who are building hotels and importing luxury cars are being given tax exemptions. Our Finance Minister told us that until he was admitted to a hospital abroad, he didn't have a fair idea of how important investment in healthcare is to the citizenry. This should tell you how he is out of touch with the reality of the average Joe.
Over the weekend Member of Parliament for Ningo Prampram wrote an emotional piece detailing how a 12-year-old boy died because he and his colleague MP could not secure a bed for the child who happens to be the son of a local Assembly Man. It is rather unfortunate the child died but the question is: if two Members of Parliament cannot secure a bed for a child, what about us sons and daughters of ordinary people with no connections? Indeed if the green leaves are burning, what will happen to the dried ones? So my young man, what else do you need to see the light again young man? This is why we must decide the issues to and not to politicise because the people we have voted to fix the problem always travel abroad to seek medical care while we are left to suffer yet we make ourselves available to defend them and make excuses for their inefficiencies and incompetence. What a shame!
In his song Zimbabwe dedicated to the independence of Zimbabwe, Bob Marley starts by reiterating the fact that, "every man has got the right to decide his own destiny." This resonates with the thinking of Nkrumah, Marcus Garvey, Martin Luther King, Malcolm X etc all of whom stood for our collective right to decide the course of our destiny as black people. But how are we in charge of the course of our destiny when our hospitals and roads are deathtraps? How do we control our destiny when the Chinese run our economy running retail outlets filled with China-made goods and mining and destroying our land? How do we control our destiny when we are being entrapped with debts we can never repay? Where is our destiny when 76% of everything we have (GDP) is in debt? What is the destiny of the child who goes to school to spend three weeks only to return home to spend 3 months on holidays? What is the destiny of the cocoa farmer whose cocoa may not be wholesome for the world market because, through no fault of his, some mercury content has found its way into his cocoa? What is the destiny of the unemployed 30-year-old who isn't sure where his next meal will come from? What is the destiny of the young lady who must sell her body to afford basic things in life? What is the destiny of the university graduate who will waste his time and money to produce a thesis which will never be used in solving any problem and his chances of getting a job depends on whom he knows? What is the destiny of a country in which telling the truth is a crime? What is the destiny of a country full of God-loving, religious folks who will congregate in great numbers on Fridays and Sundays to ask for forgiveness only to spend the other days telling lies, hating, cheating and stealing?
Bob Marley died at 36 but we remember him today although some of us were not born when he lived and died. He died a youth. We are the youth of this country. What if we die at 36? What will our kinsmen remember us for? That we were attack dogs fed with crumbs from the dinner tables of the high and mighty to fight on the side of wrong and evil? Is there any single soul aside from our immediate friends and family who will remember us 40 years from today and say that "he/she was a good man who fought for Ghana?"
Is there truly any Ghanaian youth today who isn't genuinely 'sick and tired of the isms and schisms games' in this republic? So then why are we not seeing the 'Babylon System' for the vampire that it is and demanding a change in the leadership that will make the system work for us? As young people, the future of this country is ours to protect. We must get up, stand up as Bob Marley taught us and fight for our rights as Ghanaians. Until we are unanimous in our cry and demand for change in the system, we shall perish as fools. We mustn't give up the fight.