Ishmael Addo joins a great line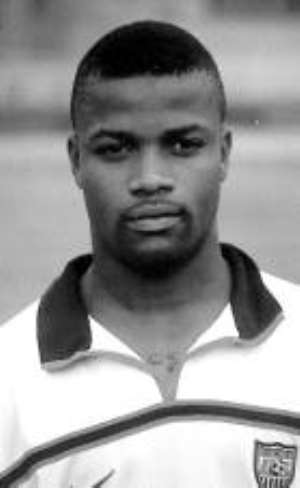 With an impressive haul of 19 league goals, Ishmael Addo, the young Hearts attacking enigma, has successfully secured a second sucessive Ghana goal-king title and thus joined a great line of only four double winners of the title since it's inception by the SWAG in 1973.
These four double winners are former greats, 1982 African Nations Cup top-soccer, George Mustapha Alhassan (1977, 85), Real Tamale United's Mohammed Choo (1978,82), former Kotoko and Hearts' dimunitive striker, Opoku 'Bayie' Afriyie (1979,81) and quite recently, former Goldfields striker, Kofi Deblah (1996, 1997).
Very remarkably, only one footballer has won the goal-king award three times — Dan Owusu. With Tano Bofoakwa, he did it successively in 1974, 1975 and 1976.
As can be noticed of the elite four double winners, it is only Kofi Deblah who won it in successive seasons. But as can be recalled, controversy surrounded Deblah's second title as it was taken away from Joe Fameyeh, the original winner, for the reason that Fameyeh, then with Afienyah United, scored some 'cheap' goals in an alleged fixed match in order to win the goal-king race which he was then leading.
This unfortunate story therefore leaves Ishmael Addo, whose 19 goals have effectively secured him a second title, as the only true successive double winner of the Ghanaian league goal-king crown.
Ishmael Addo, recently honoured by the SWAG for emerging the 1999 top scorer with 16 goals, has also with this feat become the first and only double goal-king of the Ghanaian league in the history of Accra Hearts of Oak.
Addo, no doubt, the biggest sensation on the Ghanaian scene since the days of the late Benjamin Shamo Quaye and Joe Deblah, possesses skill, vision a remarkable sense of fighting spirit and, above all, unbelievable goal-scoring instincts. These what have made him such a productive force in either attacking midfield or striking positions all through his young career and for both club and country.
Young Ishmael Addo was an outstaning goal-scorer in his development stage, emerging goal-king at colts and second division levels. From those points, Ishmael has not looked back and his young career has been one string of success
Last year's 16, (eight scored in each round) looked a healthy balance for a pro dubutante.
"Ishmael Addo is Godsend" were Alhaji Hearts' words minutes after the young goal-machine crowned a spectacular season with an equally spectacular low curling goal in the 2-0 win over Kotoko at the Accra Stadium in the match last of the 1999 league season.
A more magnificient season this year has seen an improved scoring rate for his second Ghanaian goal-king title. There is therefore no one denying the fact that Hearts's success in the past two league seasons has largely been dependent on the goals of this young gem of a footballer.
It best explains why Hearts' coach, Jones Attuquayefio and the entire Hearts have expressed worried over the imminent departure of Addo next season to Europe as European giants like Bayern Munich and Juventus are too eager to offer him a more suitable stage.