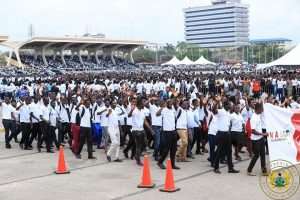 It is not only worrying but berating to note that some unscrupulous Nation Builders Corp (NABCO) Coordinators in the Northeast region have decided to take the law into their own hands by engaging in illegalities to deny qualified appointees of NABCO their monthly allowances despite the hardships imposed by covid-19 on families and individuals in Ghana.
While in other countries governments have come out with mitigating packages to help cushion the said hardships, in Ghana, NABCO Coordinators are rather exacerbating the plight of ordinary Ghanaians by denying them their hard-earned allowances on the mere assumption that they are political opponents. What a country we are in?
What a banana republic?
Reports gathered indicate that prior to the 2020 elections, a good number of employees of the said state institution was denied their allowances on the basis that they were not members of the ruling government, the NPP! The situation got exacerbated following the aftermath of the elections, in which the NPP was declared the winner by Jean Mensa-led electoral commission.
The said Coordinators who are doing the bidding of their appointing authority, and in this case, the government of Nana Akufo Addo-led NPP administration became wild, and continued, like nobody's business, to deny a lot of the appointees their monthly allowances up to date. All attempts by the affected individuals to get their hard-earned allowances paid have failed woefully.
It is interesting to note that NABCO, a state agency, whose activities are funded hugely by the state and for that matter the taxpayer,( you and I), have been perceived wrongly by political apparatchiks as though it was a political enterprise funded by a political party.
The actions of these coordinators are not only berating to the nation but it is an act of illegality and a recipe for political chaos that ought to be addressed in court of law, to say the least. It is, therefore, a case, potentially fertile enough, to be sued in a competent court of law for justice to be done to the affected persons because the taxpayer's money cannot be used to satisfy one political party members to the total neglect of others who equally have a stake in terms of how it is funded.
This development is not setting any good precedence for us as a nation and so the earlier the government of Nana Akufo Addo direct the appropriate authorities behind this unacceptable conduct to rescind their unthought through decision immediately and get the affected persons duly paid what is due them in order to avoid any public unrest which has the potential to plunge this nation into political chaos.
Need we get ourselves reminded that the mere absence of violence should not be misconstrued to mean or suggest the presence of peace. Peace depends on the availability of justice for all, and not for a selected few! All agents of peace must put their hands on deck to ensure that justice is done to the affected individuals for the sake of harmoniums living and peaceful coexistence as a people with a common destiny.
God bless our motherland Ghana!
The Voice of NORTHEAST
Nalerigu
0243054204